I only recommend products I use myself and all opinions expressed here are our own. This post may contain affiliate links that at no additional cost to you, I may earn a small commission.
Thank you to The Caravelle Resort for hosting us during our stay, all opinions are my own. Jersey Boy and I decided to celebrate his birthday a little early and spend a few days in Myrtle Beach. We called The Caravelle Resort home during our trip. The Caravelle Resort is one of 9 buildings that offers vacationers a variety of places to stay. If you are visiting Myrtle Beach and are looking for a room, studio, suite, condo, or efficiencies then The Caravelle has you covered. We were booked in an oceanfront efficiency king in the main Caravelle Resort building. The Caravelle was the perfect spot for my husband and I.
The Caravelle Resort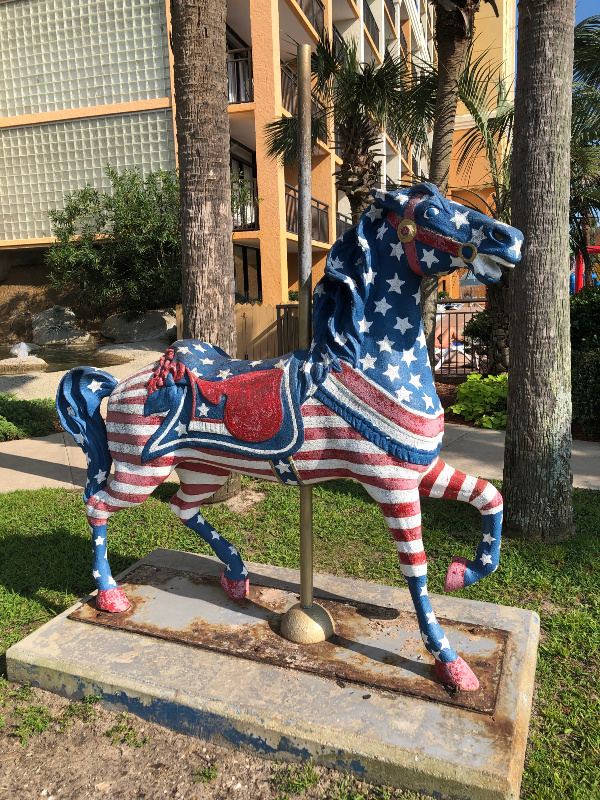 We left Virginia early in the morning and made the five hour drive to Myrtle Beach. Our first stop was to The Caravelle to unload the car and then find some dinner. I love staying oceanfront. I am not usually a morning person except when I can catch an oceanfront sunrise and then I am up early out on the balcony soaking it all in. The Caravelle Resort has newly renovated rooms and that king size bed made getting up for the sunrise view very difficult.
The Caravelle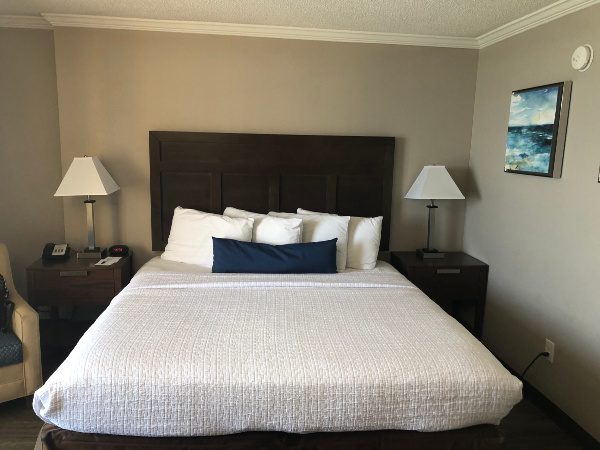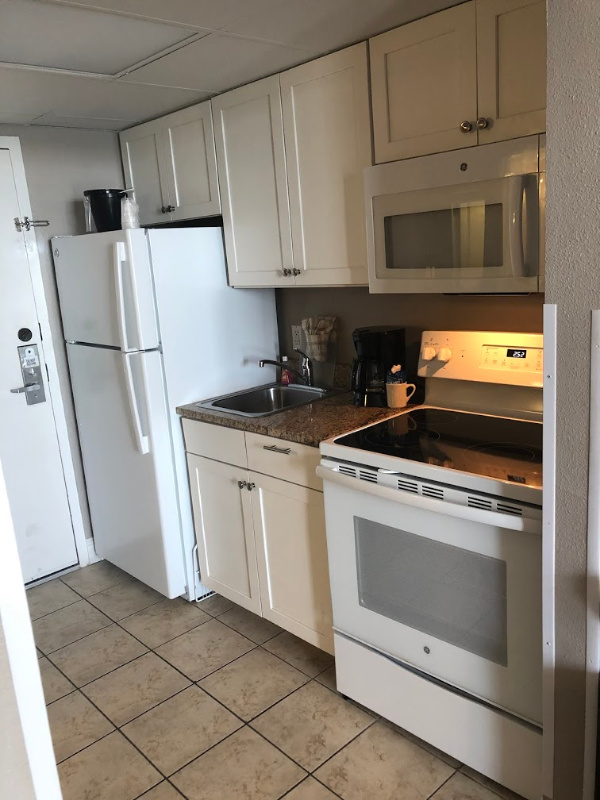 I enjoy going out to eat while on vacation and some times I end up with leftovers so having the full size fridge in the room was fantastic. There was plenty of room for restaurant leftovers or if you prefer to pack your own food to cook you have the space and what you need to whip up your own meals right in your room. I had no intention of cooking during this trip so we made use of the fridge with leftovers and drinks. The Caravelle Resort is a great spot to grab a bite to eat if you aren't cooking. The Santa Maria Restaurant has a delicious breakfast buffet with an award winning omelet and Belgian waffle station. Make sure to say hi to Mrs Joy. We also stopped in to Liquids (also in the Caravelle main tower) one night and had dinner. They are only open a couple nights a week during the off season and the Santa Maria Restaurant is only open for breakfast in off season so you'll want to talk to the front desk to see if Liquids is open or not during your stay. Jersey Boy ordered the steak and I ordered the Alfredo. It was late and our waitress/bartender let me know that they were out of noodles but the cook would be making me some noodles from scratch so that I didn't have to pick something else to eat.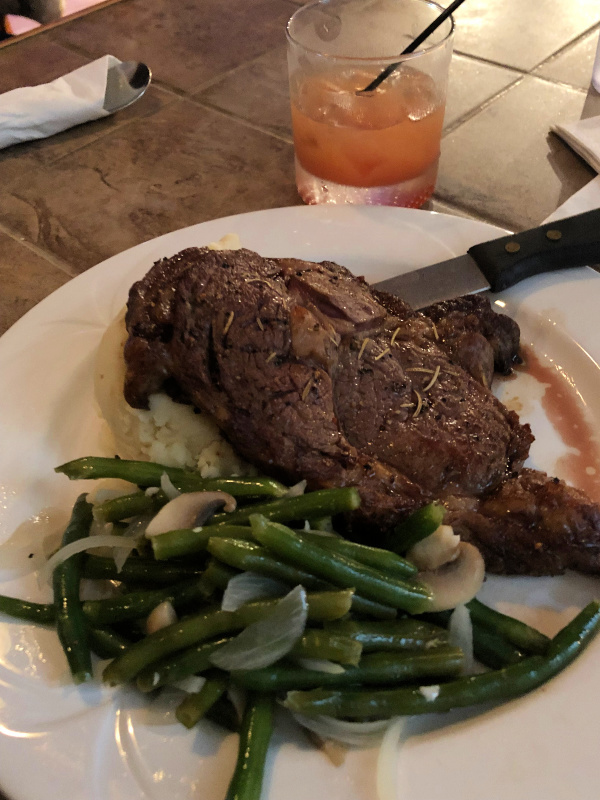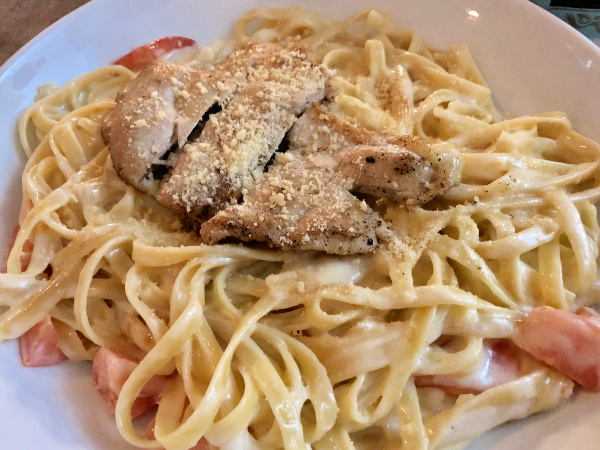 Other Caravelle Resort amenities include: the 7th floor sundeck where you can lounge in the sun without the sand. It's a lovely view too.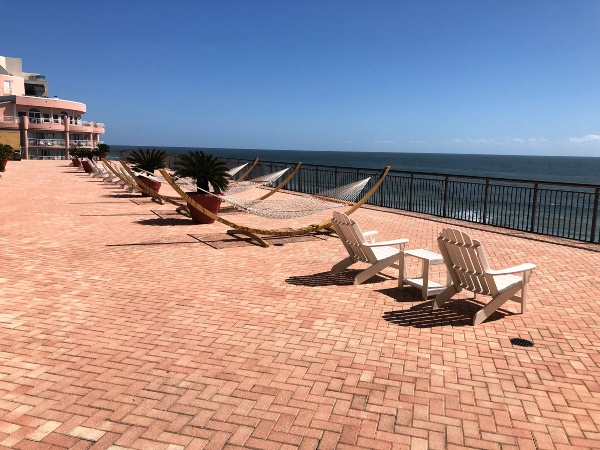 There are also a lot of pool options at The Caravelle Resort (hello block long oceanfront poolscape). If you have the kids with you or are looking for some fun yourself the pools or lazy river are a great option or they have a game room.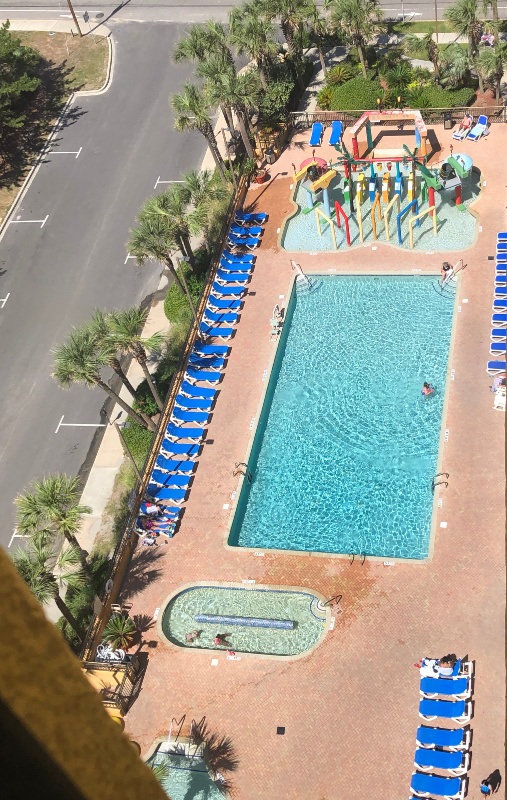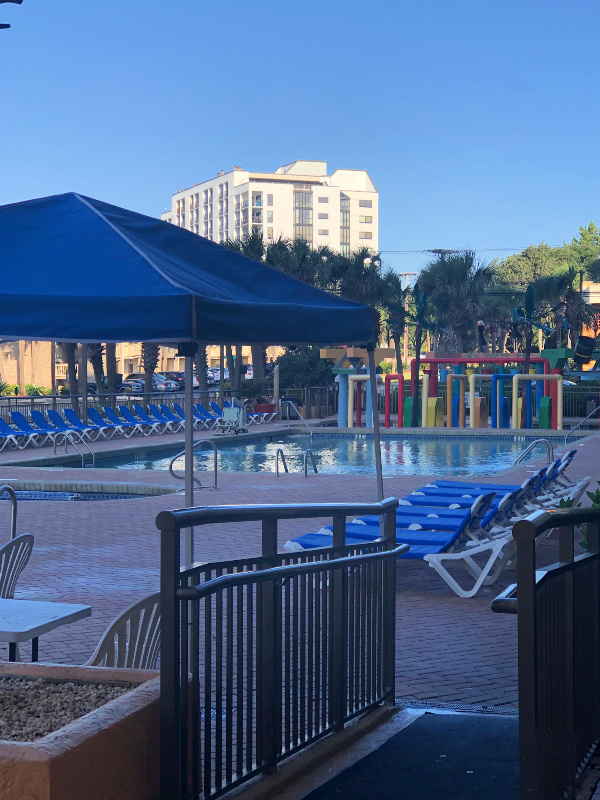 You can also find a fitness room, Pirates Cove Ice Cream & Sandwich Shop, Marco Polo Pool Bar & Grill (seasonal so we didn't stop by), and a spa. If you are looking for a spot to get some work done The Caravelle has a business center but there was no work being done during this trip so I did not get to check that out. While chatting with some of the staff I learned that The Caravelle Resort is also an autism friendly resort. Management and staff are CAN (Champion Autism Network) certified, trained and ready to fulfill accommodation requests for those who need it.
Jersey Boy and I enjoyed our stay at The Caravelle so much that we extended our stay. The king rooms were booked that weekend so we moved to an oceanfront efficiency deluxe suite doubles on the very top floor. This would have been our room choice preference if we were vacationing with the kids. Still the same beautiful view of the Atlantic Ocean, just a little more space than the king room we had.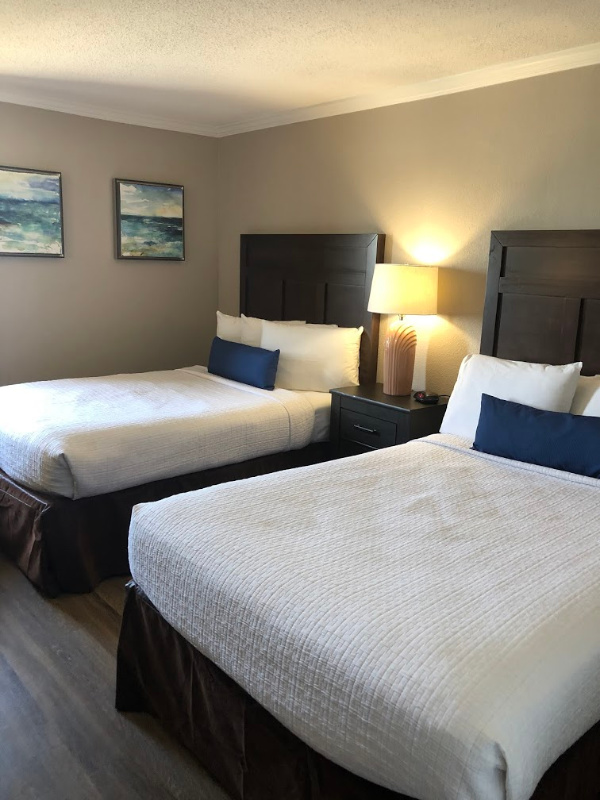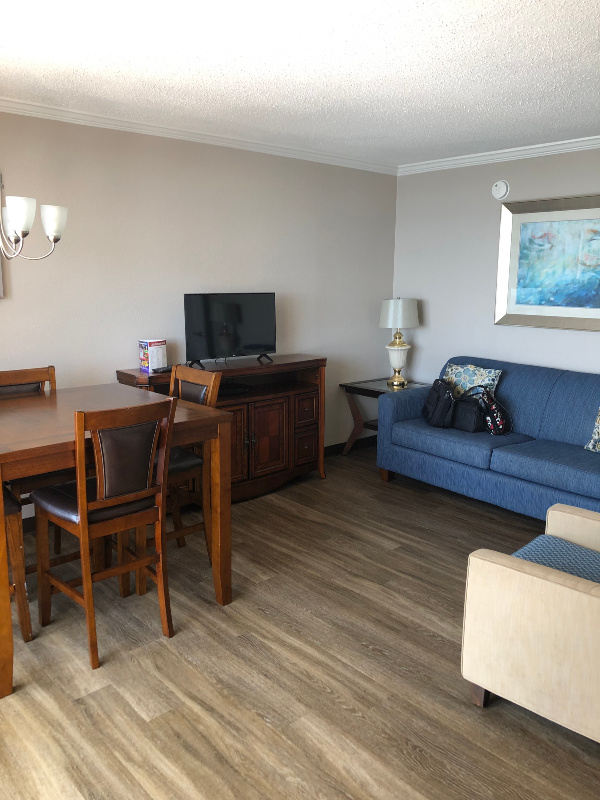 Jersey Boy wants to visit again so he can take advantage of the golf packages with the Caravelle. If you are looking for a place to stay in Myrtle Beach, SC in the off season (or any other time) then I suggest you check out the nine buildings that make up The Caravelle Resort.
Looking for places to eat at Myrtle Beach? I have a list here-> Places to Eat at Myrtle Beach
Need ideas for things to do while at Myrtle Beach? There's a list for that too -> Things to do in Myrtle Beach
Don't forget to enter the Vacation Myrtle Beach Giveaway, winner gets a Myrtle Beach oceanfront condo or $50k cash!