I only recommend products I use myself and all opinions expressed here are our own. This post may contain affiliate links that at no additional cost to you, I may earn a small commission.
My oldest son just turned 13 last week. When asked what he wanted to do for his birthday he asked if we could travel some place new (to him) instead of having a party. Knowing that he would enjoy the travel experience I gladly agreed. Vacation Myrtle Beach is a go! We booked a weekend at the Crown Reef resort and waterpark. We have 4 kids now and even though it was mostly for the birthday boy I wanted to be sure that our weekend would have something for everyone to enjoy. The Crown Reef seemed like a great option for us when looking at where to book. They offer the great ocean front rooms (that I prefer when staying at the beach), multiple food options right in the resort (what my husband looks at when picking a place to stay), and it has an arcade and indoor/outdoor waterpark with pools, longest ocean front lazy river in MB, multiple water slides, and a splash house. We were sure we could spend the entire weekend without even leaving the resort property if we didn't want to.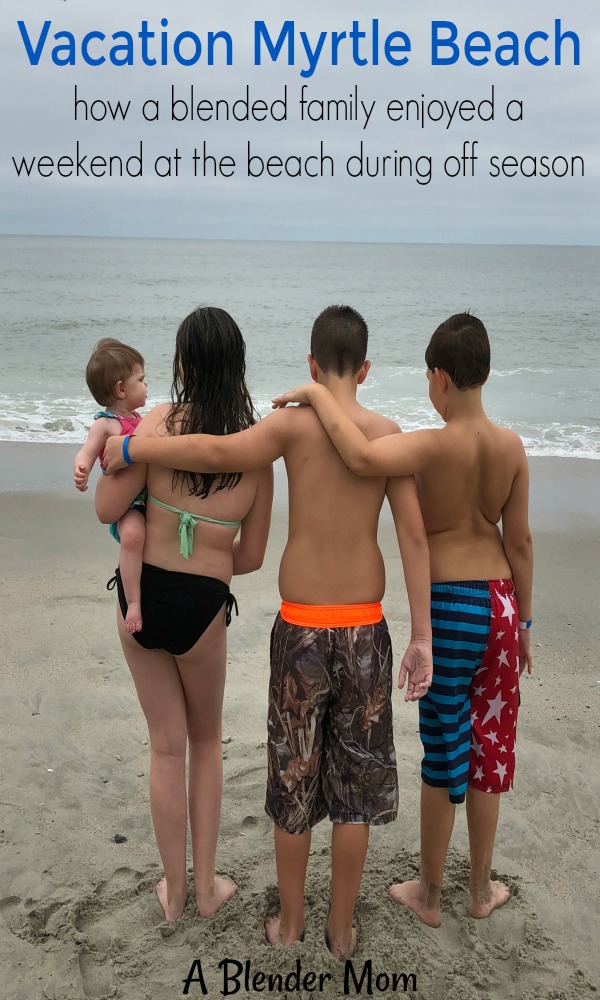 We got a late start on our road trip because my step daughter had school on Friday and Jersey Boy had to work. Once we were all together and packed up we hit the road. Myrtle Beach, SC is about 5 and ½ hours from us. Even with all four kids we had a decent road trip. We did have a slightly rocky start to the trip as we were on the side of the road at 10 at night because the baby had a blow out diaper and threw up all over the backseat. Once we got that all cleaned up the rest of the ride was pretty decent. We arrived to the resort at 2am Friday night. We were able to get in to the conference center across the street easily and got checked in to our room very quickly. The staff that greeted us and did our check in were all very friendly.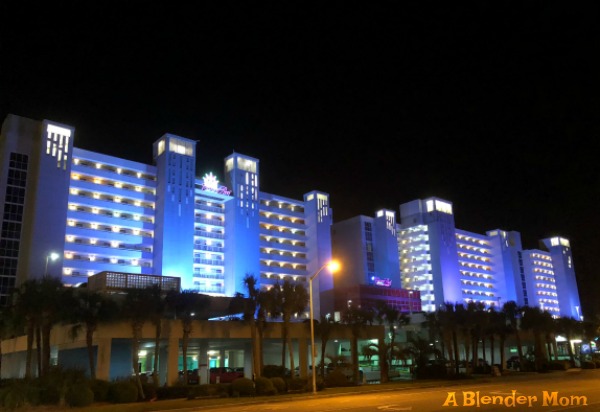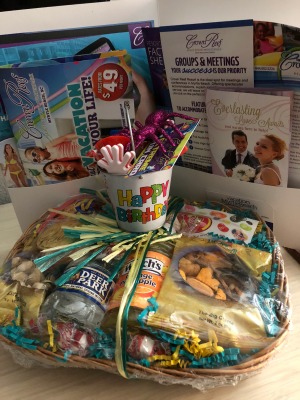 We got to our suite (room 631 in second tower) and everyone crashed except for me. The suite has 2 queen beds in a room, a sleeper sofa and a pull out wall bed in the living room. It also had a kitchen. I usually don't sleep much on beach trips anyways so this trip was no different and I can't complain because the kids were having a great time and happy kids equals a happy mama. I had my dose of vitamin sea so I was good. I sat out on the balcony at 3am taking in the ocean breeze and the sounds of the waves coming to shore.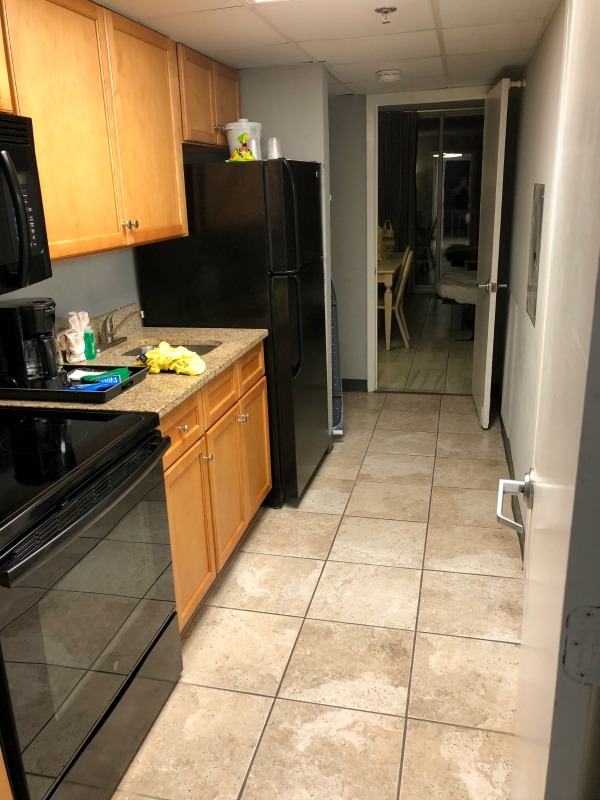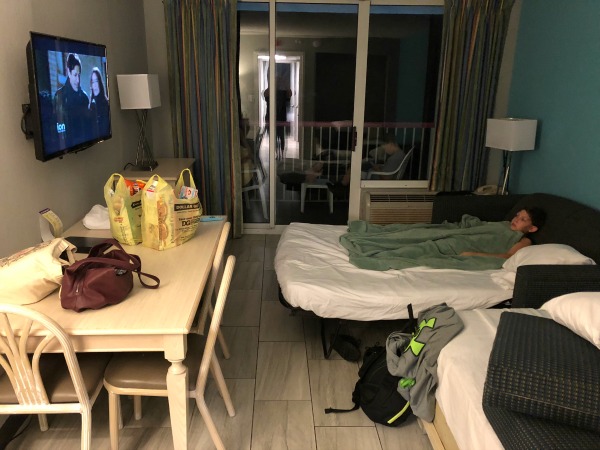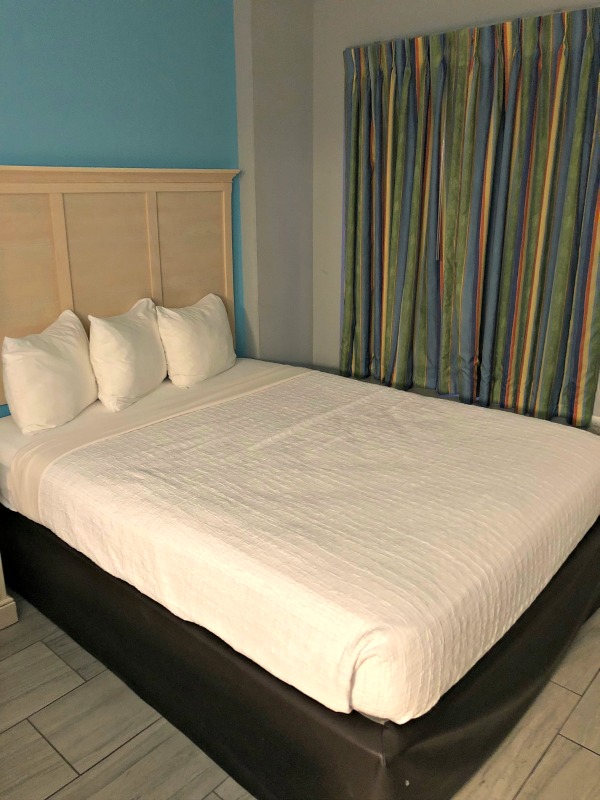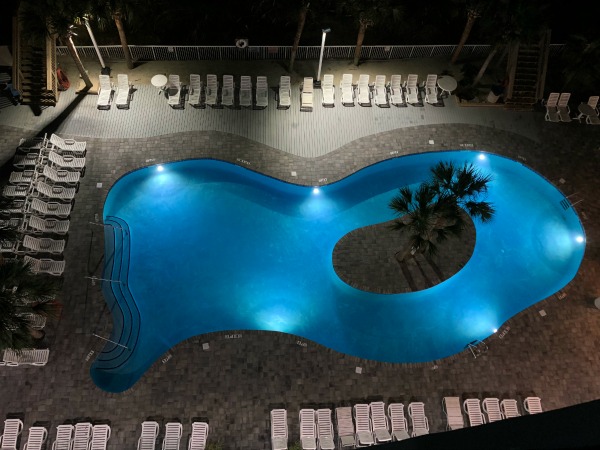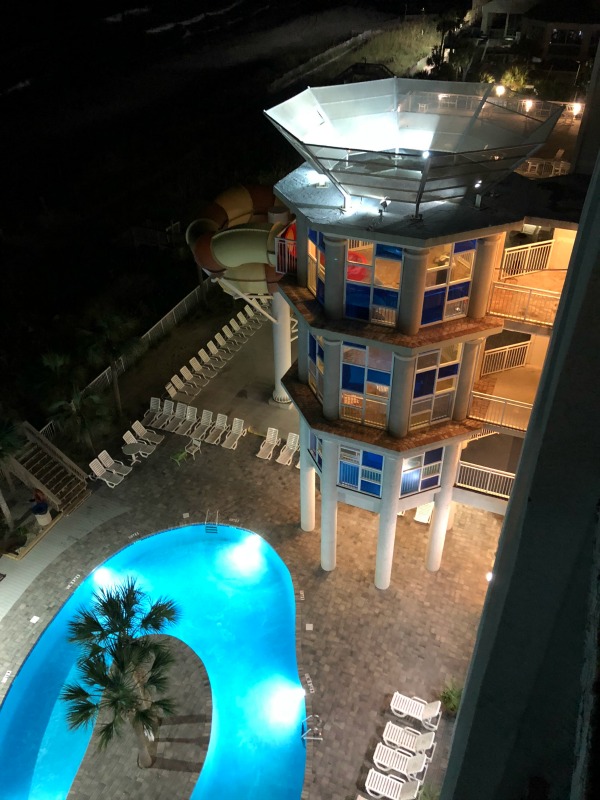 We started our day Saturday morning eating away from the resort for breakfast. After breakfast we had an attraction to visit for the birthday boy (once in a lifetime experience for him I'm sure) and then we went back to the resort. The kids were begging to hit the waterpark and the ocean. The swam in the pool that we could see from our balcony the night before, took a nap around the lazy river, and zoomed through the water slides. Before heading to eat they had to take a swim in the ocean. After all the water fun we headed back to our room to look at the menu of the Loco Gecko restaurant that is inside the Crown Reef. We decided on pizza from there for late lunch/early dinner. Well actually we had pizza and chili cheese fries. The birthday boy and I walked down to the Loco Gecko and picked up our order. The waitresses and bar tender were friendly and helpful. The decor of the bar area made the birthday boy laugh with its signs and art. Our meal was good and no one had complaints. When you have multiple picky eaters and everyone eats their food with no complaints then that is a (newly blended) family win for Mama, too.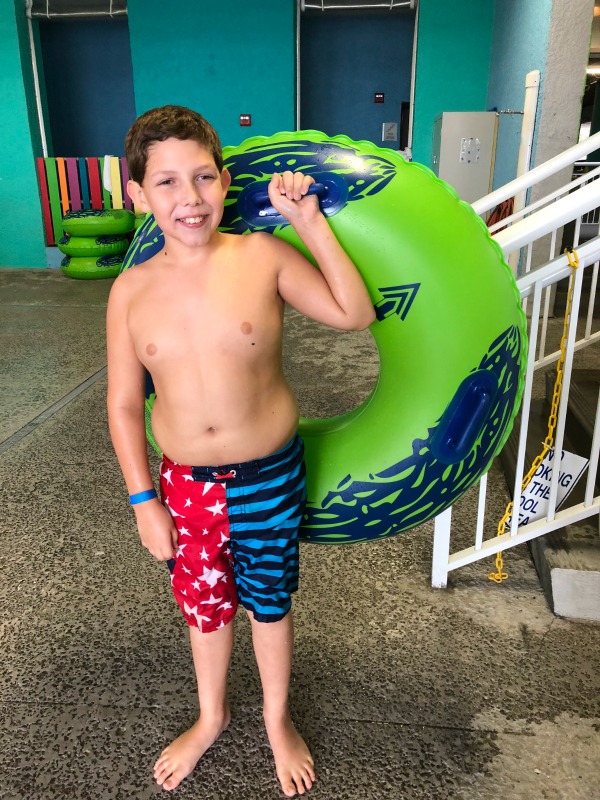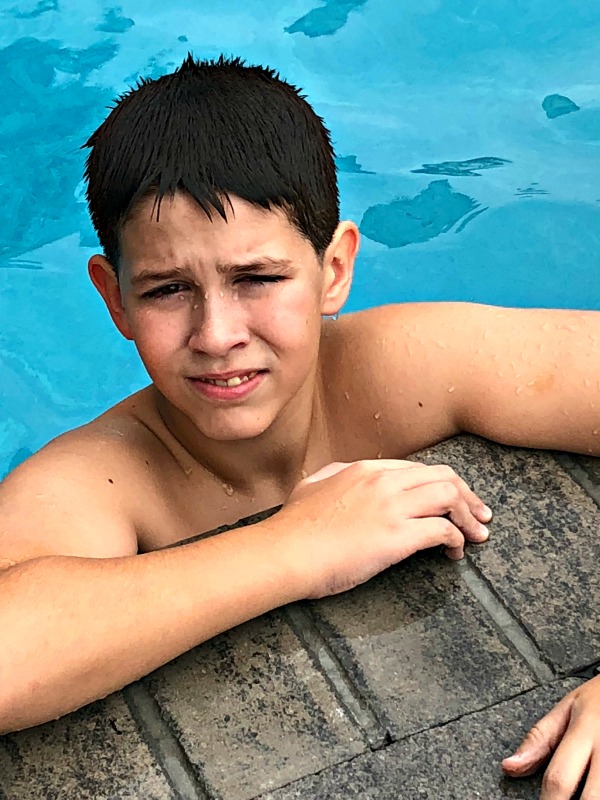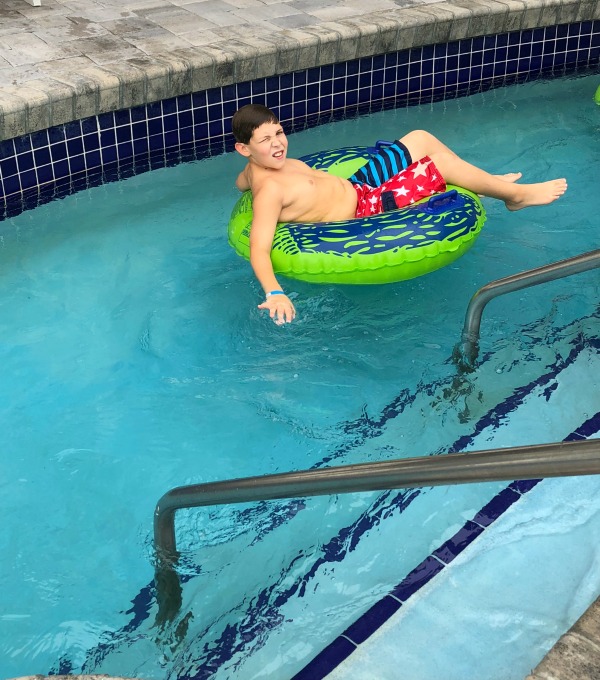 We went out to some evening attractions to end our first full day of the weekend in Myrtle Beach. Everyone crashed as soon as we got back to the resort suite. Another win- no stalling at bedtime, all I head was ocean waves and snores the rest of the night.
For our last day at the Crown Reef we did the buffet style breakfast there in the Grab N Go Grill & Restaurant (part of the resort town center). Everyone filled up on breakfast goodies like the waffles and omelettes from the waffle/omelette station, biscuits with gravy, fruit bowls, cereal, eggs, potatoes, sausage, bacon, and a lot more.
Once we had our fill at breakfast we let the kids have some fun in the arcade. My middle boy is usually really good with crane games. He was able to hook a Freddy bear by the hook string and had it left dangling on the crane arm. The ladies who were working the breakfast and arcade area were all very quick to come over and help him get his winning bear to drop. I was challenged to a game of air hockey by the birthday teen. I felt a little bad for beating him 7-2. Mama still has game apparently.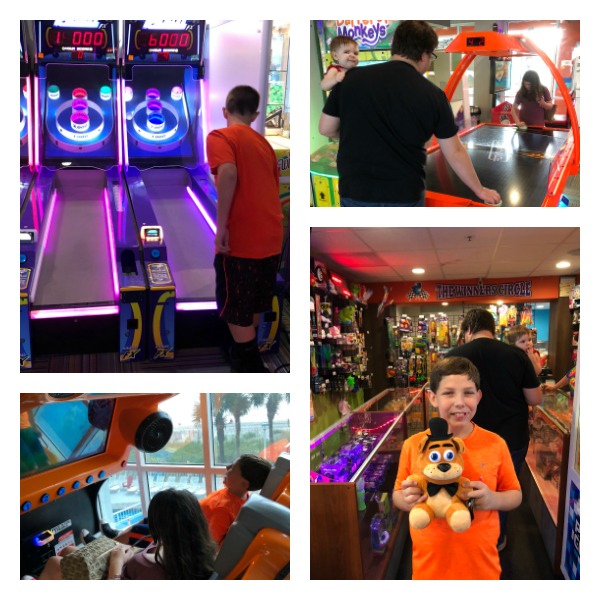 After the arcade fun it was time to pack up and get out. Check out is 11am so we dialed 0 for quick checkout, loaded the van, and headed off to one more attraction before hitting the road to home. I left our Vacation Myrtle Beach weekend with a full and happy heart.
Do I recommend the Crown Reef resort to stay at while in Myrtle Beach? Yes. I asked the kids and my hubby multiple times during the weekend if they had fun or if anyone had any complaints. The room was clean. It was enough space for all of us. The view was fantastic. The resort food was good. The waterpark was fun. Everyone was happy. My son enjoyed his birthday weekend, everyone got along all weekend, I got to visit the ocean for a recharge on myself, and my husband got to experience Vacation Myrtle Beach style for the first time ever. Our Vacation Myrtle Beach weekend was very much a memorable trip for us all. I will gladly book with Crown Reef again.
You can see more of our Myrtle Beach vacation where I share a #1 place in the area to eat other than the resort and things to do at Myrtle Beach that you can enjoy even in the off season.