I only recommend products I use myself and all opinions expressed here are our own. This post may contain affiliate links that at no additional cost to you, I may earn a small commission.
When you have a house full messes are bound to happen. Thankfully I have Mean Green Orange Champ to help with all kinds of messy clean up. As we approach the holiday season I want to stay on top of the cleaning. Working full time doesn't leave me with a ton of at home time like I had as a stay at home mom and when I am home I don't want to spend all of my extra time cleaning.

ways to use Mean Green Orange Champ
Sinks- Many of our dishes don't get scrapped before they get tossed to the sink. That leaves all kinds of gunk and grease in the sink. With the Mean Green Orange Champ it cuts right through the grease and and gunk and leaves the sink looking spotless. I also use the Mean Green Orange Champ on the sinks in the kids bathrooms. It cleans up the left behind toothpaste, makeup, and who knows what else they have in there.
Trashcan- Geek Daddy and I are on the go a lot and are late getting home a lot of days. We haven't signed up for the trash pick up service at the new house yet which leaves us trying to get the trash to the dump before they close. Some weeks it just doesn't happen and the trashcan gets super duper stinky and grimy in the bottom of it. I can spray the bottom of the trashcan and let it sit 10-15 minutes and then rinse or wipe it out and it's all clean and smelling like oranges.
Floors- We are going through potty training with Kaylee. There are accidents some days and that means extra floor cleaning. I can spray the spots and wipe them right up with no urine smells left behind. I also spray around the boys bathroom toilet for their "misses". If you have carpet you can spot clean with Mean Green Orange Champ to clean carpet too. If you use a carpet cleaning machine you can replace the cleaning solution with Orange Champ. You can even add some Orange Champ to a bucket of water and mop your floors with it.
Stove top- My husband does a lot of things in his life big and full of excitement and cooking is no different. Throw a little of this in the pan, a dash of that, and usually after each meal the stove top is a work of art. I just give it a couple streams of Orange Champ and let it sit and then wipe away all the grease and food left behind.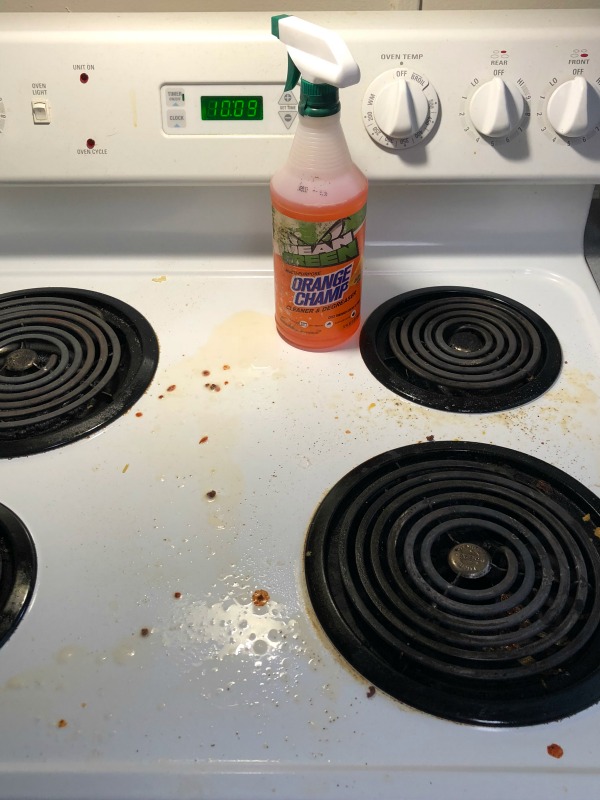 Cleaning up after everyone, including myself, is not something I enjoy by any means but at least with Mean Green Orange Champ it's a little easier. You'll want this multi-purpose cleaner too. Bring on the holiday cooking (and mess), my Mean Green Orange Champ is ready!