I only recommend products I use myself and all opinions expressed here are our own. This post may contain affiliate links that at no additional cost to you, I may earn a small commission.
I'm an 80's baby and 90's kid. Thanks to ProjeX I get to relive a little piece of my childhood with my kids. We received a ProjeX projecting arcade game for review.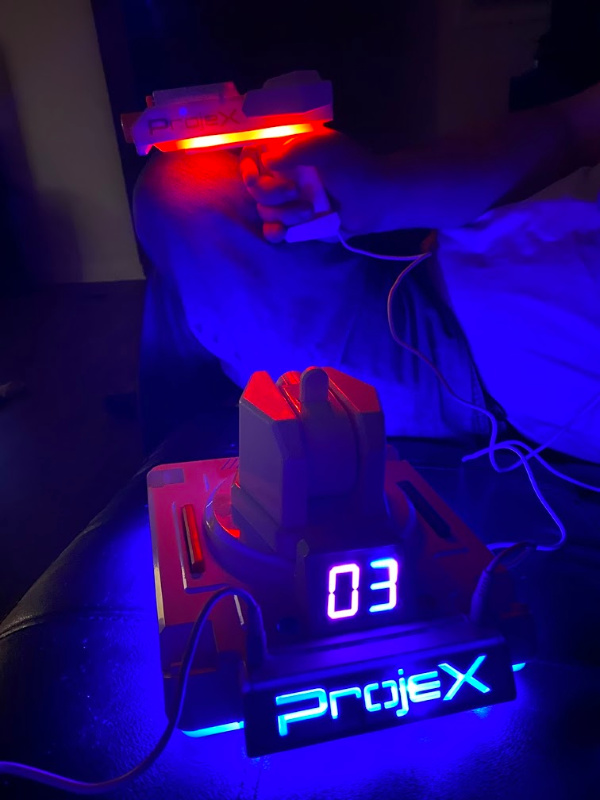 What is ProjeX projector arcade game?
ProjeX is a projector type arcade game that the entire family can enjoy together with no television. All you need is an empty, light colored wall, the ProjeX system, and some AA batteries. This game reminded me of all the fun I used to have as a kid when I would play the old school duck hunting shooting video game. Not only do you not need a tv to play it, you can even play it outdoors on the side of the house or on the garage door!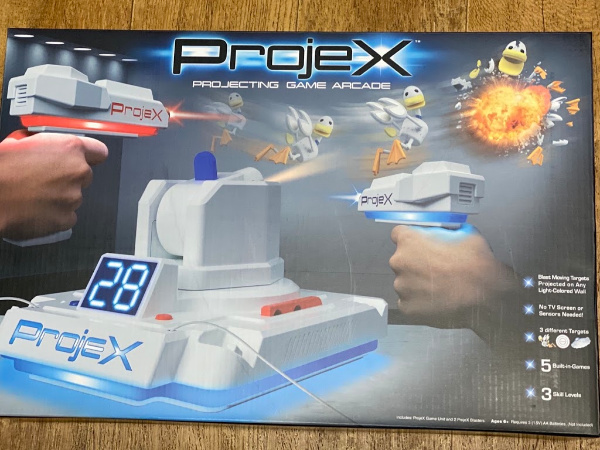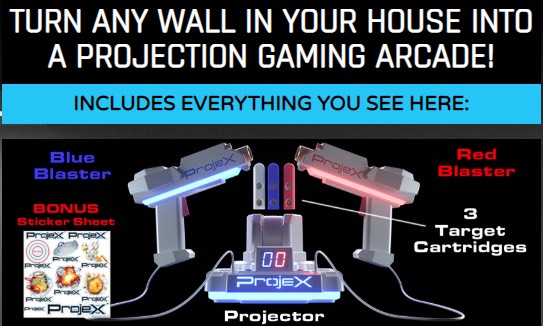 How to play the projector arcade game
All you have to do is install the batteries (not included), set up the ProjeX system about 5 feet from the empty wall space, choose your slide, turn it on to the game setting you want and you're all set to have a blast. You can choose from targets, UFO's, and ducks. There are different levels and options for a variety of play. You have to "load" your blaster which gives you 6 shots and then you have to reload again after every 6 shots to continue hitting objects.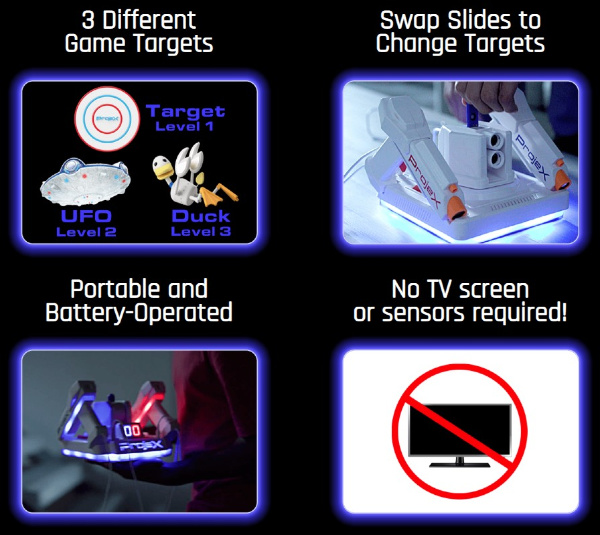 The boys, Jersey Boy, and I all had fun playing with the ProjeX projector arcade game. The only "if we made this game" comments I heard from the guys was 1- they wish the blaster cords were a little longer and 2- they think it needs a volume button because at night after Kaylee had gone to bed they were apologizing for the "loud noise". From Mom, the sound isn't super loud. It never woke her up so I think they were just being paranoid that they were going to wake her up. I jokingly have always told them that if they wake her up that they have to get her back to sleep. It hasn't happened yet though.
ProjeX is an over all great game for any child 6+, as well as the child at heart adults. Retailing for $49.99, the ProjeX game can be purchased at Target, Walmart and www.ProjeXGame.com