I only recommend products I use myself and all opinions expressed here are our own. This post may contain affiliate links that at no additional cost to you, I may earn a small commission.
My youngest son Kyle had been talking about being SubZero from Mortal Kombat for months. He was being picky about which costume he wanted me to find for him. Most of the Sub Zero costumes I found online and in stores were for men not tweens or teens. I finally found one that we thought would fit him online at Oriental Trading and while browsing he found something else that made him quickly change his mind about what he wanted to wear trick or treating. I was now ordering a foxy costume instead of Sub Zero.
I know some of y'all may say it's not appropriate for a nine year old but I see it as just a game that he plays. His game time is monitored so I know he's behaving. What game am I talking about? Five Nights at Freddy's. He started asking to collect the characters last year. He found some collectibles in a store at our local mall. Posters, stuffed characters, he has a lot of it. While we were on vacation a couple weeks ago he won a Freddy bear from the crane game.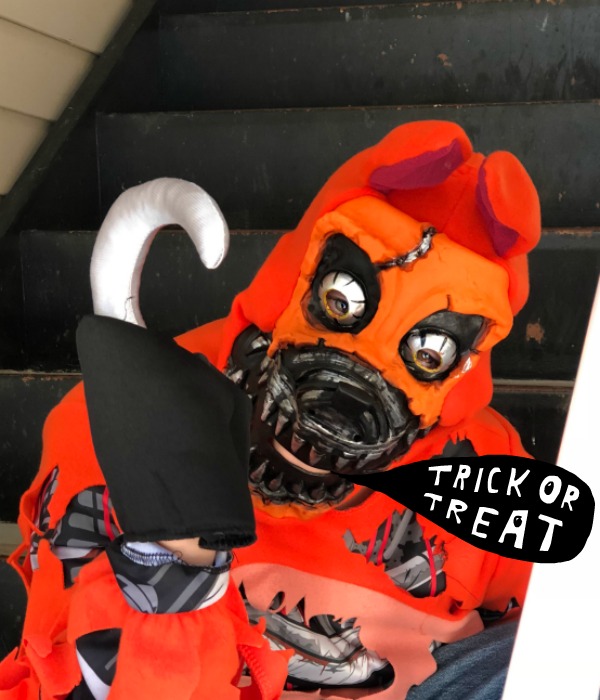 Once he saw the Foxy costume on Oriental Trading his idea for Sub Zero was iced. For those who have no clue who Foxy is he is known as Foxy or Foxy the Pirate from Five Nights at Freddy's. He is an animatronic pirate fox. The Foxy costume shirt shows part fox fur (fleece) and part shirt print of the animatronic parts (showing his damage). The costume also comes with the full Foxy face mask, as well as the hand covers of a paw and a pirate hook. There are no pants or bottoms included with the Foxy costume. He plans to wear either torn brown shorts or black pants with some boots. We haven't 100% decided on that part yet.
As soon as he saw the Oriental Trading box was delivered he was begging to open it. He quickly tore into the box and packaging and ran off to try his foxy five nights at freddy's costume on. We stepped outside for me to get a few quick shots for him to see and he ended up scaring our neighbor's dogs by being on the stairs. He is super excited to wear his Foxy five nights at Freddy's costume again this weekend and on Halloween for trick or treating. If you are looking for costumes still you should check out the options that Oriental Trading has to offer. They are one of my number one places to shop for party supplies and holiday fun.