I only recommend products I use myself and all opinions expressed here are our own. This post may contain affiliate links that at no additional cost to you, I may earn a small commission.
Baby D is a very adventurous toddler. KC says he is not afraid of anything and is a daredevil to only be 16 months old. She jokingly calls him little Evel Kinevel. I was hoping that he would like his new Mega Bloks® Ride-On Whirl 'n Twirl race car and not give us any heart attacks while playing with it. When I first gave it to him he wasn't very interested as there were many people around and he was taking it all in. He was a tiny baby when they left for Germany last summer so now that he is a bit older and mobile he was running around all over the house while they are visiting.
Mega Bloks® Ride-On Whirl 'n Twirl™ Race Car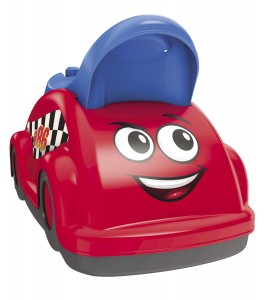 After he realized that the he could climb on the race car and that it moved across the floor he was ready to climb aboard and take off. The Mega Bloks Ride-On Whirl 'n Twirl Race Car is low to the ground so he didn't have much trouble throwing that short little leg over the seat and climbing up on it. He pushed himself across the floor a ways then he would climb off and push the car and then climb back on and ride some more. He did this for a little bit then ran around with the other kids some more. While he was playing with the Mega Bloks Ride-On Whirl 'n Twirl Race Car, KC and I sat and talked about the car. She had said that she had looked at the race car for Baby D in the store. Like me she thought that the race car would have had some Mega Bloks under the seat to go with the car but it is sold as the car only. There are block stubs on the seat handle where bloks can be attached but you have to purchase them separately. Even though he didn't have any Mega Bloks on hand at the time Baby D was still able to figure out what the "trunk" storage area was for without any of us telling him about it. He took a bucket of stacking cups and shaped blocks and once he saw the opening on the back of the car he started stashing his toys inside.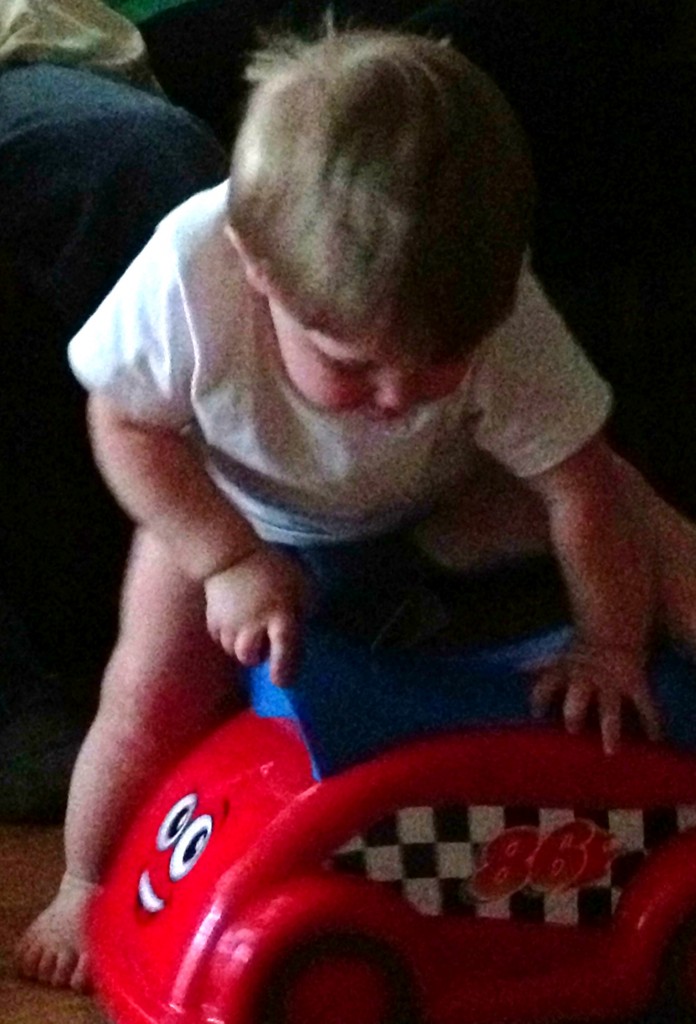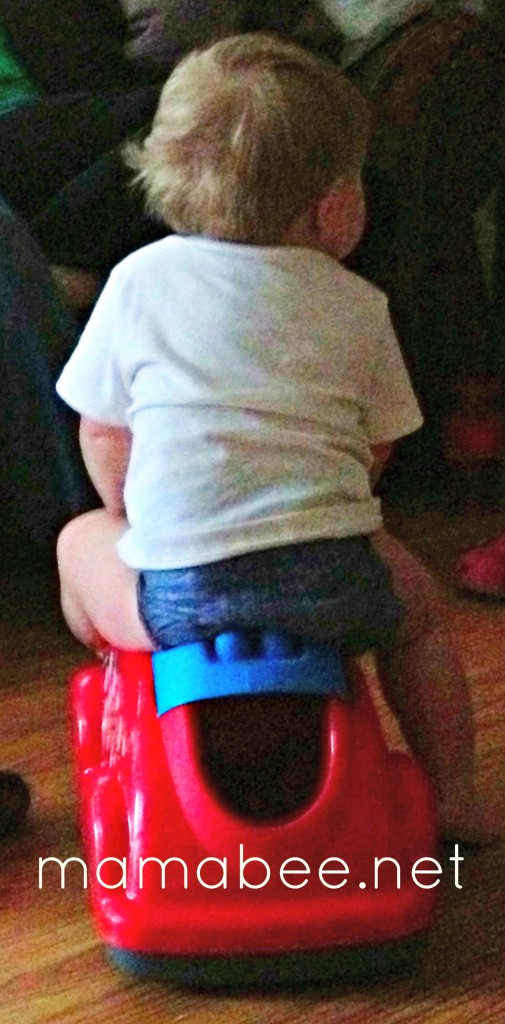 I was able to snag the car for a few seconds when he wasn't riding it or stashing toys in it to look at the wheels underneath. This ride on car has caster wheels for quick-turning action. Most ride on cars that my boys had the wheels didn't rotate they just moved front and back and had a slight turn to them. The wheels on the whirl 'n twirl race car spin in a complete circle. Baby D liked that the race car could do a complete circle. We tried spinning it with him on but he climbed off too quickly and he spun the car around himself and giggled as he watched it spin.
Overall I think the Mega Bloks ride on Whirl 'n Twirl Race Car is a great toy for Baby D. He has plenty of time to play with it as the age range for the car is 18-36 months. My only thing I would ask for change about the race car was a better seat handle. The seat raises up on one side and the kid(s) are supposed to use that to hold on to while riding the car. Baby D rode the car around a few times on it backwards until we turned him around. We had all linoleum and hardwood flooring for him to ride on so I don't know how well the wheels do on carpeting.
Would I buy a Mega Bloks® Ride-On Whirl 'n Twirl™ Race Car? I would. You can purchase the Mega Bloks Ride-On Whirl 'n Twirl Race Car for the suggested retail price of $24.99 at retail stores nationwide. If you are shopping online you can find the race car on Amazon
.
GIVEAWAY!
We have (1) Mega Bloks® Ride-On Whirl 'n Twirl™ Race Car to give to a Mama Bee Does reader! Use the Giveaway Tools form below to enter this giveaway. Giveaway is open to US residents only. The giveaway will close March 6, 2013 at 11:59pm ET. Once the giveaway is closed and winner is picked the winner will have 48 hours to respond to notification or another winner will be chosen. This giveaway is not affiliated with Facebook or twitter. Prize will be sent from Mega Bloks and the blogger will not be held responsible for brand not fulfilling prize distribution.
Disclaimer: We received the product from Mega Bloks for the purpose of a review and hosting a giveaway. Opinions are those of Shanaka and KC of Mama Bee Does. There was no money given for this post but this post does contain affiliate links.