I only recommend products I use myself and all opinions expressed here are our own. This post may contain affiliate links that at no additional cost to you, I may earn a small commission.

This post is part of a sponsored campaign with LeapFrog and MomSelect. Opinions are my own.
Kyle, my youngest, started kindergarten this year. We have been working on his ABC's so that he can recognize all the letters of the alphabet and the letter sounds so that he can attend the alphabet party at the end of the month. To have had no pre-k experience he has done very well with what all he knows and has learned. I'm thankful that both of my boys enjoy going to school. I don't think they enjoy it as much as playing on the iPad but I'll take it. I've accepted the fact that everything is electronic these days. There are gadgets and toys and apps for just about everything. The swipe of a finger can do a lot. Kyle is also my little budding photographer. I shared on Facebook the other day that he was following me around telling me I looked pretty washing dishes and he wanted to take my picture then he tells me I sweat pretty (after a workout) and wanted to photograph me again. He is pretty good with his photography for a 5 year old.
With his love of photography I was pretty sure that he would enjoy using the LeapFrog Creativity Camera app and protective case toy.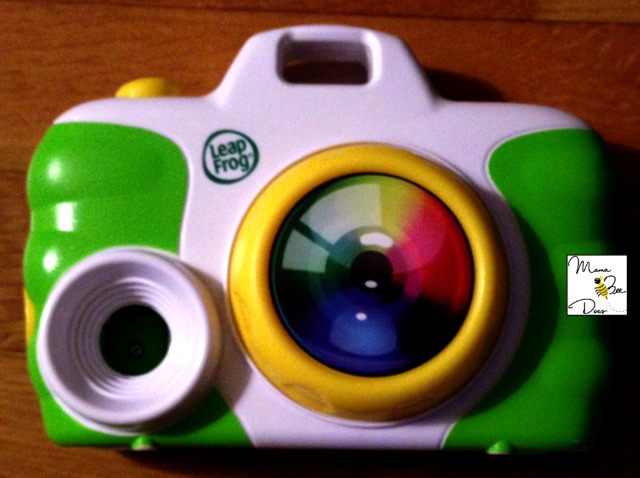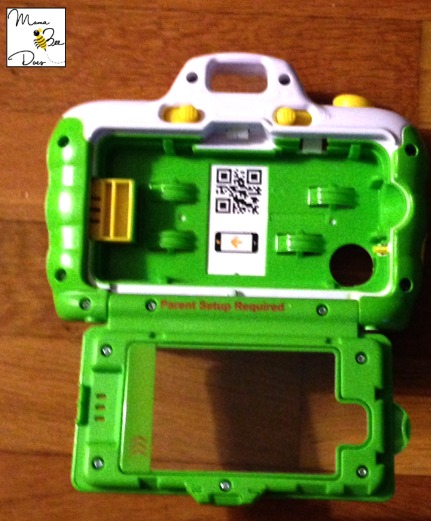 The LeapFrog Creativity Camera app and protective case can safely turn your iPhone or iPod touch into a kid friendly camera and creativity center. It's designed for 3-6 year olds so the body of the camera has to be pretty tough to keep my precious iPhone safe from cracks and breaks of the life of my 5 year old. The iPhone or iPod fit snugly inside the camera body and you can download the app for free and unlock the full version of the app with the QR code found inside the back of the protective case (camera body).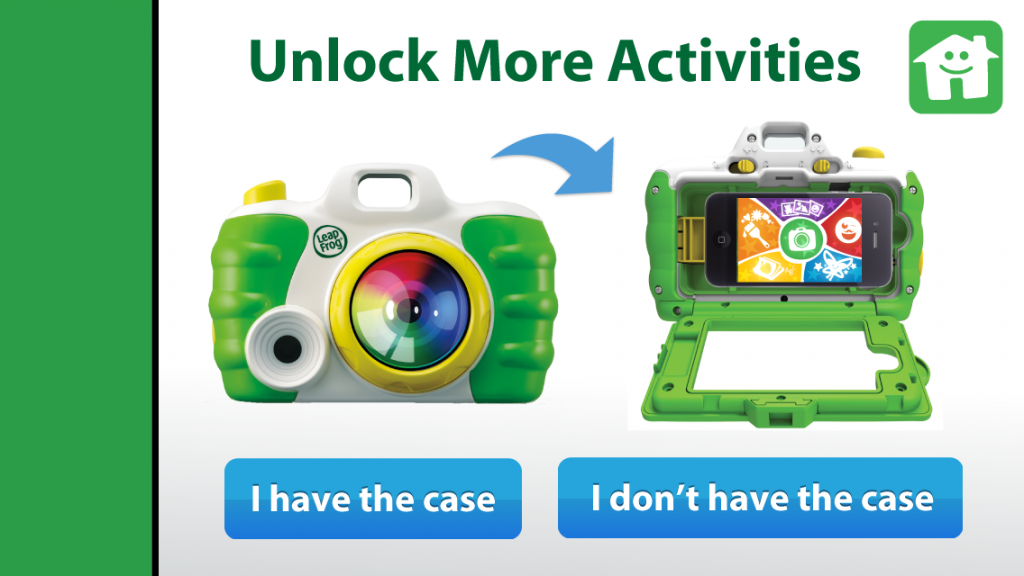 The case (camera body) doesn't require batteries only a charged up iPhone or iPod to put inside. My little guy is a bit nosy and likes to wonder through my apps sometimes if I'm not careful but with the Creativity Camera that's not an issue. The home button on the front of the iPhone is out of reach of little fingers while the phone is in the case. Kyle has been able to take photos and learn how to "edit blog pics like mama" with the creativity center on the app. Check out how he "edited" this photo he took of me. Diggin' the purple hair aren't ya?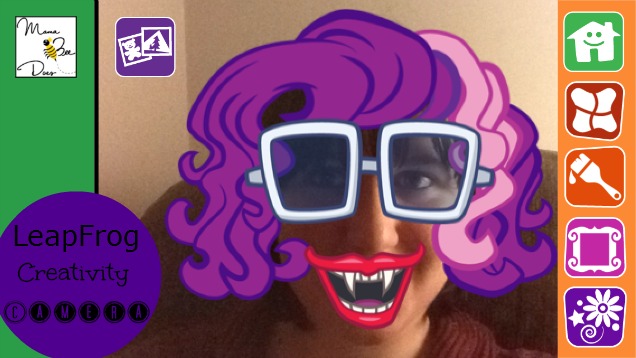 The app with the camera protective case lets the children take photos with the iPhone (or iPod) then they can use the creative center to get artistic and make their photos one of a kind shots. They can view all of the photos in the gallery, dress up their photos with silly faces, go on photo missions and even a magical creature catch game. It's well worth the $19.99 in my opinion. He loves it and I enjoy seeing the world through the eyes of a 5 year old that I can treasure, share or have as blackmail when he is older.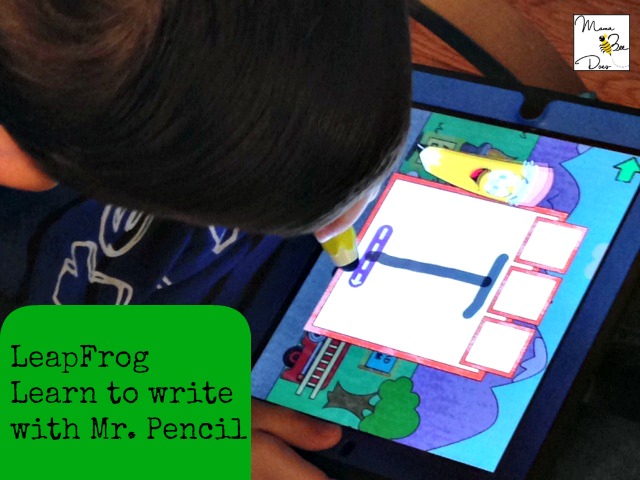 As I mentioned at the beginning of this post Kyle has to try and know all of his ABC's and their sounds so he can attend the Alphabet party with his class at the end of the month. There were only a few that he had trouble with according to the Pals test that they had in October. The LeapFrog Learn to Write with Mr. Pencil app learning toy not only helps him the correct form of writing his letters and numbers but it helps him with letter recognition too. The Mr. Pencil is a large stylus. It's formed to where my little lefty can use it just as well as I can (I'm right handed). I had to use the special eraser top on Mr. Pencil to unlock the full version of the learn to write with Mr Pencil app that I downloaded on to our iPad.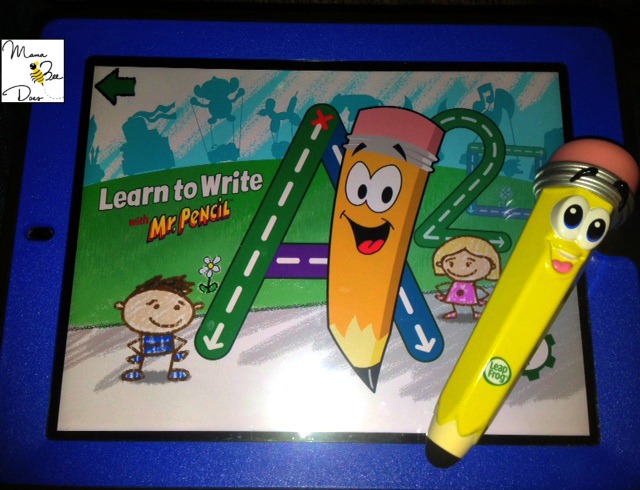 He has been using the Mr Pencil for a little while now. There are 85 activities that can be unlocked on the full version (by using the very kid friendly Mr Pencil stylus for kids). He has practiced writing letters, numbers and even shapes. Not that older brother will want to play with Mr. Pencil but if you have more than one child using the app you can create profiles for each one so you can track the progress of each individual child. You can get the learn to write with Mr. Pencil app toy for $14.99. It's a fun way to make learning entertaining.
I'm not one to let the boys spend a lot of time on the iPad but with the time they do have I know they are doing more than just finger swiping. Embracing technology instead of fighting it right? You can read more on these LeapFrog products on LeapFrog.com. You can also find LeapFrog on twitter and Facebook if social media is your thing.