I only recommend products I use myself and all opinions expressed here are our own. This post may contain affiliate links that at no additional cost to you, I may earn a small commission.
A sleep therapy system that helps me and my newborn fall asleep easier and quicker? Yes, that's the Sound + Sleep SE system. This system offers 64 sound profiles that are scientifically engineered to help people like me fall asleep easier. Their motto is- Sleep better. Live better. and with the Sound + Sleep SE from Adaptive Sound Technologies (ASTI) I can do just that.
Our baby girl was born all most a month ago now (how is she all most a month old all ready). I was surprised that one of the sound profiles on the Sound + Sleep SE is one labeled "baby". I thought now what is that? A baby crying? How is that soothing? But I was so wrong. The baby sound is actually a heartbeat sound and my little Kaylee loves to hear it. She gets fussy in her seat sometimes and if I turn the Sleep + Sound SE on to baby it's not long at all before she is snoozing away to the sound of a heartbeat. She grew listening to that sound for 39 weeks so I can see how babies would be comforted by it.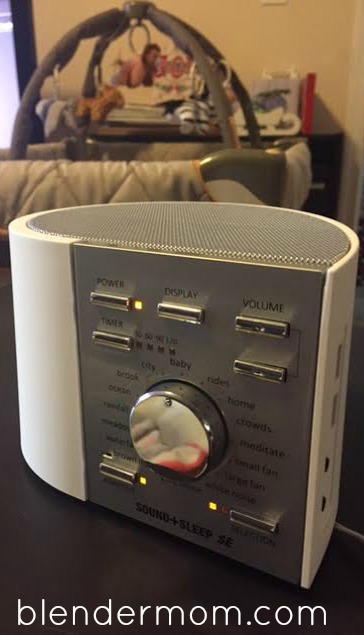 Kaylee's favorite sound is baby (the heartbeat), my favorites are meditation and ocean but ocean is one I listen to the most, and Geek Daddy said his favorite are the water sounds- ocean, brook, waterfall. I love how realistic the sounds are. As I close my eyes at night I hear the ocean sounds and I feel like I am back at VA Beach with the door to the ocean front balcony open and I hear the waves and birds.
You can easily adjust the volume on the Sound Sleep SE system and you can also set the sounds on timers of 30, 60, 90, and 120 minutes. With the Sleep + Sound machine it usually takes just the 30 minute setting for Kaylee and she's out. I am more fond of the 60 minute timer for myself. Not only is it great to have the timer but one of the other great features is the "adaptive" button. What does that mean? The system uses a built in microphone to listen to your environment and it dynamically adjusts the volume based on noise levels. You can also have the Sound + Sleep plugged in at your nightstand and charge your tablet or phone because there are 2 usb ports on the side of the system.
Do you suffer from not getting a good nights sleep or know someone who could benefit from having a Sleep + Sound SE? We recommend the Sleep + Sound SE sleep therapy system for our 2016 holiday gift guide as a wonderful gift for maybe a new parent or someone who needs help relaxing and/or sleeping. You can purchase the Sound + Sleep SE for $99.95 right now (regular price is usually $149.95).