I only recommend products I use myself and all opinions expressed here are our own. This post may contain affiliate links that at no additional cost to you, I may earn a small commission.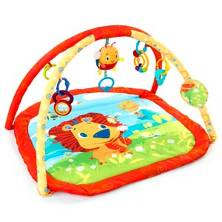 The Bright Starts Lion in the Park Activity Gym looked to be awesome when we received it and it is indeed! There are three ways to play; (1) with the toy bar and baby laying on his/her back (unless baby is at least a couple months old he/she will need a playmate), (2) with the toys on the mat for tummy time as baby gets bigger, and (3) for playtime once baby learns to sit up alone. Baby D finally got time to play with the activity gym. He wasn't in the greatest of moods when I laid him down to play, but once I started the music he stopped fussing. Then big brother wanted to show him how to play with all the different toys, so he joined the fun too. The gym includes a large quilted mat, 2 toy bars that include baby-safe mirror for self discovery, colorful bead rattle, spiraling bead chaser, and bee-shaped water-filled teether, an easy to reach plush ladybug pull toy that plays 4 melodies and 6 additional fun links for adding even more toys.
The thing I like about the toy bar to the Bright Starts activity gym is that you can rearrange the toys to your liking over and over again. Baby D enjoys the mirror the most out of all the toys right now. I also like that it can be easily transported from room to room, because of its light weight. The activity gym is also machine washable and is great for ages 0+. You can pick up a Bright Starts Lion in the Park Activity Gym at Walmart for $24.87 or you can enter below to try and win one.
disclaimer: We received free product for this review. There was no money given for this post.