I only recommend products I use myself and all opinions expressed here are our own. This post may contain affiliate links that at no additional cost to you, I may earn a small commission.

Photo books take your memories and preserve them for many years and generations. You can make a photo book to share just about any occasion. You can make a book from photos of a new baby, birthdays, anniversaries, every day moments to remember and much more. I love the Shutterfly photo books. A book I am working on (and hoping to finish by Christmas) is a family recipe book that will have family recipes and photos of family members to share. I love having the handwritten recipes from cooks that have passed on but those papers are all ready tattered and torn so if I can add my own touch to the recipes with the family photos I'm sure my family can continue to enjoy the recipes on down the road.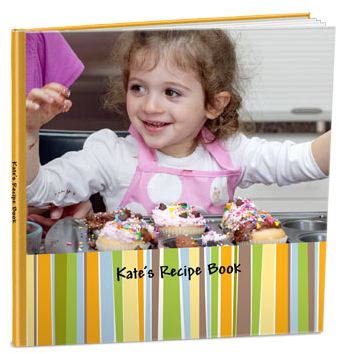 You can make your photo book 1 of 2 ways. You can go the quick route and have the book made for you by using the simple path. The simple path to a photo book includes up to 400 photos (1-4 per page) that are arranged for you and more than 20 styles with preset backgrounds and layouts. There are 5 sizes to choose from for these photo books. The 2nd way to create your photo book is the custom path option, which is what I used to make the Year in Review book for my boys. With the custom path you can include 1-25 pictures per page ((up to 1,000) and you have an extensive collection of backgrounds, layouts, embellishments and stickers to choose from. With the custom path you also have 5 photo book sizes you can choose from.
You can change the background color, the text color, the embellishments and photos (done on each page of the book). It's 100% what you want, how you want it and I love that. It takes me about an hour or so to create my books and ready to have it printed. You'll receive an email shortly after ordering that it is in the process of being made. The day after ordering my last book I received another email that it was being sent out for shipping. The day after that I had our book. The book is as great as I had hoped it would be. The photos will only print as well as they were taken so do any touch ups before ordering because they will not go in and fix things for you before it's printed but they do offering you warnings if they resolution of a photo is to low or if you have text that could be chopped off when the book is made. I had warnings of both and went back and adjusted them before ordering. I adore the book I made and will be back to Shutterfly to make more. I have been very pleased with my experiences with Shutterfly. I have used them for Holiday cards, photo books and other projects. I have yet to have any problems or been disappointed with any of my products. My children will have plenty of photo books to cherish and remember times of their childhood thanks to Shutterfly. Would you give the gift of a Shutterfly photo book? Check out the video below Shutterfly Photo Books: The Best Gift Ever
*GIVEAWAY* Would you like a free 8×8 photo book from Shutterfly? I have codes for 2 of you to get (1) free Shutterfly 8×8 photo book each. Use the giveaway tools form below to enter this giveaway. This giveaway is open to US and CA residents. Codes are good for free photo book only and does not cover the cost of shipping.
Loading Entry-Form...
...
disclaimer: This post is sponsored by Shutterfly. I received a photo book for sharing this post. There was no money given for this post. Opinions are my own.