I only recommend products I use myself and all opinions expressed here are our own. This post may contain affiliate links that at no additional cost to you, I may earn a small commission.
Spend $9.99 on 20 items or spend $9.99+ a few more dollars for 2 items, which would you choose? I took one single item to the dry cleaner a couple weeks ago and it cost me $11.50, for one thing! I cringed as I paid the bill wishing my Dryel wasn't packed away during our move to the new house. With that $11.50 for one item I could have spent $9.99 on a starter kit or a refill kit of Dryel and I could get 20 pieces of my work clothes clean at home.
Dryel at home dry cleaner
As y'all have possibly read around here, I love me some Dryel at home dry cleaner. It has saved me from having to buy more work clothes and saves me from having to spend extra on dry cleaning. It not only does fragile work wear but I also clean my favorite jeans with Dryel which means no fading or shrinking. Did you know that Dryel can clean more than just your work clothes? You can use Dryel on lingerie, coats/jackets, curtains, and even small blankets and stuffed animals.
Jersey Boy was spending $13+ by going to one of the local dry cleaners every couple of weeks. Now I do his suit separates right here at home and can get twice the amount done for a fraction of the cost.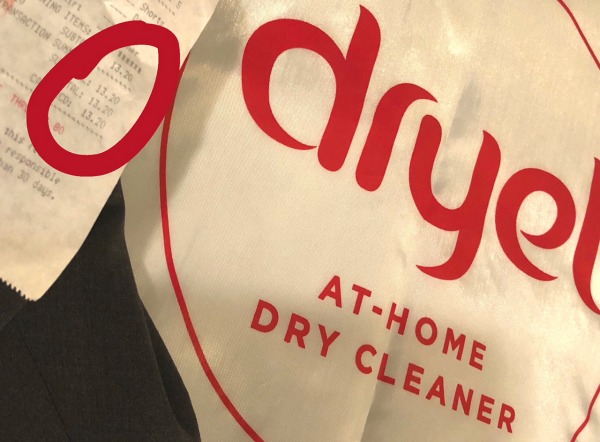 What do you get with Dryel?
The Dryel starter kits include the patented Dryel Fabric Care Bag and four cleaning cloths to clean up to 20 items. The starter kit now also gets you the the Stain Pen and the Odor and Wrinkle Releaser which means we can also get the on the go spot treatment with Dryel now as well. The Dryel Refill kit costs the same as the starter kit ($9.99) and gives you eight cloths and can clean about 40 items. That's about a quarter per piece of clothing. That's a way better deal than even the cheapest dry cleaner shop I've seen that my husband used when we first got together.
Do you use Dryel? What is your favorite item to dry clean at home with your own dryer?