I only recommend products I use myself and all opinions expressed here are our own. This post may contain affiliate links that at no additional cost to you, I may earn a small commission.

Since we eloped to Disney we still wanted to party and celebrate with our children and family. We held our sand ceremony to include our kids, friends, and family. It was perfectly us. We had our four children, close friends, and the majority of our family with us. Our sand ceremony and reception theme was Star Wars/ beach. Odd combo, yes, but so very us.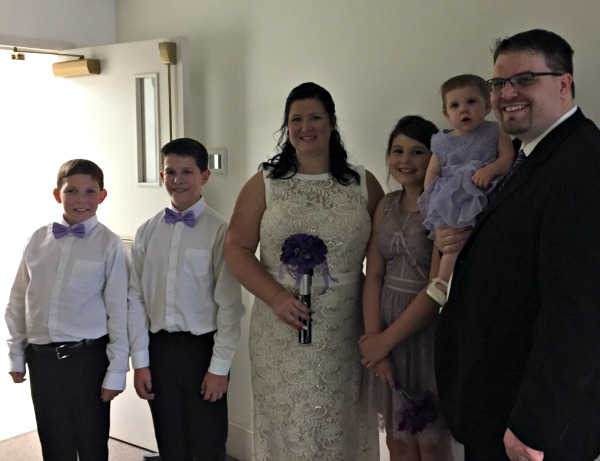 My day started out by taking my maid of honor (my step daughter) along with my Mother in law, and Grandma F to the spa for a morning of getting our hair done. It was fun girl time. I had my hair touched up of the blue/black days before so the color was ready to go, I just wanted a semi-bridal hairdo. 30 bobby pins later and I had a half up do.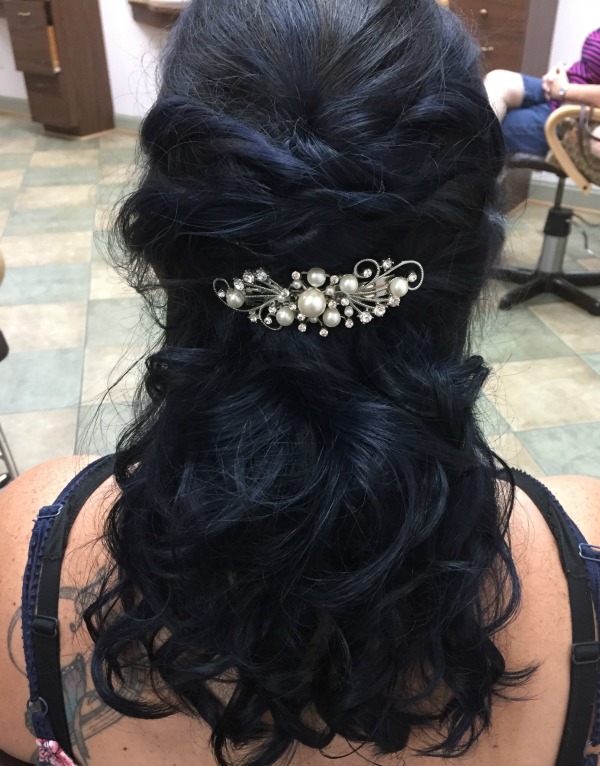 After we were all dolled up we headed home to pack the vehicles to make the hour and a half trip to the ceremony. I had a friend meet us at my mom's house and she used her Mary Kay products on both my MOH and myself. I hurried off to the hall and some family and friends met me there to help me get it set up. They all pitched in a lot and as they finished up I ran off to change in to my wedding dress and my favorite new purple Converse shoes my hubby had just got me for my birthday. Yes I wore a gown with Chucks. My boys wore Converse with their dress clothes too.
Our sand ceremony set was put under an archway, our Star Wars wedding cake and cupcakes were set up, our DJ was getting his equipment going, we were all dressed. It was time to get the fun started. We each did a walk in. Jersey Boy carried miss Kaylee and walked in to Throne Room/ end title from Star Wars, my maid of honor walked in to Pitch Perfect pool mashup (just the way you are & Just a Dream), and my two boys escorted me in to the violin/guitar All of You cover by Daniel Jang.
Our sand and sand ceremony shadow box came from Oriental Trading. Instead of the Mr. & Mrs. saying our vows again I wrote family vows and at the end the pastor had the kids say "we do" and we all added our sands to our box.
Star Wars sand ceremony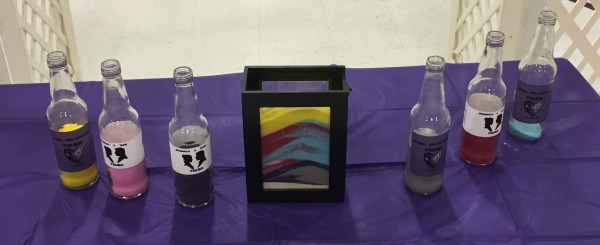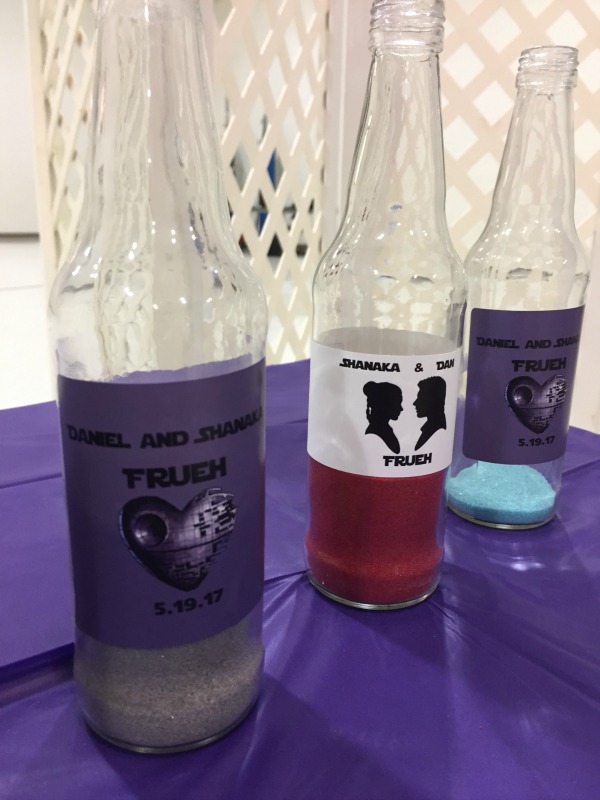 The six glass bottles I found at AC Moore for $1 each (and of course I had a coupon too). The bottle labels were done by me through iCustomlabel.com. iCustomlabel also did the stickers that we put on the bottom of our Hershey's kisses reception favors.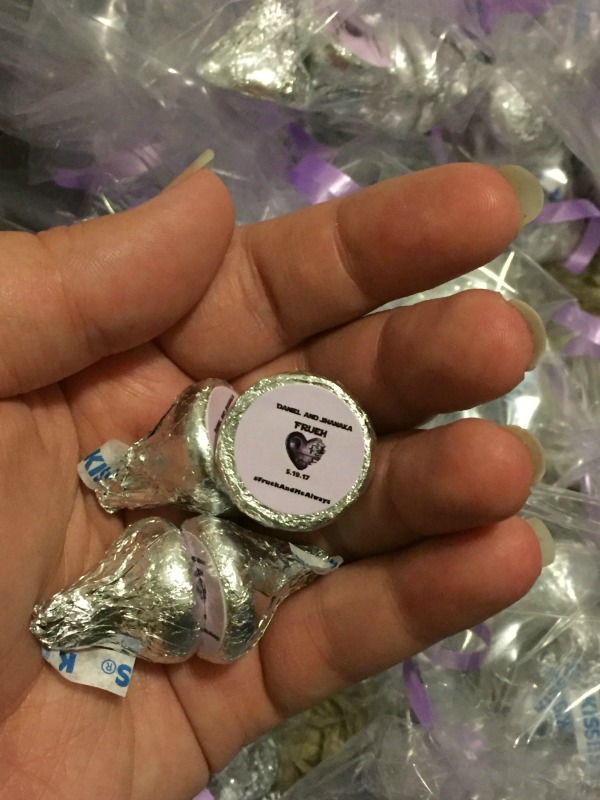 Jersey Boy and I had our first dance (From the Ground Up) to start the reception fun. Then I took each of my boys out for a dance, and Jersey Boy took both girls for a dance. Then before we opened up the dance floor we each had a dance with our Moms.
Our cake and cupcakes were so, so perfect. My friend made them all for us. I had ordered a cake topper from Amazon and it was delivered broken. I scrambled to try and find something fitting as a replacement. While I was in AC Moore getting last minute things I came across a Darth Vader and R2D2 large lip smacker containers and I found a letter F for our last name and we had a last minute cake topper. Does it look like I have Star Wars lip products on our cake? Haha!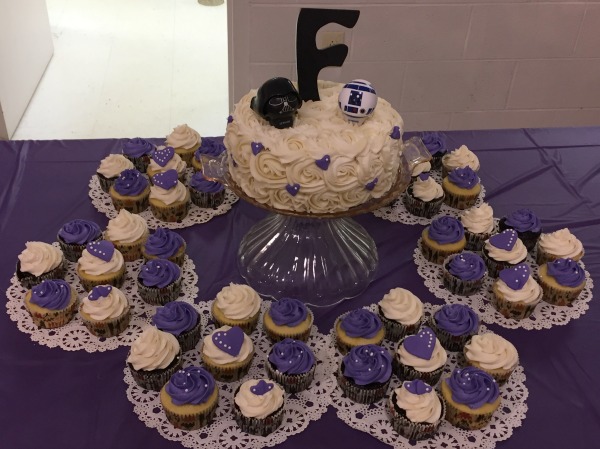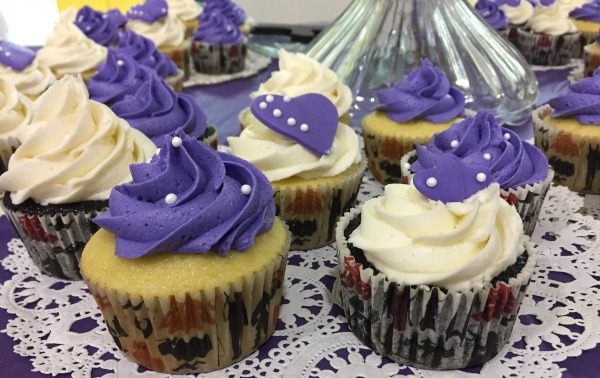 Our table centerpieces were small metal pails filled with white seashells (both from Oriental Trading) and handwritten note cards with some of our favorite romance/love movie quotes. Our guest book was a blanket given to us by my in-laws. It's beach colors and prints. I love having something that can be used and put on display rather than a book that would get packed away for years. The photo below shows a centerpiece along with the bouquet I carried. It's my favorite flowers- gerbera daisies set inside a lightsaber.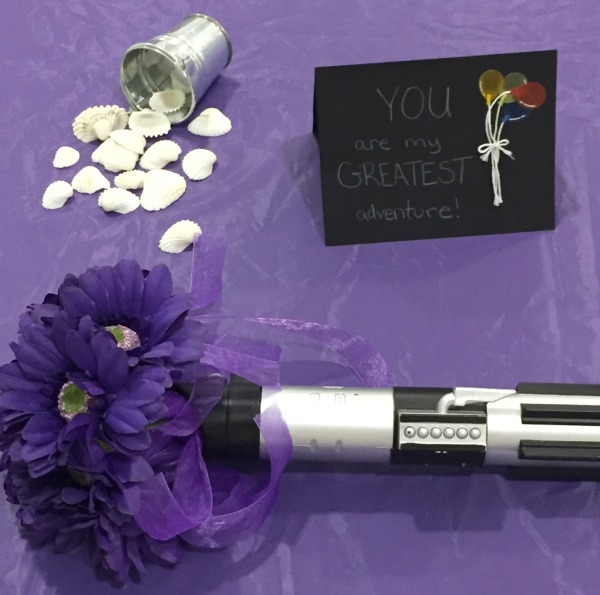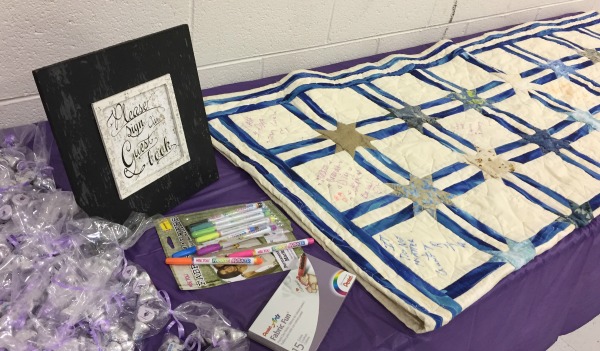 We all ate, danced, and had a great night. There were a few glitches along the way for our sand ceremony but we made it work and I couldn't have asked for a better time with family and friends.