I only recommend products I use myself and all opinions expressed here are our own. This post may contain affiliate links that at no additional cost to you, I may earn a small commission.
In one week I will be hosting a Halloween/ Nightmare Before Christmas themed baby shower. When I first shared the invitation I created with some online friends I received mixed reviews on the theme I had chosen for my baby shower. I get that not everyone participates in celebrating Halloween but at our house we enjoy the decorating, costume wearing, trick or treating and fun that comes with Halloween. One of my favorite movies is The Nightmare Before Christmas so I thought with it being October when we have our baby shower that it could be a great time to have some extra Halloween fun.
I asked our guests to come to the baby shower in their Halloween costumes or some sort of Halloween inspired attire. It doesn't have to be anything spectacular or extravagant but just an extra chance to enjoy the fun of dressing up for Halloween. I put a lot of time in to my costume most years and getting to only wear it once is kind of a bummer so the more times I get to play dress up the better I say. I'm going to dress up as a pregnant (kind of creepy) scarecrow this year and Jersey Boy is going to dress as a crow. We weren't sure where we would find the kind of crow mask we were wanting so I began my online search aka spending a lot of time on Pinterest. Then I found it... the one... The perfect crow mask. Where did I find it? Oriental Trading. They have you covered when it comes to Halloween- trick or treating treats (candy and non-candy), costumes, party supplies, party decor; they have it all.
The base for my scarecrow look is a adding a pumpkin to our patch maternity shirt and straw hat. I have my face covered because the makeup is a special part of the costume that I'm not sharing until party time.

And this is my creepy crow. The first time he put it on and got close to me I ended up smacking him in the face.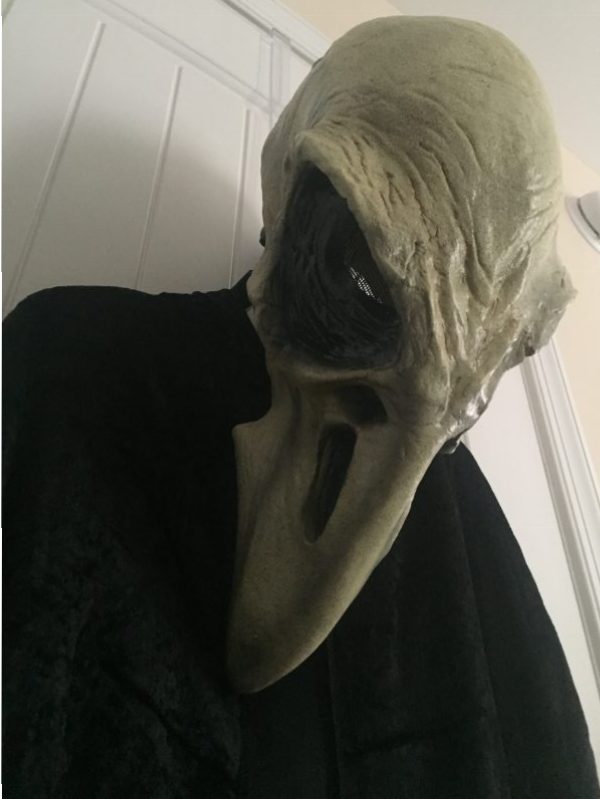 To start the party planning for the baby shower I found this Nightmare Before Christmas cardboard stand up cut out of Jack, Sally, and Zero and I knew I had to have it to welcome our guests to the shower. I haven't taken it off of the board and stood it up yet because I'm afraid with the kids playing inside that it may get torn up before I get to show it off. It's a pretty sturdy cardboard standup but Mama ain't taking no chances with these kids of mine.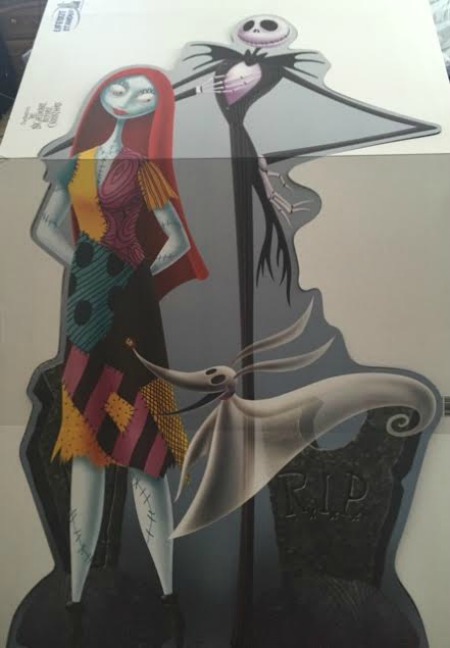 I also found some small white paper lanterns that I immediately could see as Jack faces for table decorations.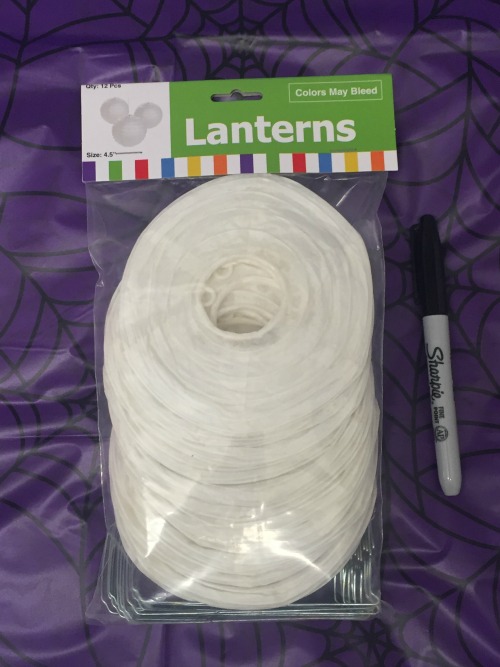 See, cute right? I have some artificial tea light candles (the ones that are plastic and run on batteries) that I thought of putting inside some of the lanterns or I may just leave them as is with the Jack Skellington faces.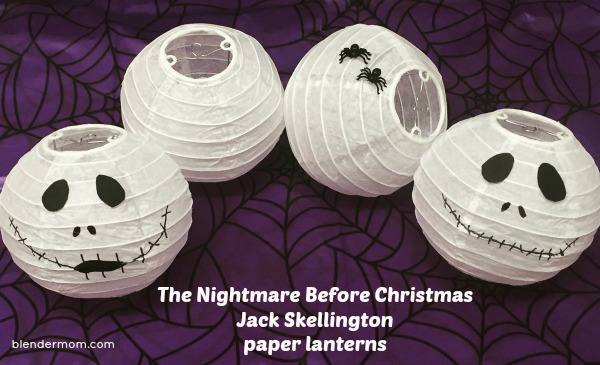 I'll be sharing more from the baby shower soon. If you are wanting to get your Halloween party shopping done then you should head over to Oriental Trading. Have you decorated for fall/Halloween yet? What costumes do you have picked out for the family this year?