I only recommend products I use myself and all opinions expressed here are our own. This post may contain affiliate links that at no additional cost to you, I may earn a small commission.
Jersey Boy and I had our gender reveal party over the holiday weekend since most of my family (and his parents) were all together for my birthday and/or the 4th of July celebrations anyways. My doctor only does the second trimester ultra sound at 22 weeks and our party was happening during my 18th week so the doctor said no to checking gender for us. Luckily a friend of mine told me about Baby Bump Studios of Charlottesville. I made an appointment and we made the hour ride in hopes that baby would cooperate and Rose, who has done ultra sounds for about 18 years and also does photography, would be able to tell us if our little nugget was a girl or a boy. Jersey Boy and I sat in the blocked off part of her studio while my two boys sat on the other side and watched most of the sonogram photos being taken on a big screen tv and wall projector (Baby Bump Studio also offers in studio gender reveal parties!). After moving me around side to side and shaking my belly around we were able to get some decent shots in 2D, 3D, and 4D of baby though it would not cooperate and let us get a full facial view. We did end up with a lot of side profile photos though. Then Rose shut off the tv and projector as she was able to tell us the gender of our little one. We took our sonogram prints and our cd of our session and left all smiles and then had to wait three days for the reveal to our family and friends. Since my birthday is July 3rd we went with a BaByQ (bbq cookout) style for the party.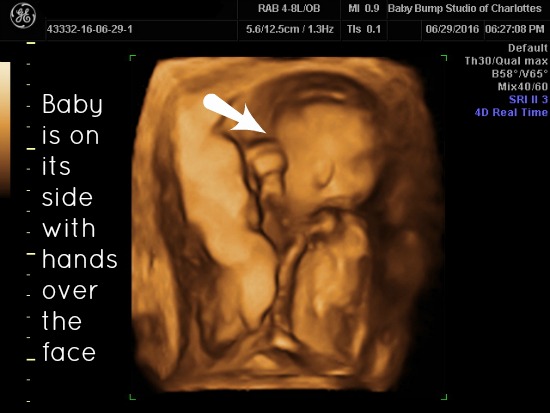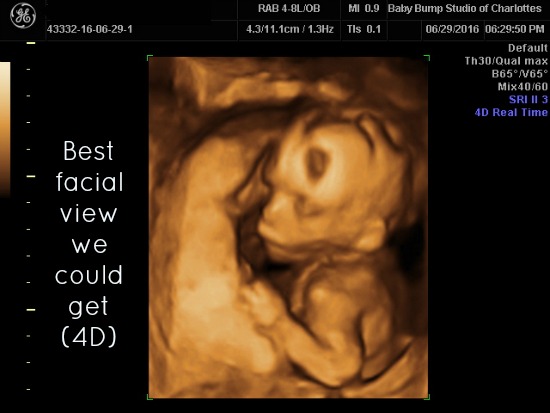 Right before I was ready to toss the darts at the balloons Jersey Boy had his own little surprise for me. He got down on one knee and said "Before we answer the question for everyone else I want you to answer mine, will you marry me?" I cried and then said yes.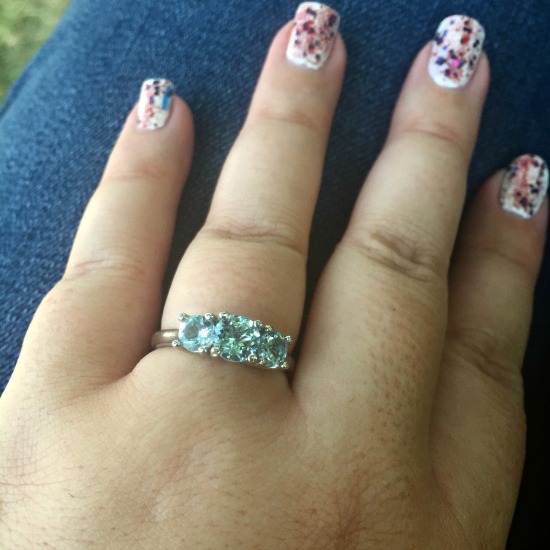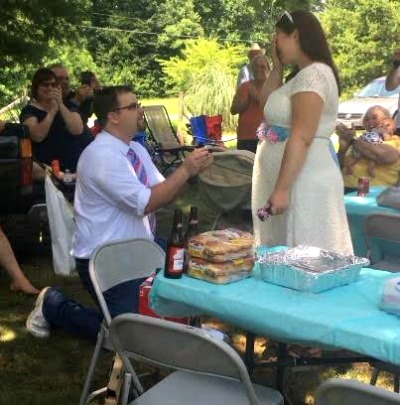 For our gender reveal we decided to pop balloons filled with paint on to a canvas. I'm not sure if it was the paint to air ratio I had in the balloons or the way I had them pinned to the canvas but when I finally got the balloons to pop only some of the paint splattered on the canvas. Most of it went on to the tree the canvas was hanging on and the ground beneath the canvas. If I could do it over again I would pin the balloons about 6 inches above the canvas to the tree and then threw the darts at them and have the canvas propped on the tree below to catch more of the paint splatters. We easily splattered more of the two colors later on though. I also did a second canvas a day before the party using the same colors for the reveal and made a painting of the name we have chosen for our little one.
gender reveal party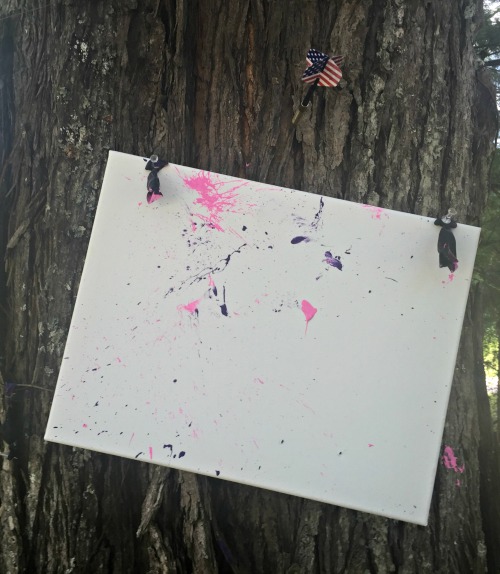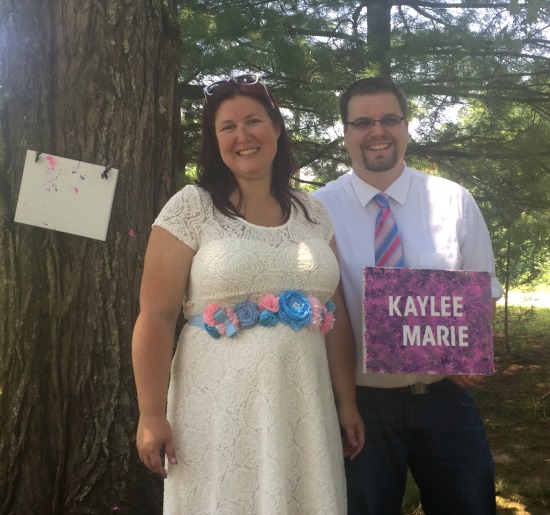 Kaylee Marie is due November 25, 2016. I was pretty convinced that baby #3 was another boy and Jersey Boy had a feeling it was a girl. Looks like I was wrong yet again (I thought both boys were going to be girls). It was a great party and weekend over all. I am now engaged to my best friend, having a little girl in November to complete our blended family, and I celebrated turning 32 with my family and friends. What more can a girl ask for?