I only recommend products I use myself and all opinions expressed here are our own. This post may contain affiliate links that at no additional cost to you, I may earn a small commission.
I mentioned on my Instagram last week that I was getting a Greenlight, the smart debit card for kids for my soon to be 13 year old. There was a lot of mixed feelings on if a 13 year old really needs a card of their own and the bigger debate was should kids even be paid for chores? I feel that certain chores are worthy of paying the kids to do and some chores are just expected for them to do on their own. I want to teach my son the value of working for his money and at the same time giving him more responsibility, hopefully putting a stop to him begging me for stuff when we go out shopping. He did the whole piggy bank money collecting when he was younger. I think the Greenlight debit card will be good for him. I know some may disagree with me and to that I say to each their own. Each parent has their own ideas on how to raise their own children.
Greenlight, smart debit card for kids
Why did I choose Greenlight, the smart debit card for kids for my son?
Opportunity to learn more responsibility with money. He can take his "I wants" and work for them.
Everything is becoming more electronic/digital these days. 12 year olds have smartphones more often than not. He's proven that he's mature enough to take care of his phone and not abuse the privilege.
If I'm going to pay him for certain chores it's easy to send over the funds to a card for him. Greenlight offers a convenient automated allowance feature to 'set it and forget it' so your kids always receive their allowance on time, with no fees for you.
Parental control. Although I'm teaching him about responsibility and finances I can still have control over where he buys, how much he spends, and can turn the card off if he abuses his privilege of having a card or doesn't do his chores. The Greenlight debit card app makes it so easy for me.
Having a Greenlight card will require him to have a little more financial awareness. With the Greenlight debit card the limits are set so he still has to keep up with his spending and balance but also can't overspend. If there is no money on the card the purchase will be declined.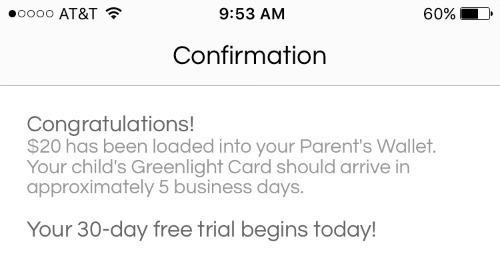 As I said earlier, I feel like my children should be expected to do some chores and be paid for some. Having the Greenlight card can also make it easy for me to add money for him to have when he is at his Dad's house. My boys spend some days a week and every other weekend with their Dad. To make sure he has lunch money, snack money, and chore fun money on days when I don't see him I can check his card balance and easily use the Greenlight card app to add funds to his card from the parent wallet inside the parent section of the Greenlight card app.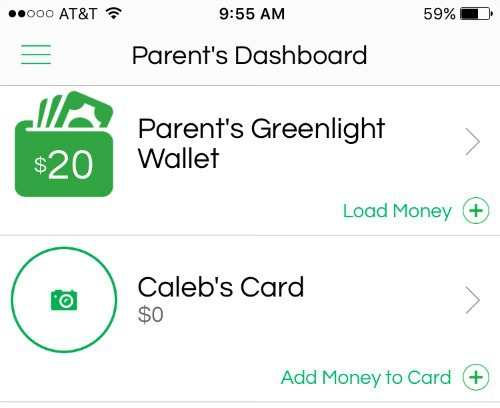 The Greenlight, smart debit card for kids app is super user friendly. It is available for iOS and Android. Greenlight was made for children and built by parents. Unlike most debit cards, Greenlight supports kids of all ages. Greenlight believes that each child should learn the basics of money management as soon as possible, and it's one of the most important things you will ever teach them. Cash can only go so far and it significantly limits your ability as a parent to stay informed about your child's spending activity. A Greenlight debit card is not only exciting for kids, but it provides extra control and convenience for busy parents who don't want to miss out on teachable moments. Plus, what child doesn't want a plastic card like their parents?
Greenlight costs just $4.99/mo per family, which includes cards for up to 5 children. It also offers zero-fee loading for parents transferring money into their Greenlight account. You can try it risk-free for 30 days before deciding if it is right for you and your family. Also, there is a deal going on with Greenlight through the end of the month of September! Sign up for Greenlight before 9/30 and they'll deposit a $20 bonus into your account after the 30-day free trial ends. *deposit bonus made approximately two weeks after free trial ends. That's part of an allowance that he can have that doesn't even have to come out of my wallet! He'll have $40 instead of just the $20 I put on his card.
I hope that teaching Caleb about budgeting and a debit card will lead to further set groundwork of saving, investing, and other financial skills as he becomes an adult. If you don't agree on the idea of paying your kids for chores there are more reasons to go Greenlight. If you have a child about to start their first job you can start the greenlight card for their paychecks. If your child is heading off to college having a Greenlight debit card can help build their credit and keep them on the shoestring, college budget.
This post is part of a social shopper marketing insight campaign with Pollinate Media Group® and Greenlight, but all my opinions are my own. #pmedia #GreenPMG http://my-disclosur.es/OBsstV