I only recommend products I use myself and all opinions expressed here are our own. This post may contain affiliate links that at no additional cost to you, I may earn a small commission.
The first weekend that the boys were out of school for the summer this month we hit the road to New Jersey for the weekend. We spent the weekend in Tuckerton, New Jersey at the Sea Pirate campground while we experienced the 4th annual Tuckerton Seaport & Baymen's Museum Pirates & Privateers festival. Our trip was sponsored by the Tuckerton Seaport thanks to Real Mom Media.
My boys and I are definitely no strangers to camping. I went tent and pop up camper/ large RV camping a lot growing up and before my step dad passed away we had joined them on many RV camping trips in their big bus as the boys called it. Caleb, who is nine, goes hunting with his Dad so he pretty much knows what roughing it really is. On the way to the campground I had the boys convinced that we were roughing it so much that we wouldn't have an indoor bathroom. With that thinking my 6 year old was not a happy camper at the thought of having to go to the bathroom outside.
We arrived to the Long Beach Island's Sea Pirate campground late Friday evening. We were greeted in the Sea Pirate campground office and store where we were given a map, key and gate pass to the grounds. This particular campground offers tent sites, full RV hook up sites, cabins, deluxe cabins and cottages all for rent. We were given cabin site DC4 for the weekend. These cabins have an indoor bathroom- sink, toilet and shower to the enjoyment of my six year old, heat and a/c, a back bedroom, kitchenette with a few dishes and utensils, and a front room that has a twin bunk bed, fold out futon sofa and a tv with cable. The boys have camped but never in a cabin so I was curious as to how they would like it in comparison to their RV camping. They said it was just like RV camping but without the wheels and without having to dump the potty junk before leaving like we do with the RV. You can get a bare bones cabin with less amenities with it and you can also get the cottage which is larger than the deluxe cabin like we had that sleeps more people. Keep in mind though that with all of the cabins and cottages you have to BYOB... bring your own bedding which includes sheets, blankets, towels and pillows. All the beds have are mattresses and mattress protectors. Each cabin site also has a grill and fire pit ring outside.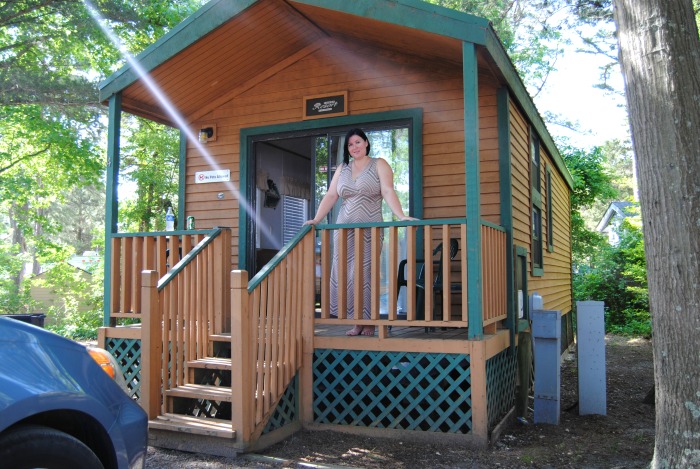 (my dress is the Adele in peach chevron from Karina Dresses)
If we could have stayed longer I was hoping to get a golf cart tour of the entire grounds but I still had one little guy who had one more day of school left so we had to leave on Sunday. We did get to spend time in the cabin relaxing, at the pool for a swim and spent time Saturday night with some neighbors around the campfire for s'mores. My boys had fun roasting (and burning) marshmallows and one of them ate 5 s'mores. Talk about a sugar high but what's vacation for if Mom won't let you indulge in s'mores in a new state with new friends for a night?
We also ventured back up to the office/store and had breakfast one morning and had milkshakes right before leaving. A little eye scream anyone? This is part of the menu for the store snack bar...
When/if we make it back to the Sea Pirate camp ground the boys have made a list of things to they will be sure to do...
build a camp fire and roast marshmallows for more s'mores
go back to the "cement pond" aka pool for a swim
visit the playground area and arcade
go fishing at the pond (which is catch and release)
try crabbing
take a hay ride around the grounds
get a cabin with an indoor bathroom
get some eye scream from the snack bar
We didn't really have to rough it for camping it felt more like glamping to me but if roughing it is what you are after the Sea Pirate campground has you covered, literally, back in the woods. Don't forget the bug repellent.
When the boys have had so much fun that involved very little electronics and had my youngest passed out on me before bed time I call that a successful family vacation. It's all in the memories made and thanks to the Tuckerton Seaport, the Sea Pirate campground and Real Mom Media I was able to make many new memories with my Mom and my two boys that weekend in Tuckerton, NJ.
Sea Pirate Campground Facebook: http://on.fb.me/1kDlYS3
Sea Pirate Campground Twitter: @SeaPirateCamp
disclosure: This is a sponsored post written by me on behalf of the Tuckerton Seaport. This program is in partnership with Real Mom Media. All opinions are my own.