I only recommend products I use myself and all opinions expressed here are our own. This post may contain affiliate links that at no additional cost to you, I may earn a small commission.
I was a closet cosplay nerd. I thought if people knew I liked wearing costumes they would think I was weird. Then I realized I was hiding part of me and I needed to fly my nerd flag proudly. There are many cosplayers out there and some of them even do it for a living. I now share my costumes on Facebook, instagram and of course the blog. The last few Halloweens I made my own costume. I would much rather make or put together a costume than buy a store bought one. The female costumes have left zero to the imagination. They are all made out of the same amount of material as the costumes of my 6 year old son and cost way too much money. Not every woman wants a "sexy" costume. I have made many costumes. I have been a pregnant cat (sewed baby bottle nipples on to a black maternity top), queen bee, Toadette from Super Mario Bros., a gypsy, a coupon queen (expired coupons glued to a formal dress, then last year I was Rainbow Dash from the My Little Pony series (I'm an 80's baby). I had no clue what I wanted to dress up as this year. Then I had an idea. The LEGO Movie. Who from the LEGO Movie? Wyldstyle aka Lucy. She's fun and yet the costume is comfortable and modest.
Wyldstyle costume
It really is easy to have your own Wyldstyle costume. You'll need a black hoodie, black pants, pink duck tape, and blue duck tape. I had a black hoodie from JCPenney so I used that. I also all ready owned a pair of plain black yoga pants from VS. So all I had to buy was the colors of duck tape. For the makeup you can get yellow face paint if you want to go all out. I chose to just do the eye and lip colors using a black eyeliner on my eyes, a brown liner for my freckles and a bright pink lipstick for my lips.
To complete the look you'll need a pink and blue streak in your hair with a dark black side ponytail. If you don't have black colored hair you'll need a black wig styled for Wyldstyle's hairdo. You can find the pink and blue hair extensions for $1.99 at PartyCity or you can use hair chalk or the spray on hair color that washes out. What ever suits your fancy. I used Crayola hair color sticks that I bought for spirit week last year for the boys and they were the perfect colors for what I needed and were still good even after a year.
LEGO Wyldstyle costume
Take your hoodie and lay it out flat. I googled Wyldstyle to get a closer look at the graffiti design so I could make mine as close as possible to hers. I cut long strips and lined the inside of the hood completely with the pink duck tape. For the hoodie front you'll need to cut your duck tape in to strips and tear or cut some of those vertically in half. You can use both sizes for the design or all half sizes. Which ever you think looks best. The half strips were easier for me to make the design on the hoodie with. I used full size strips down the pant leg and used half strip pieces on the toe of the shoe. Just piece together the graffiti design as best you can. Then do the same for the leg of your pants. Mine is a bit off from the original design but I got the main part, what looks like a W and a 4 down pretty well. Start with the pink tape and do the design and then on top of that do the blue.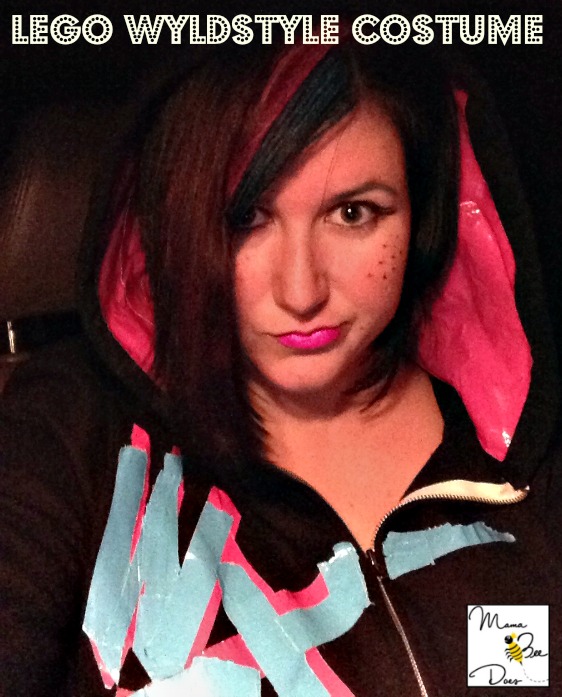 There you have it... Wyldstyle, ready to party. It's a little blurry and hope to get better photos at the next party to update with. I have a LEGOFest yellow shirt that I can wear underneath the hoodie and I also have a plain yellow tank top. I wore the yellow tank top to a party this past weekend and never even unzipped my hoodie.