I only recommend products I use myself and all opinions expressed here are our own. This post may contain affiliate links that at no additional cost to you, I may earn a small commission.
I participated in an Ambassador Activation on behalf of Influence Central for Dover International Speedway. I received complimentary tickets to facilitate my post and promotional item to thank me for my participation at the conclusion of the program.
I grew up watching races at my little small town dirt tracks, watching the local guys race at South Boston Speedway and spending some weekends at the VIR track. I loved to watch the NASCAR races with my Papa. Then when I was 18 my parents and I took a multi-state road trip which included Indiana. My parents and I took a tour of the Indianapolis Motor Speedway- home of the Indy 500. I had watched many drivers win their opportunity to kiss the bricks at Indy and there I was on the same track with the same bricks.
Growing up I was a Davy Allison and Dale Earnhardt Sr. fan. These days I am all about some Dale Earnhardt Jr. racing. I have been to the brickyard and I have been to RIR (Richmond International Raceway). Come May 31st I'll be able to scratch another race off my to see list. I'll be attending the FedEx 400 at the Monster Mile in Dover.

The FedEx 400, benefiting Autism Speaks, features NASCAR's top drivers such as Dale Earnhardt Jr.(woo-hoo!), Jimmie Johnson and Jeff Gordon as they attempt to conquer and tame the Monster Mile. Along with the excitement of NASCAR racing at the Monster Mile, there are activities all morning long prior to the drop of the green flag. Concerts by artists such as Cassadee Pope and Thompson Square, the Monster FunZone, FanZone, variety of concession and merchandise locations for food and shopping, NASCAR driver Q&A and autograph sessions and picnic areas for when it's time to take a break. As part of our visit to the Monster Mile my sons and I get to attend a Q&A session with Jimmie Johnson who has won 9 races at Dover!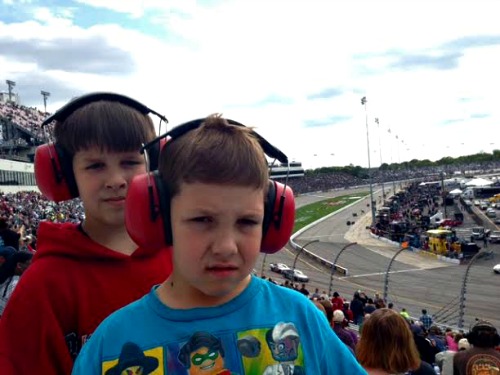 I can't wait to see the reactions of my boys when they learn that they will be attending the FedEx 400 with me. They like racing even though that photo doesn't show it very well haha. Kids can have just as much fun as the adults at the Dover Monster Mile. Dover International Speedway is pleased to announce the launch of a brand new kids club they call "Monster Mile Youth Nation". This club is exclusively for race fans ages 14 and under. This initiative provides opportunities for young fans to explore the sport of NASCAR. Annual membership costs $20 and benefits include:
Free FanVision rental on one race weekend (a FanVision controller and headset allows you to have multiple camera angles of the race so you can see more than just from your seat in the stands and also gives you replays, scanner audio, driver communication, real time stats and more with no downloading or buffering)
Free welcome gift that in 2015 includes items like a water bottle, merchandise coupon and a diecast car
Special VIP area access in the Monster FunZone for members to interact and play games
Exclusive access to race weekend activities
Want to join in the family fun at the Monster Mile? You can purchase FedEx 400 tickets and you can also enter to win free tickets to Dover!
From now until May 7th Dover International Speedway is running a special sweepstakes to win some of the most sought after passes that the Monster Mile has to offer.
The winner will receive:
A family four pack of tickets for the May 31st NASCAR Sprint Cup Series race
Pit Passes
A guided tour of the NASCAR Sprint Cup Series garage
FanVision rental
Driver appearances by Danica Patrick and Joey Logano
Will you be at the Monster Mile May 31st? I'll be sharing photos and updates throughout the day so you can follow along if you want or if you'd like to say hi if you are there too we'd love to meet some fellow racing fans.