I only recommend products I use myself and all opinions expressed here are our own. This post may contain affiliate links that at no additional cost to you, I may earn a small commission.
I first shared with y'all about Delivery Man back during the summer. I couldn't imagine finding out I was the parent to 533 children. I barely handle just the two I have some days. Delivery Man comes to movie theaters November 22nd. You can view the featurette "Guardian Angel" that was released recently for the movie. We'll be attending an advance screening so we can share our thoughts on the movie. Are you a Vince Vaughn fan? Will you be going to see Delivery Man?
Delivery Man featurette Guardian Angel
About Delivery Man: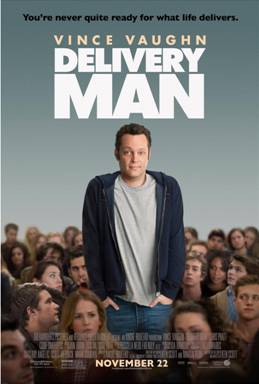 DreamWorks Pictures'"Delivery Man" stars Vince Vaughn as affable underachiever David Wozniak, whose anonymous donations to a fertility clinic 20 years earlier resulted in 533 children. David must now embark on a journey that leads him to discover not only his true self but also the father that he could become.

A DreamWorks Pictures and Reliance Entertainment presentation, the film is written for the screen and directed by Ken Scott, based on "Starbuck," the original screenplay written by Ken Scott and Martin Petit, and also stars Chris Pratt and Cobie Smulders. "Delivery Man" is produced by André Rouleau and executive produced by Ray Angelic, Scott Mednick and Mark Sourian.

The film releases on November 22, 2013.
"Like" DELIVERY MAN on Facebook: https://www.facebook.com/DeliveryManMovie
Follow DELIVERY MAN on Twitter: @DeliveryManFilm
Follow DELIVERY MAN on Pinterest: Pinterest.com/DeliveryManFilm
Follow DELIVERY MAN on Instagram: DeliveryManMovie
Follow DELIVERY MAN on Tumblr: deliverymanmovie.tumblr.com/