I only recommend products I use myself and all opinions expressed here are our own. This post may contain affiliate links that at no additional cost to you, I may earn a small commission.
Once there was the dancing ooga chaka baby but now there is dancing baby Groot. Not sure what I'm talking about? Groot is from the summer hit movie Guardians of the Galaxy. If you haven't made it to see Guardians of the Galaxy yet, what are you waiting on?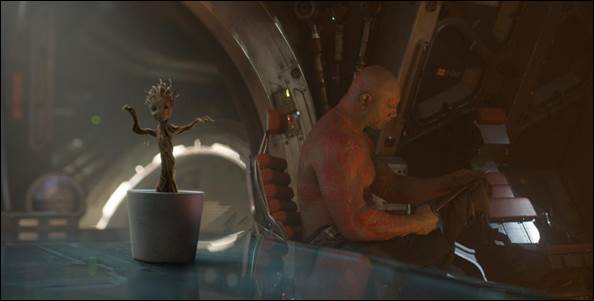 Groot (voiced by the oh so good looking Vin Diesel) is a tree-like humanoid, a part of the quartet of ragtag misfits that band together to attempt to save the universe. Doesn't dancing baby Groot getting down to the Jackson 5 like no one is watching him make you smile? I always find myself bobbing my head along every time I watch this clip and my youngest son thinks it is funny to see so we watch it a lot.
dancing baby Groot
I bet some of you fellow crafters could take one of the Movin' & Groovin' flowers that moves to music sounds and turn it in to a
dancing Groot
About Marvel's Guardians of the Galaxy:
From Marvel, the studio that brought you the global blockbuster franchises of Iron Man, Thor, Captain America and The Avengers, comes a new team—the Guardians of the Galaxy. An action-packed, epic space adventure, Marvel's "Guardians of the Galaxy" expands the Marvel Cinematic Universe into the cosmos, where brash adventurer Peter Quill finds himself the object of an unrelenting bounty hunt after stealing a mysterious orb coveted by Ronan, a powerful villain with ambitions that threaten the entire universe. To evade the ever-persistent Ronan, Quill is forced into an uneasy truce with a quartet of disparate misfits—Rocket, a gun-toting raccoon, Groot, a tree-like humanoid, the deadly and enigmatic Gamora and the revenge-driven Drax the Destroyer. But when Quill discovers the true power of the orb and the menace it poses to the cosmos, he must do his best to rally his ragtag rivals for a last, desperate stand—with the galaxy's fate in the balance.
Website and Mobile site: marvel.com/guardians
Like on Facebook: facebook.com/guardiansofthegalaxy
Follow on Twitter: twitter.com/Guardians