I only recommend products I use myself and all opinions expressed here are our own. This post may contain affiliate links that at no additional cost to you, I may earn a small commission.
When the boys asked for one on one time with Mom for their birthdays as gifts I was excited to plan trips with both them. When it came time for Kyle to come up with travel ideas one of his first thoughts were to go to New Jersey. Every time we had made plans to go up to NJ to visit family it would end up being a time that the boys would be with their Dad. There was some family members he and Caleb hadn't had the opportunity to meet yet. So I started planning a long weekend road trip to New Jersey for him. Thanks to Medieval Times New Jersey, we were able to take in a Medieval Times dinner and tournament show for his birthday while we were there.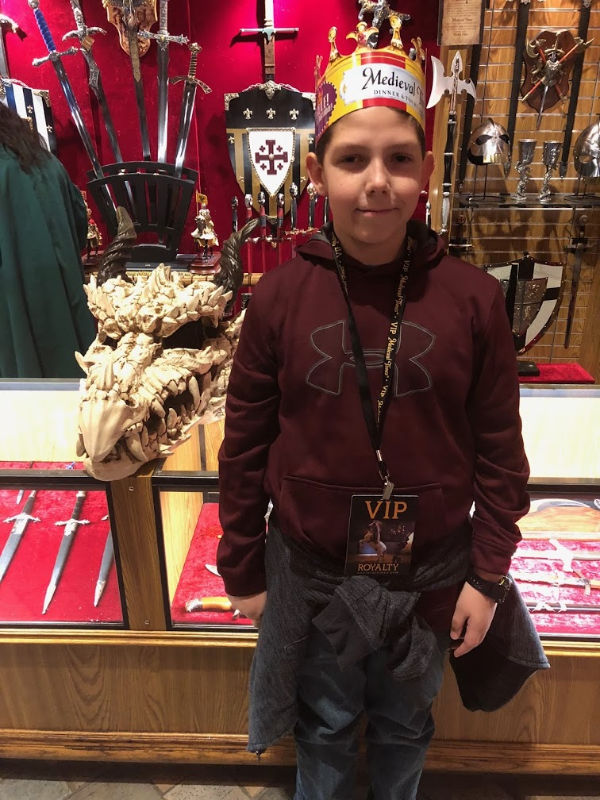 Of the 9 soon to be 10 locations of Medieval Times (Scottsdale, AZ opening Summer 2019) I have been to the Medieval Times in Kissimmee, FL and the Medieval Times in Myrtle Beach, SC. Kyle had told me before that it would be cool to go so when we were offered tickets for Medieval Times New Jersey I was stoked to take him. I created a scavenger hunt for him to figure out his birthday surprise. The clues lead him to find a suitcase, a New Jersey board game, and finally the Medieval Times tickets. We packed our bags and hit the road to Jersey. We got to my in laws on Friday evening. Kyle got to meet two of his uncles. Saturday we picked up on of my nephews and we made the hour trip to the Lyndhurst, NJ to the Medieval Times New Jersey castle.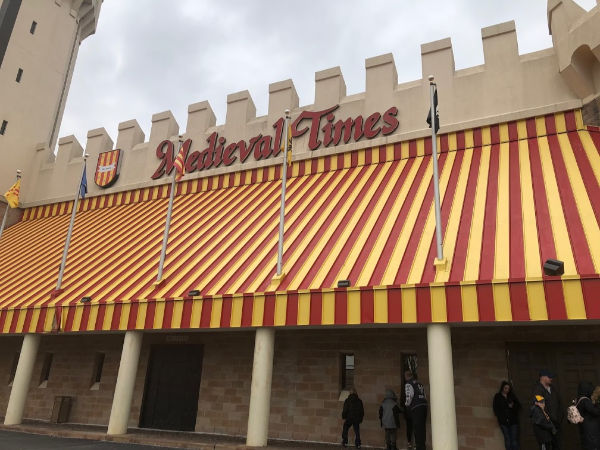 The castles recommend that you arrive 75 minutes prior to your show. We had tickets to the 2pm show and we arrived at 12:30 and there was a line starting to form already. There was a very large Boy Scout troop group attending the 2pm show and the whole group of kids and adults sounded excited. The trumpeters sounded their horns and the gate was opened. Everyone filed in to get tickets or to get their table cards and crowns. We chose to pay to get VIP Royalty seating. That allows you to get seated before everyone else. It also includes a banner to wave for your knight, a lanyard to keep, and we added Kyle to the celebration announcement list. They took his name and what he was celebrating and announced it during the show and they brought him a scroll to take home before the show was over. After all of the upgrading was done we put on our red and yellow crowns (for the Red & Yellow Knight) and walked in to the souvenir shop area. There are many spots to stop and take photos and you can get photos with the new Queen as you come in as well. You can read about the reign of Queen Dona Maria Isabella in my Medieval Times Kissimmee post. With the new story line comes new costumes, armor, fight scenes, and music. You can experience the new show for only $37! You need to use coupon code USF37 at time of ticket purchase. Coupon code is valid at all Medieval Times castle locations for shows through 1/31/2019.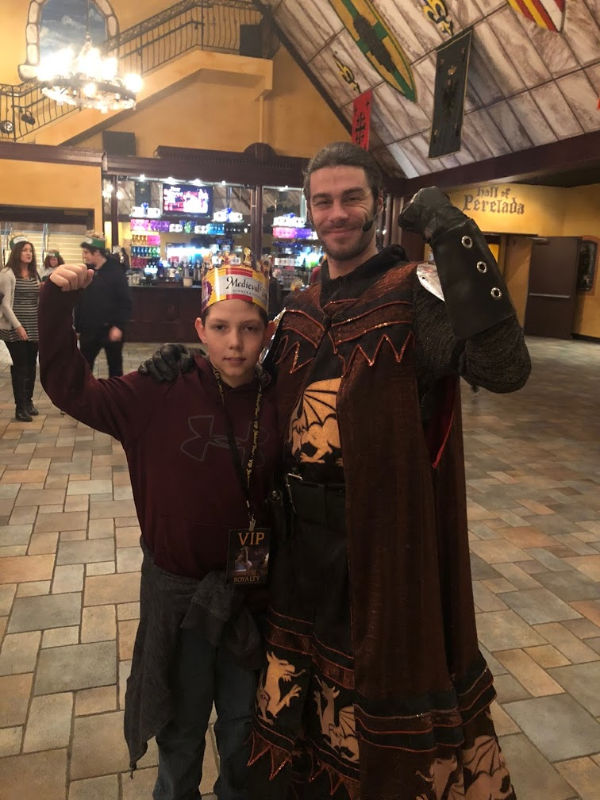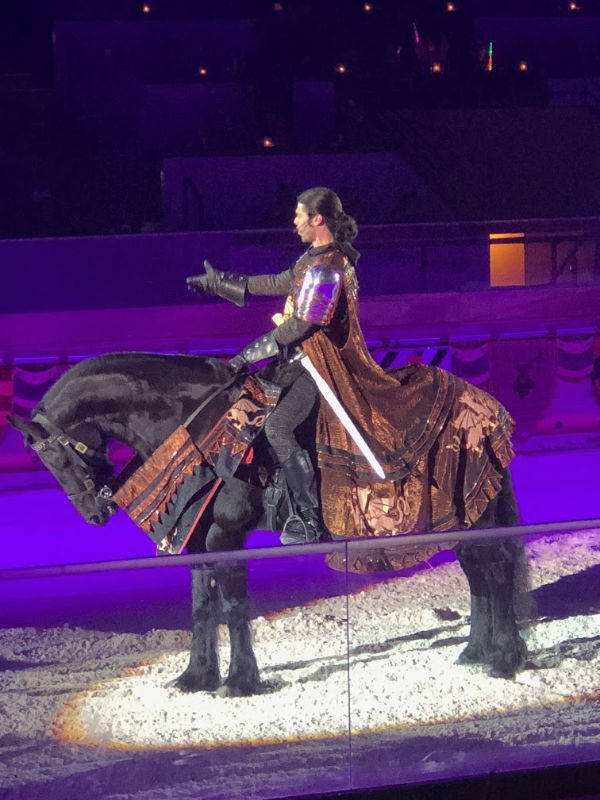 Kyle had his axe and was ready to watch the tournament and eat dinner. He thought it was funny that we had to eat our dinner with our hands without silverware. He picked up his soup bowl and said, "Mom, how am I supposed to eat soup with no spoon?" I showed him and he laughed and said, "cooooool" and tipped his bowl up. The dinner was chicken, tomato soup, bread, corn on the cob, a baked potato, and dessert was ice cream (with a wooden spoon). Our server was very friendly and he went out of his way to make extra conversations with the two boys which I appreciated very much.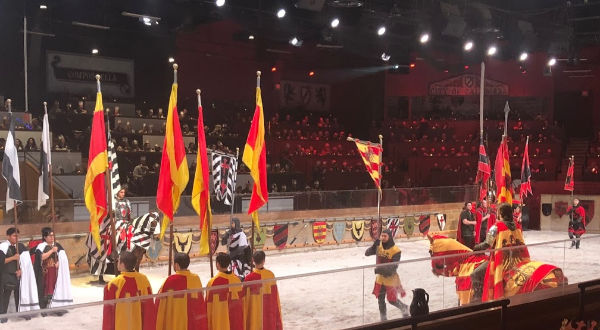 The tournament started with 6 Knights from 6 different houses and after it was all said and done there was one victor. The tournament ended with the Blue Knight as champion. It was a great show. Not only did the Knights put on a great show we enjoyed the horses and the falcon show. Before he fell asleep on the ride back to Grandma's Kyle said, "Thanks Mom this was the best day ever. I'm living my best life". This kid, he cracks me up but I am thankful I get to be his Mom and that we had the opportunity to spend some one on one time together. I think I needed it as much as he did.