I only recommend products I use myself and all opinions expressed here are our own. This post may contain affiliate links that at no additional cost to you, I may earn a small commission.
I grew up taking a lot of day trips with my grandparents and my mom. Now Jersey Boy and I are trying to do the same thing with our kids. A couple weekends ago I introduced Jersey Boy and the kids to Carowinds. Can you really enjoy a theme park with teens and a toddler? Absolutely! Carowinds is a great adventure for the whole family. You'll find Carowinds on the NC/SC state line of Charlotte, NC and Fort Mill, SC. It's 407 acres of fun for all.
Carowinds with teens and a toddler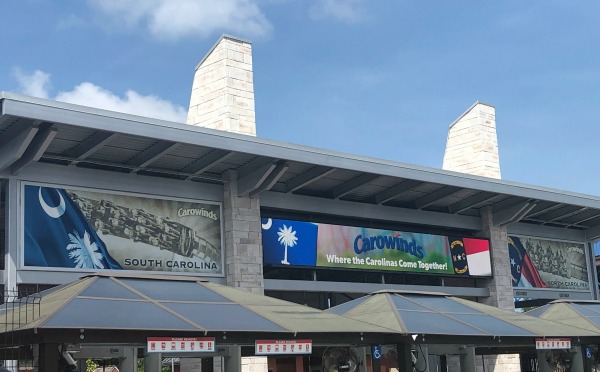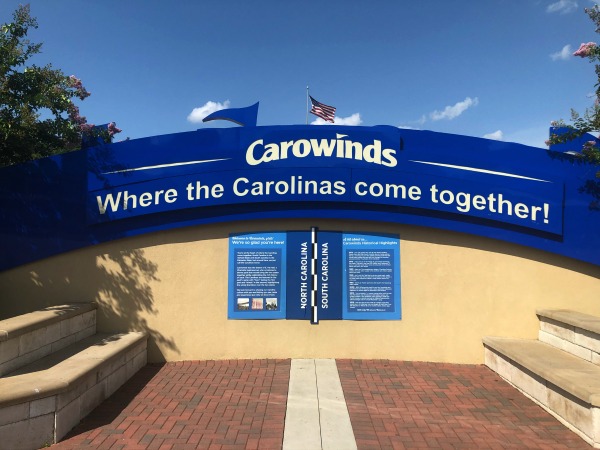 Carowinds opened at 10am on the day that we went. We got there around noon; the ticket line was kind of long but it didn't take us very long to get up to a ticket window. One good thing to note about taking toddlers to Carowinds? If they are younger than 3 they don't require a ticket to get in. The first thing we did once inside the park was a restroom pit stop, photos taken at the North Carolina/ South Carolina Carowinds state lines sign, and lunch. I also wanted to get our Carowinds refillable cups early; the earlier you get them during the day means more free refills.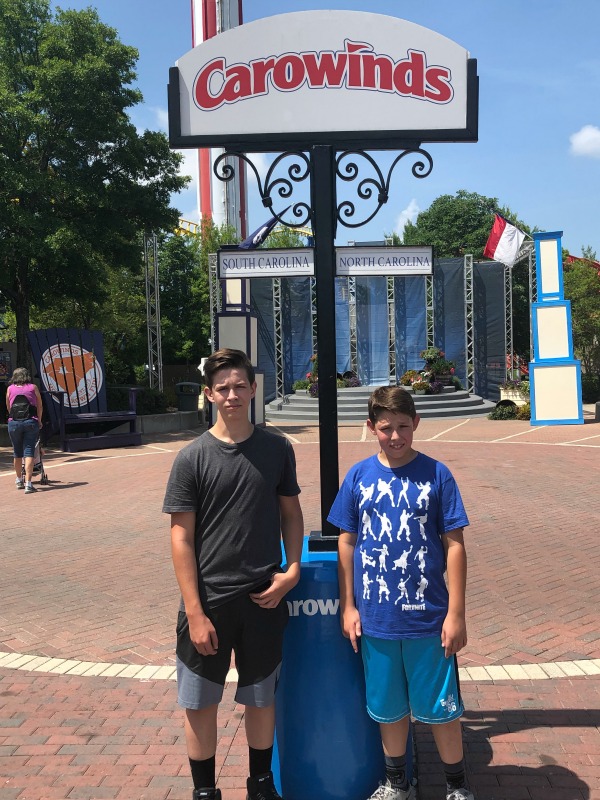 I was pleasantly surprised at the food options that Carowinds offers. I hadn't been to the park in a few (ok maybe many) years so some of the food options were even new to me. They have a Chick-fil-A and Starbucks insdie the park! In our group we had one who is vegan and one who is gluten free. Believe it or not we were all able to find something good to eat all at the same place- Harmony Hall.
Carowinds food options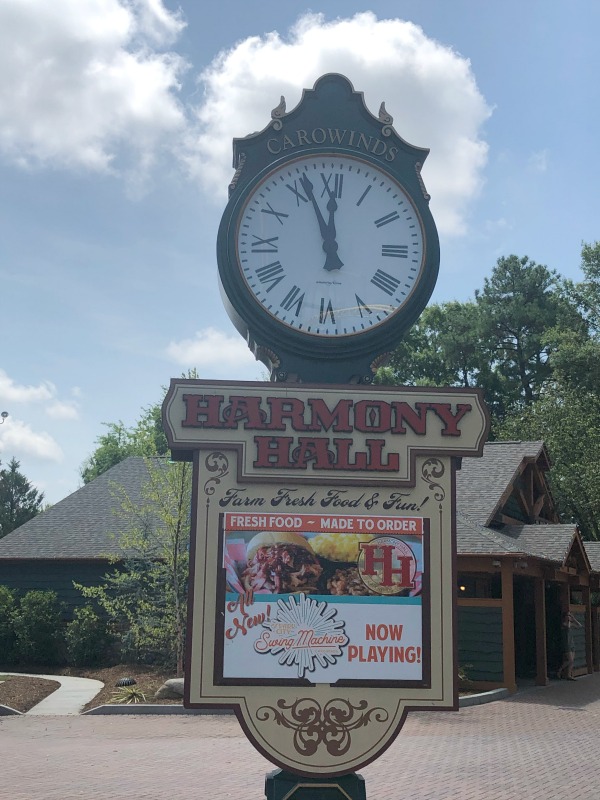 Vegan? Gluten free? Picky teen or toddler? Feed them all at Carowinds Harmony Hall. We had (huge) vegan burgers, salads and fruit bowls, hotdogs, and pizza at our table. We each got a Carowinds refillable cup ($13.99 with all day free refills). It was really hot so it was well worth it for us to all stay hydrated. This brings me to another great point about Carowinds- water is free. We had lunch at a good time as we were able to catch the Snoopy and the Gang show while we were in Harmony Hall. Kaylee loved watching the show and listening to the music. We couldn't convince her to go take a photo with Snoopy though. She doesn't usually do well in crowds or a place that is new to her and this was both but to my surprise she was having a lot of fun and there was no meltdown.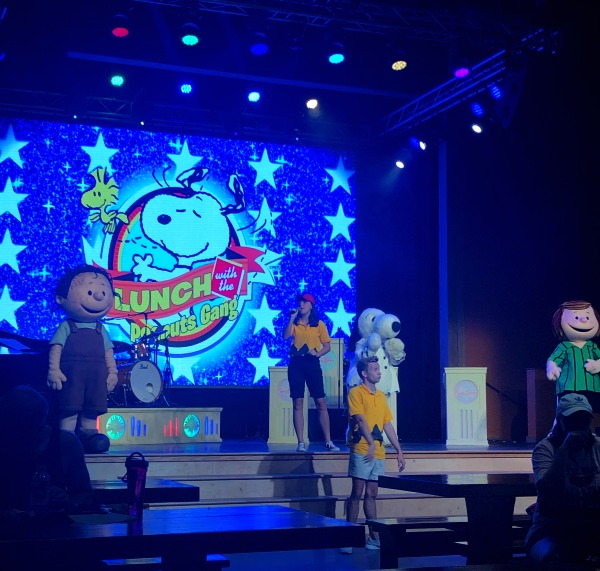 Carowinds Camp Snoopy
After lunch the teens offered for us to spend time in the section for Kaylee first before hitting the coasters so we headed from Harmony Hall over in to Camp Snoopy (the toddler/kid area of the park). Not only were the boys willing to let Kaylee play first they were also offering to get on rides with her! I was one happy mama watching how they made sure Kaylee was having fun. This was her first theme park visit and "big girl" rides. I wasn't sure how taking a two year old to a park would go but thanks to the refillable cup, her stroller, and all the fun rides in Camp Snoopy she had a great day at Carowinds. There are height limits for rides in Camp Snoopy which she met most of them but for the ones she didn't meet the ride alone height for either her Daddy, one of her brothers, or our friend Cheyenne rode with her. Camp Snoopy offers 13 rides and a play area for the littles, though Kaylee was too young to run around the play area.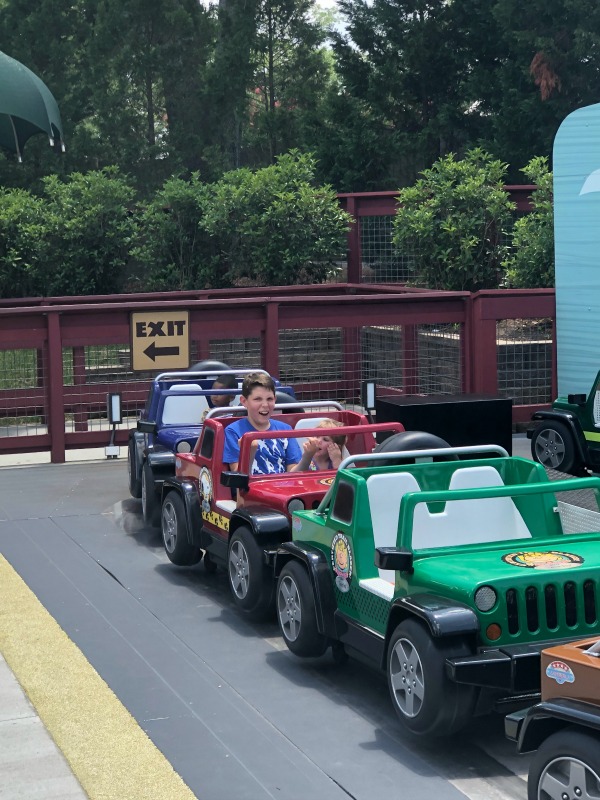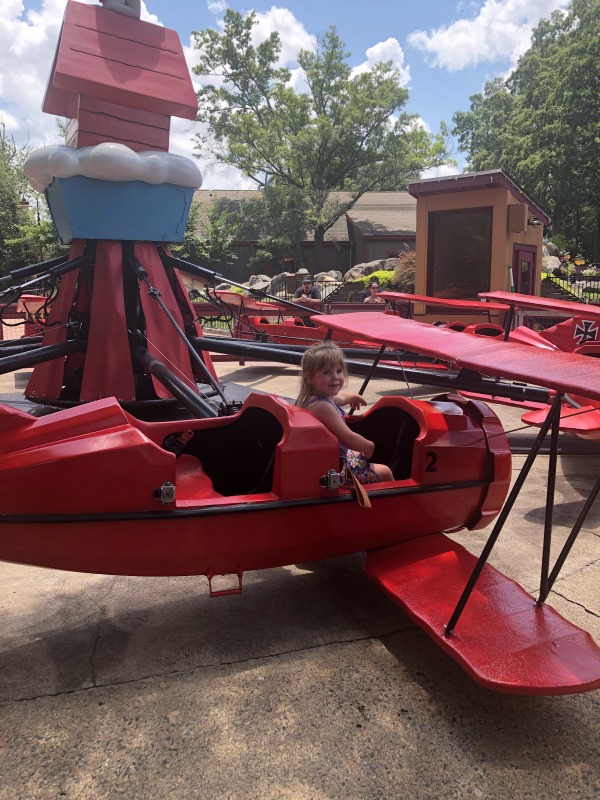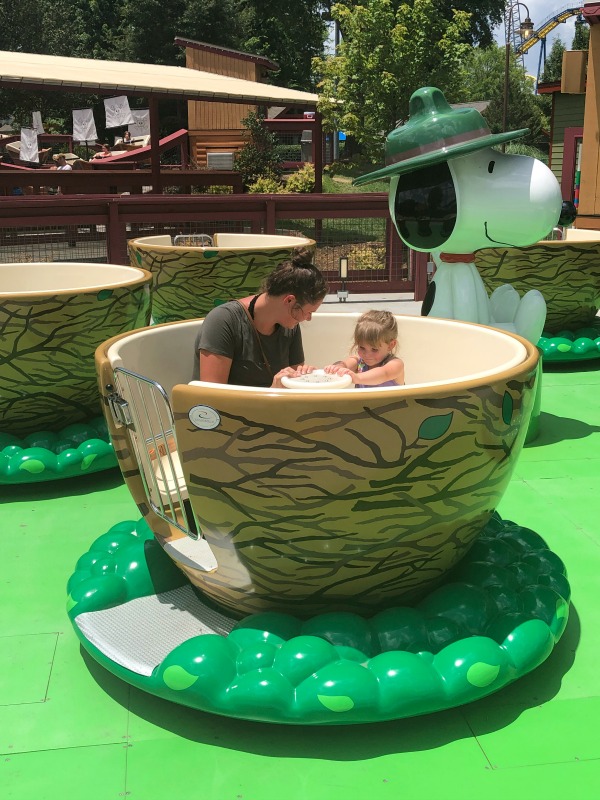 Carowinds Coasters
After tiring out the toddler in Camp Snoopy the boys and I were ready to ride the roller coasters. Carowinds has 14 roller coasters each one different from the next. Carowinds is also home to 2 of the tallest steel coasters in the US. Many of my friends told me before we left that I needed to get my behind on Fury 325. You can see part of Fury 325 as you enter Carowinds. With height of 325 feet and speeds up to 95 mph I was told I would roll across the Carolina state lines.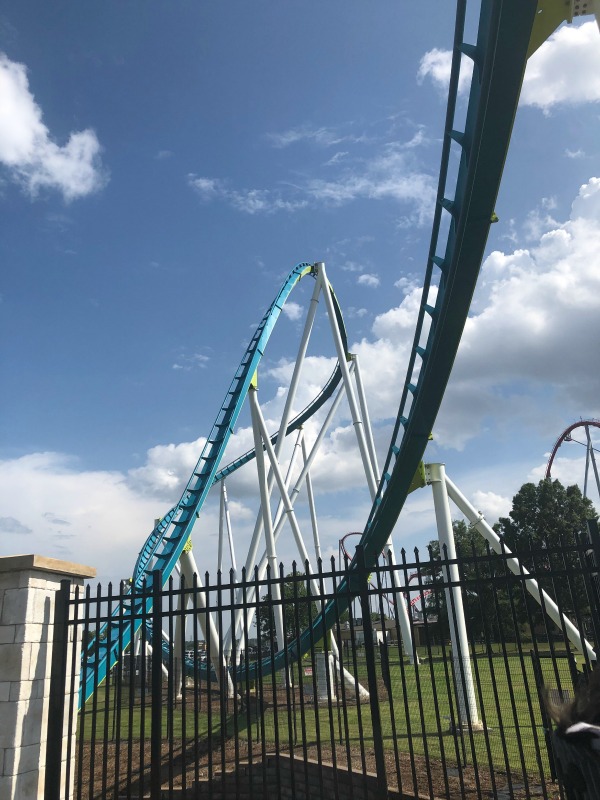 We ran out of time before I could attempt the thrill of Fury 325 but we did get to ride Vortex and Nighthawk. I wish I had a video of Kyle from Nighthawk. Nighthawk starts you out on your back for a 115 foot lift. Then you are flipped just below the track facing the ground. Just as a hawk does we dove down towards the water below us. Kyle rode with his eyes closed most of the ride he said. I was eyes wide open taking in every moment of feeling like I was flying. The views of the park on Nighthawk are beautiful on a sunny day except for the on your back beginning when the sun is blaring right in your eyes. I came off of Nighthawk with a jacked up hairdo but the thrill of the ride and squeal coming from my kid next to me was very much worth it.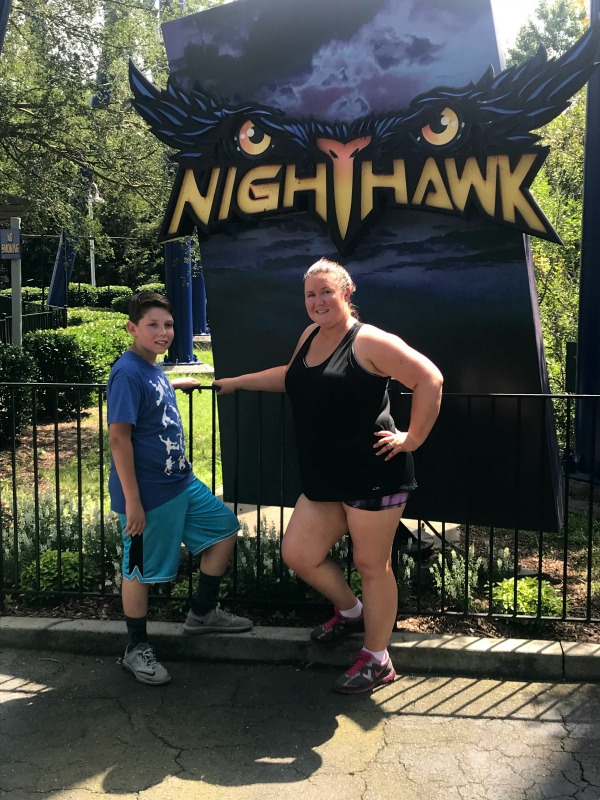 While the boys were on Vortex, Kaylee took a ride on the carousel right across the walkway.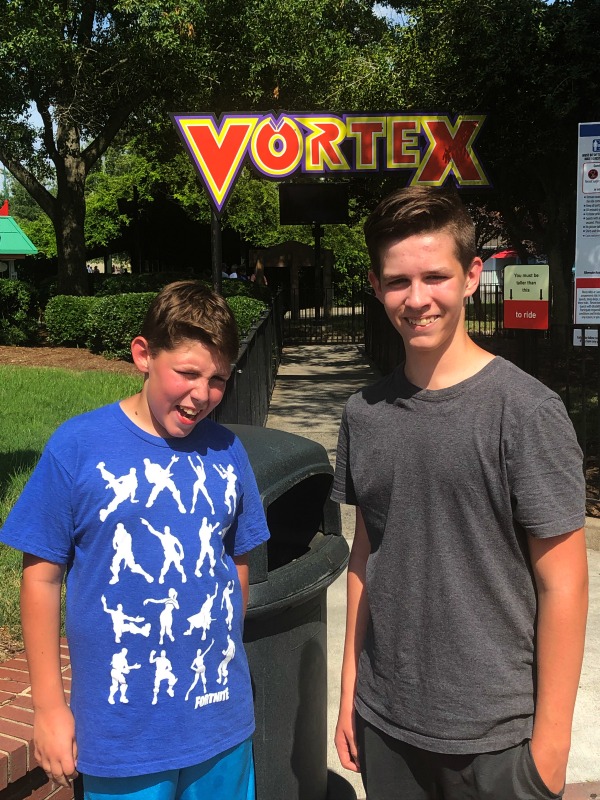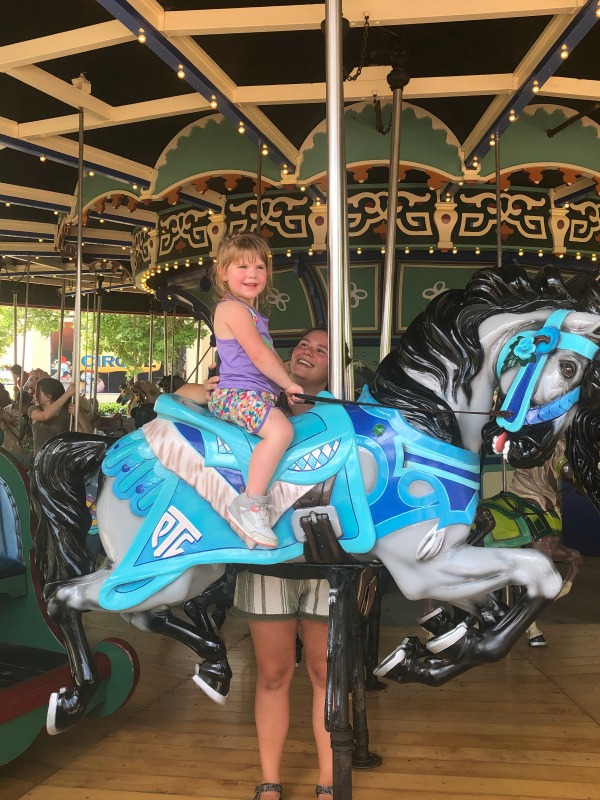 Carowinds Carolina Harbor
As if all the rides and shows in Camp Snoopy and coasters weren't enough, your Carowinds tickets can also get you in to the waterpark, Carolina Harbor. That's right- 2 parks with 1 ticket and the toddlers under three are free. We need to plan a multi-day trip so we can get my Fury fix and we can have time to enjoy Carolina Harbor too. You'll want to note the hours of both parks as they are not the same so be sure to have a schedule when you go or download the app. Going to Carowinds with teens and toddlers really was a fun little day trip vacation for all of us. There's something for everyone. Are you planning a Carowinds visit any time soon?
disclaimer: Park tickets and parking pass were provided by Carowinds. As always opinions are my own.