I only recommend products I use myself and all opinions expressed here are our own. This post may contain affiliate links that at no additional cost to you, I may earn a small commission.
Once viewed as a busy theme park has been transformed to trails of terror for Howl-O-Scream and now Busch Gardens Williamsburg has been transformed to a Christmas, winter wonderland for Christmas Town. A couple weeks ago I was able to attend a blogger preview event for Busch Gardens Christmas Town 2013.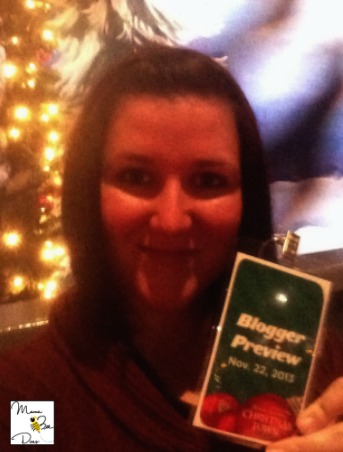 When we arrived we were to gather (if we wanted to) at the Highland stables for a special tour. At the stables we met Molly, lovely border collie that they are training to work with the herd of sheep. She was so cute. Then we got to talk to the trainers of the Clydesdale horses. I am a BIG horse lover so I enjoyed this part of the tour very much. Apparently this cutie enjoyed seeing me too.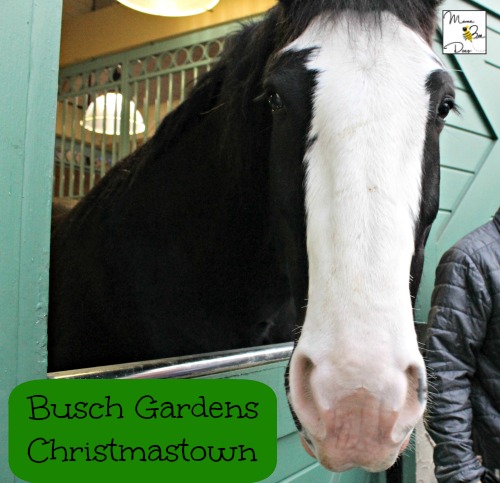 This was my third trip to Busch Gardens this year. We attended once during the summer, once during Howl-O-Scream and now we got to experience all the holiday cheer of Christmas Town. I knew that there would probably be a lot of lights and decorations and boy was I right. From the entrance we came in at the England parking lot to the pine trees and signs all across the countries Busch Gardens Williamsburg really put me in the Christmas spirit with their displays.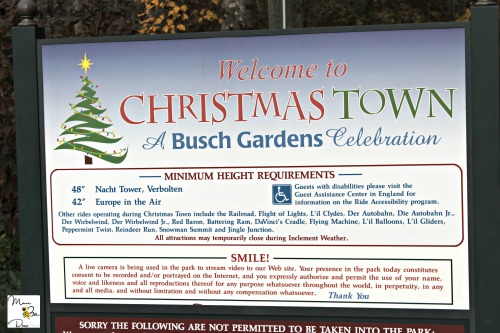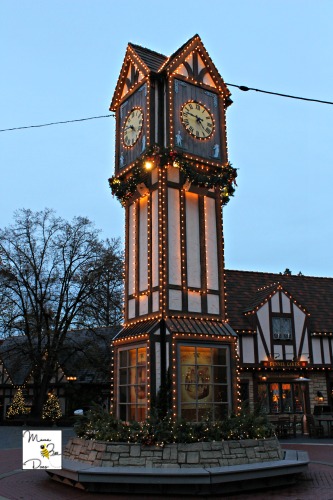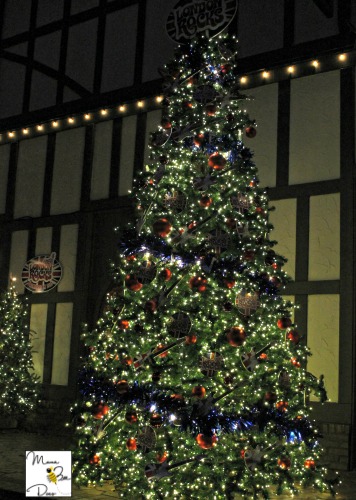 To start off our preview we were invited to Santa's Fireside Feast. We enjoyed a delicious buffet style dinner (kid friendly food options available of course) and we got to meet elves, Santa and Mrs. Claus.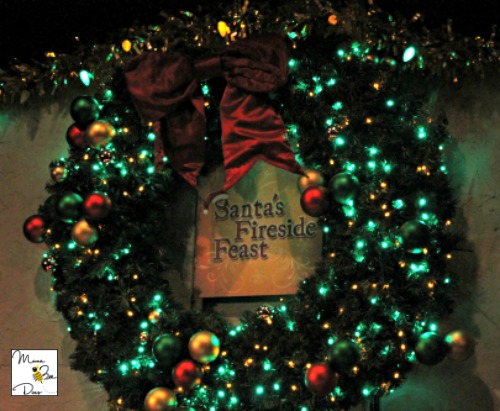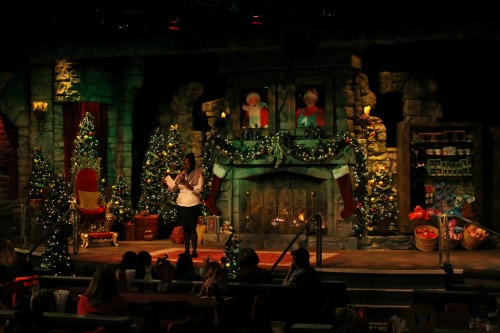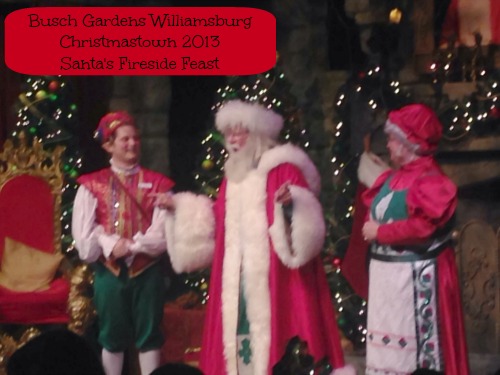 While enjoying our meal we got to listen to Santa tell us a story. Can you guess which story? He read The Night Before Christmas. With the help of Jingles the elf and the other elves the children could have their pictures taken with Santa. The kitchen elves did a wonderful job on the food. After dinner Mrs. Claus brought out cookies for all of us. After enjoying Santa's fireside feast we headed out to enjoy the rest of Christmas Town.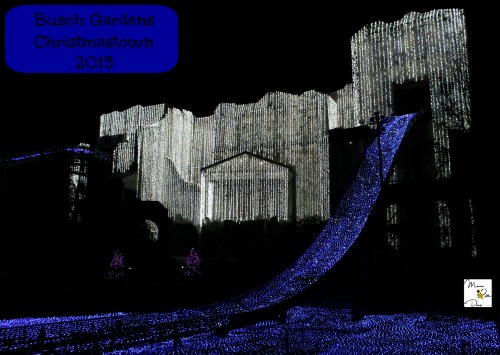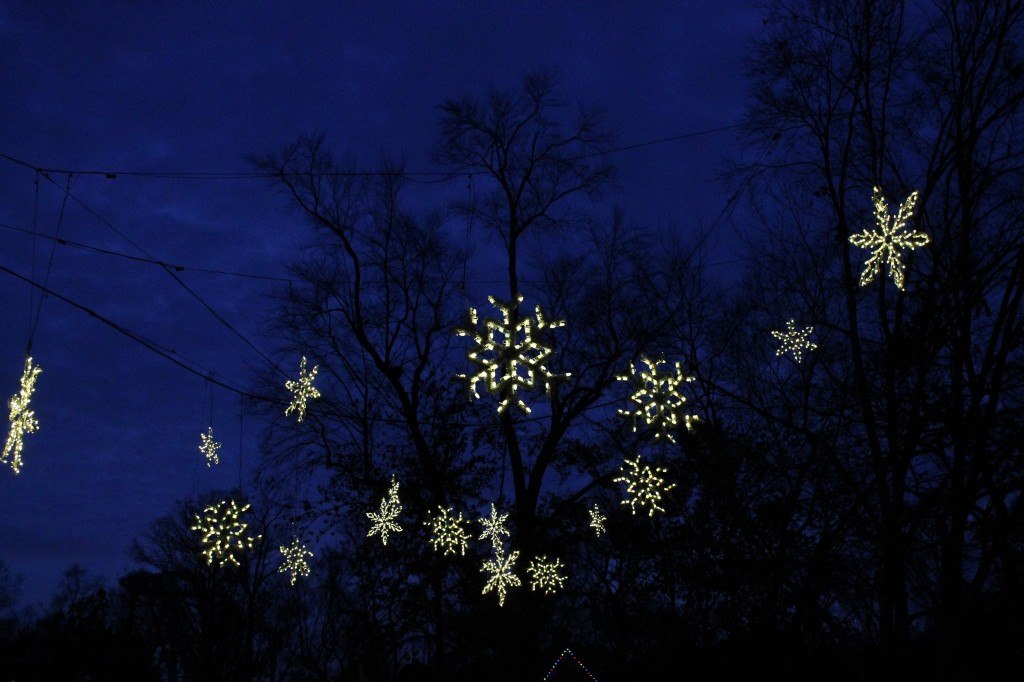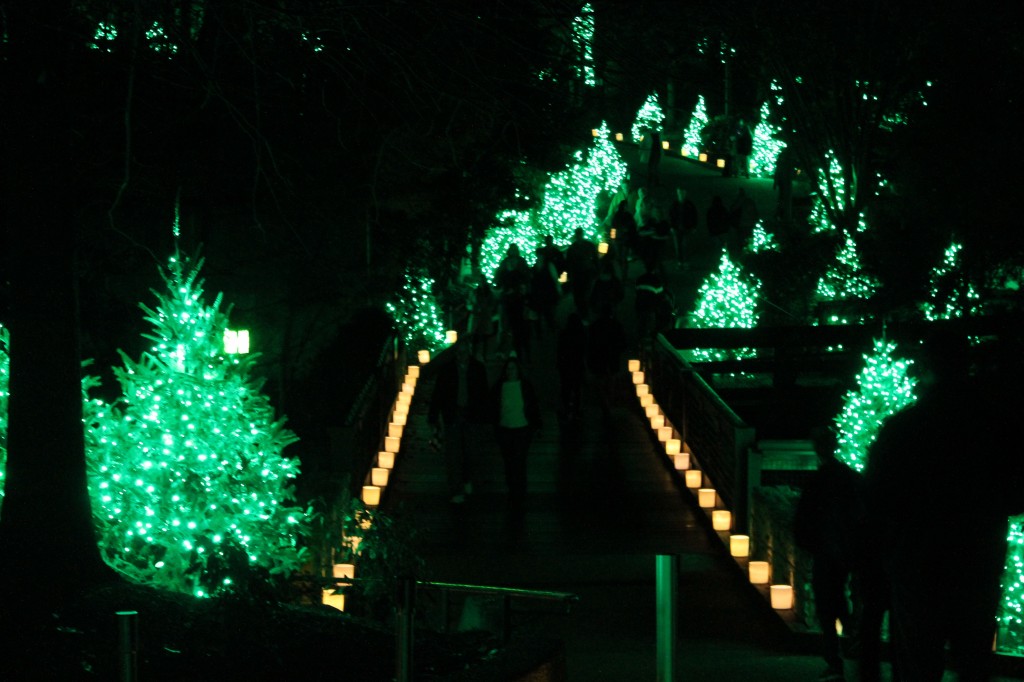 Lovely, right? I loved every step through each country. Each country had its own specific light color with all decorations and lights in coordination. France & New France were my favorite I think. With 1,500 lit trees and over 6 million lights there is a lot to take in at Christmas Town. Now you should know that for Christmas Town season not all of the rides are up and running. Most are the young kiddie rides, you can view the list of Christmas Town rides. Verbolten was the only coaster running (My favorite coaster of the park). There is a lot of buying and creating to be done in Mistletoe Marketplace (shops) that were transformed to a Christmas theme. We stopped by Caribou Pottery shop and my 70 year old grandma and I painted a poinsettia ornament together. The shop glazed and burned the ornament and shipped it to my house. We did a good job if I do say so myself. After painting our ornament we took a train ride and I got my grandma on the skyride and she's terrified of heights so I was very surprised that she got on the skyride with me and kept her eyes open for the entire ride. You get a whole new view of the lights and decorations on the skyride. I recommend the train ride and skyride for a good view of lights and scenery.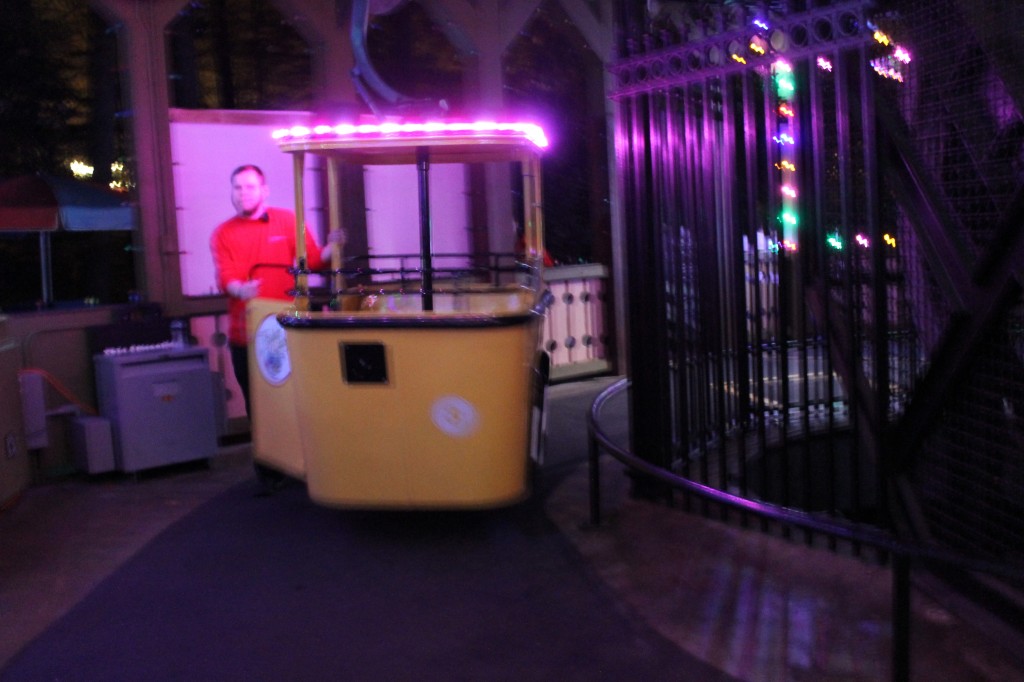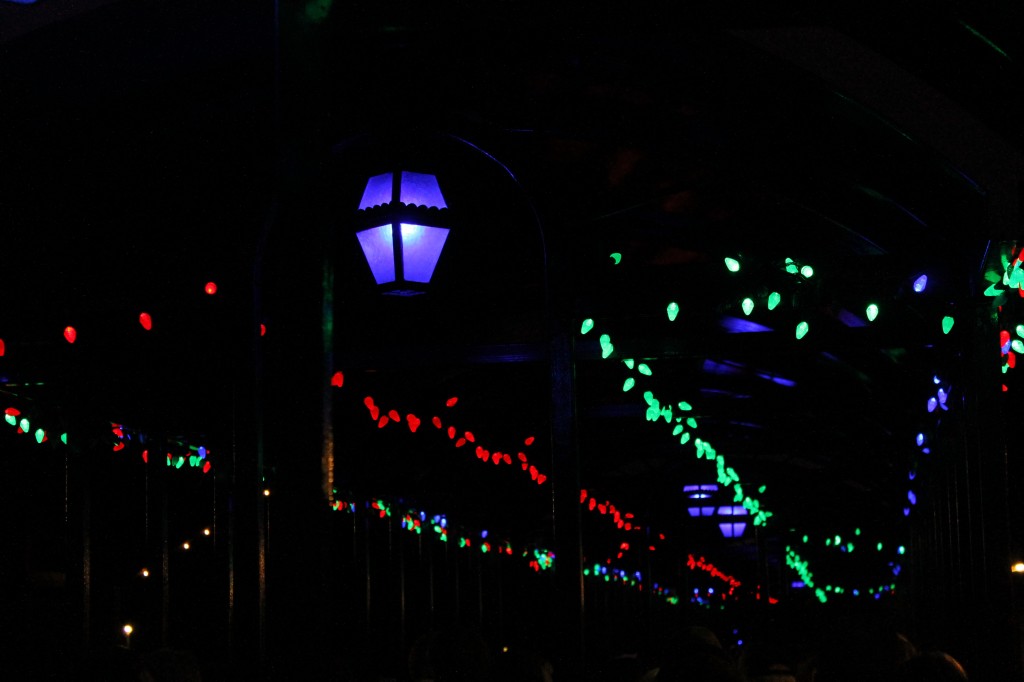 You can also visit Santa's Workshop, Ice Palace (where you can get up close to live penguins), sit in on some of the shows- Deck the Halls, Gloria!, Miracles or O Tannenbaum.
Feeling a bit bah hum bug'ish this year Busch Gardens Williamsburg has made a re-believer out of me with Christmas Town. What is the cost of a day at Busch Gardens Williamsburg? Usually it's $30/day or the fun pass is $30 and can be used the duration of the opening of Christmas Town. Also, Busch Gardens is offering an online-only Buy Three, Get One Free Christmas Town ticket deal starting Dec. 13 to celebrate the start of its daily schedule, which begins Friday and extends through Dec. 31 (Christmas Town will be closed Christmas Day). The special Christmas Town ticket offer represents a 25 percent savings over the cost of an individual ticket, and is good for four or more tickets. These discounted tickets are valid for any day of the Christmas Town event. Another thing to take in to consideration is the Santa's Fireside Feast is a separate cost from the ticket to Christmas Town and has to be scheduled prior to your visit.
disclaimer: I received free admission to Christmas Town for my entire family to attend the special blogger preview event. No compensation was received. Opinions are my own.