I only recommend products I use myself and all opinions expressed here are our own. This post may contain affiliate links that at no additional cost to you, I may earn a small commission.
Warner Bros. Home Entertainment provided me with a free copy of the FLCL Progressive & Alternative Blu-ray reviewed by Jersey Boy and I in this blog post. Opinions shared are our own. The FLCL Progressive & Alternative BLu-ray combo pack is available today- February 4th! I should preface this review with the fact that Jersey Boy and I both have not watch the original FLCL.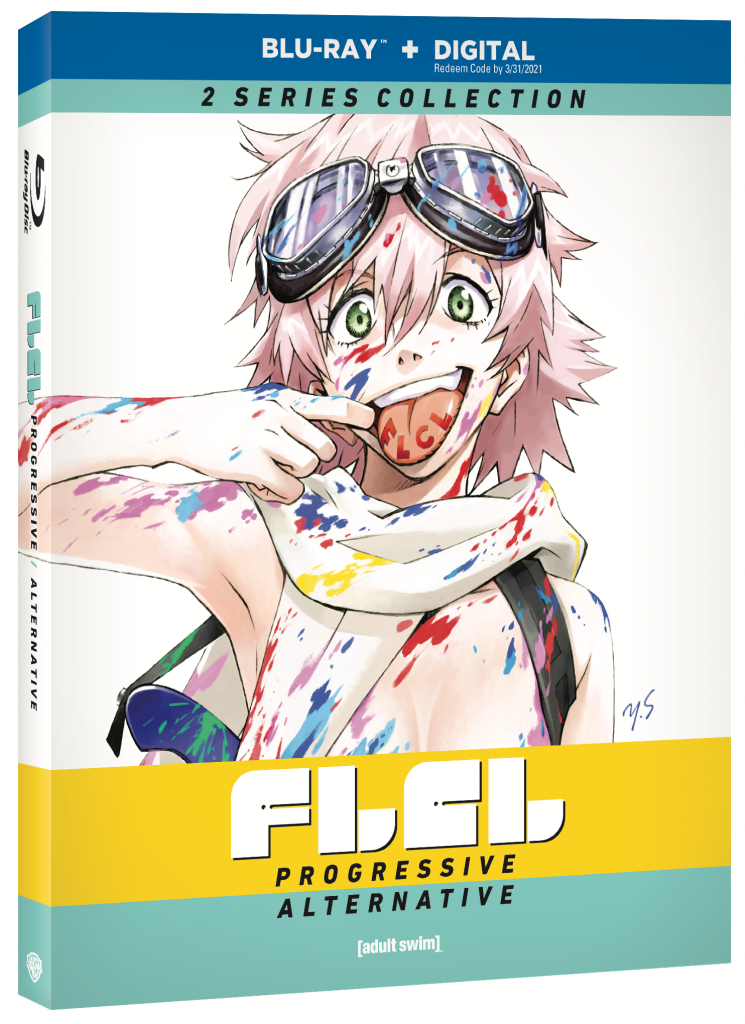 Jersey Boy introduced me to the world of anime. He's watched way more than I have and read a lot more manga than I have. I wasn't sure what to expect with watching FLCL Progressive or FLCL Alternative. The original FLCL, also known in the US as Fooly Cooly, came out in 2001. I read up on the original a little trying to see if I could have a grasp of the story line before getting into the sequel and the third and final season. FLCL is a coming of age story about a 12 year old boy and a Vespa riding maniac named Haruko Haruhhara. It also is about the war between Medical Mechanica and Fraternity.
The main character of the original, Haruko Haruhhara, who was trying to capture Atomsk's powers in Mabase in FLCL returns in FLCL Progressive. This time she is a middle school homeroom teacher. FLCL Progressive tells a story of 14 year old Hidomi and classmate, Ide, as the war between Medical Mechanica and Fraternity continues. In the sequel Haruko returns to Mabase and this time targets a 14 year old girl. We also are introduced to Julia Jinyu, who is a more stoic offshoot of Haruko that splintered from her during the initial attempt to control Atomsk's powers. Julia is eventually eaten by Haruko. Julia is eventually freed and takes her leave as Haruko regains her composure. Harko continues her hunt for Atomsk as Mabase works towards a rebuild after much of it was destroyed by the Medical Mechanica.
In the third and final season, FLCL Alternative, we find Haruko once again. This time she is a part of the misadventures of a 17 year old girl, Kana and her 3 friends Hijiri, Mossan, and Pets. The 4 friends have their world flipped upside down when giant pins fall from the sky and they are introduced to the guitar-welding Haruko Haruhhara. Still determined to take down Medical Mechanica, Haruko works to awaken Kana's "N.O." portal, which giant robots produced by Medical Mechanica emerge from periodically. The group of friends are learning that life keeps on moving even if you are not ready for it while Haruko tries to make sure the relentless iron doesn't take over the world.
This anime Blu-ray combo pack shows a great blend of style and beauty in the artistry, along with some random thoughts much like a teenagers mind sometimes. If you are a fan of FLCL when it was on Adult Swim in early 2000's then you'll want to get this set for the extras. The FLCL Progressive & Alternative Blu-ray combo pack has a never before seen documentary that dives into the making of both seasons featuring interviews with voice talent and crew. There are more special features as well. If you are a newbie to the show like me it may take a little extra effort to follow the story line in the beginning but once you catch on you'll be in for wild and zany ride and I enjoyed watching this with Jersey Boy.