I only recommend products I use myself and all opinions expressed here are our own. This post may contain affiliate links that at no additional cost to you, I may earn a small commission.
OZ THE GREAT AND POWERFUL
lands in theaters on March 8th! I am excited to see this once it is in theaters. I can't remember the last time I went to see a movie without the boys. Don't get me wrong I love having them to take to see their movies but sometimes Mama wants to see a grown up movie by herself or with other adults. You can check out the sneak peek of Walt Disney Studios' OZ THE GREAT AND POWERFUL Super Bowl commercial which is set to air during this Sunday's big game. Be sure to check out the witch and all her power as she takes over the Disney.com homepage immediately following the commercial on game day. DO you watch the Super Bowl any? Maybe the half time show or the commercials? I watch the Super Bowl for the commercials, how about y'all? Since the Cowboys didn't have a good year and they aren't playing I don't really have a team that I would care to see win the Super Bowl. You can "Like" OZ THE GREAT & POWERFUL on Facebook and "Follow" OZ THE GREAT & POWERFUL on Twitter too. I like the look of the posters.
Oz the Great and Powerful
Disney's fantastical adventure "Oz The Great and Powerful," directed by Sam Raimi, imagines the origins of L. Frank Baum's beloved wizard character. When Oscar Diggs (James Franco), a small-time circus magician with dubious ethics, is hurled away from dusty Kansas to the vibrant Land of Oz, he thinks he's hit the jackpot—fame and fortune are his for the taking—that is until he meets three witches, Theodora (Mila Kunis), Evanora (Rachel Weisz) and Glinda (Michelle Williams), who are not convinced he is the great wizard everyone's been expecting. Reluctantly drawn into the epic problems facing the Land of Oz and its inhabitants, Oscar must find out who is good and who is evil before it is too late. Putting his magical arts to use through illusion, ingenuity—and even a bit of wizardry—Oscar transforms himself not only into the great wizard but into a better man as well.
When small-time magician Oscar Diggs (James Franco) pulls one flimflam too many, he finds himself hurled into the fantastical Land of Oz where he must somehow transform himself into the great wizard—and just maybe into a better man as well.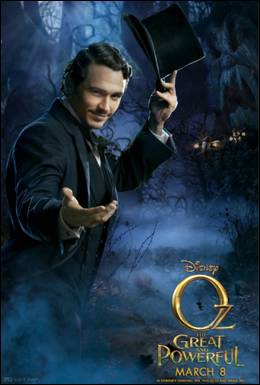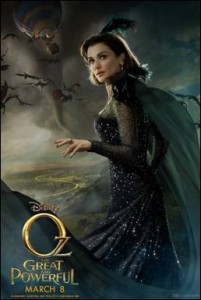 What do you think of the commercial we shared below? It's a bit short but still 😉 Who else is excited to see OZ THE GREAT AND POWERFUL when it is released?
OZ the Great and Powerful