I only recommend products I use myself and all opinions expressed here are our own. This post may contain affiliate links that at no additional cost to you, I may earn a small commission.
This FreshWorks and strawberry recipes post is sponsored by SheSpeaks/Rubbermaid. All of the strawberry patches in my area have started posting on social media that they are open for the season. My crew loves strawberries but with the kids all here on different days of the week we can't all make it to the pick your own events at the farms so I get store bought berries a lot. Some weeks the strawberries go bad before we can get to eat them all. I always feel like buying produce is pretty much just throwing my money in the trash because it turns rotten before we get the chance to enjoy it. We gave the new Rubbermaid FreshWorks containers a try to see if we could keep our strawberries and other produce longer and actually get to eat it.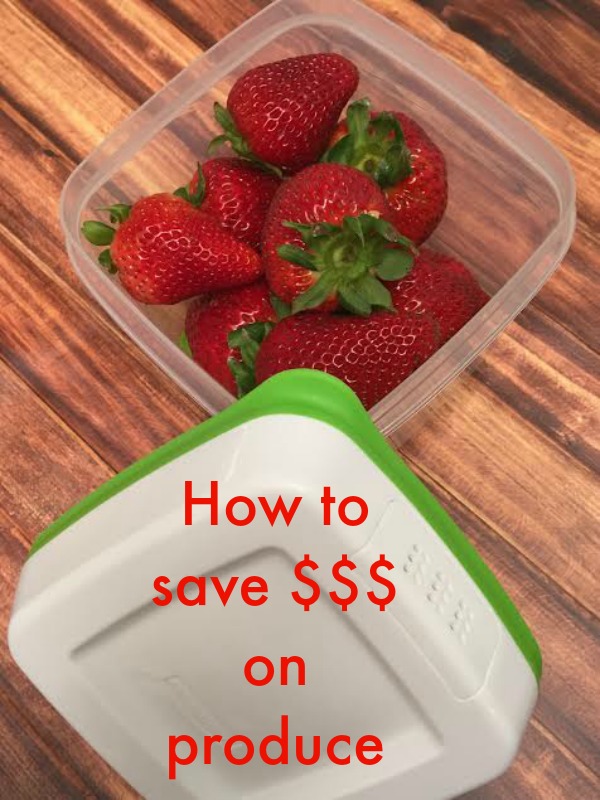 Why Use FreshWorks Produce Saver?
1. Keeps Produce Fresher, Longer: FreshWorks is a food storage container that uses patented FreshVentTM technology to keep produce fresher up to 80%* longer than traditional produce packaging. FreshVent regulates the flow of oxygen and carbon dioxide to create the optimal environment so produce stays nearly as fresh as the day it was picked, while the CrispTrayTM helps reduce moisture and spoilage.
2. Reduces Waste: Many people find that their produce has spoiled after just a few days, leaving them no choice but to throw it away. FreshWorks extends the life of your produce, so you can eat your produce before it goes to waste.
3. Saves Money: As a result of throwing away fresh produce, Americans waste $24 billion worth of produce every year, which is the equivalent of $192 per household.**
4. Easy to Use: With FreshWorks Produce Saver, you can simply move produce from store packaging and into the FreshWorks containers before refrigerating to maintain freshness for up to 80% longer. The lid filter lasts a lifetime, no replacements needed. Microwave and top shelf dishwasher safe, BPA-free. Available in three sizes to hold all types of produce:
Small (2.5 Cups): Ideal for small berries.
Medium (6.3 Cups): Perfect for strawberries.
Large (17.3 Cups): Optimal for leafy greens.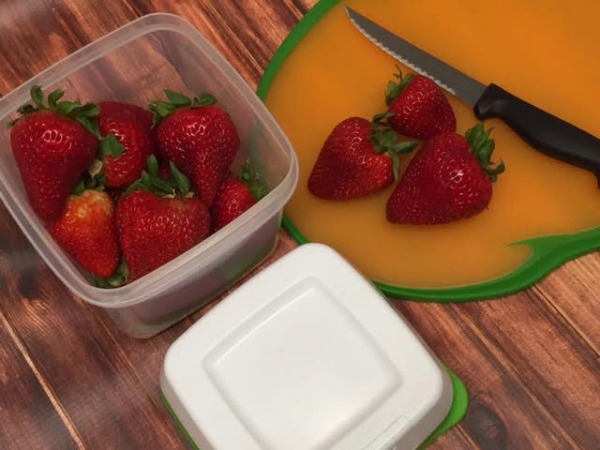 I'm loving my set of Rubbermaid FreshWorks produce saver containers! With the opportunity to keep our strawberries (and other produce) longer it gives me more time to eat them which means more days of strawberry recipes. Below you can find 100+ strawberry recipes to get those strawberries out of the FreshWorks container and enjoy them more often all summer long.
GIVEAWAY!
Win a 3-piece set of Rubbermaid FreshWorks. Leave a comment below on this post telling me your favorite way to enjoy strawberries. Giveaway is open to US residents and will close on May 15, 2017 at 11:59pm.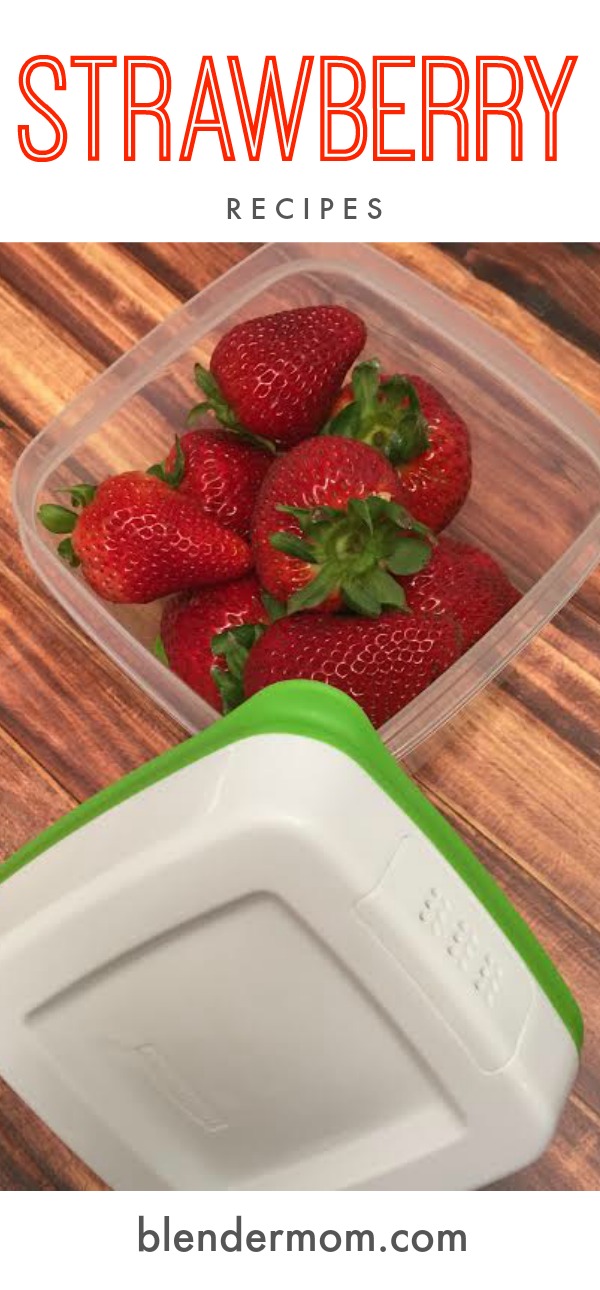 Strawberry recipes (food & drinks):
chocolate strawberry poke cake
strawberry cream streusel bars
strawberry shortcake
strawberry cheesecake no bake dessert
summer strawberry cooler
nutella cheesecake stuffed strawberries
strawberry lemon pound cake trifle
easy berry green smoothie
strawberry pancakes with cream cheese glaze
red white and blue cookie bars
strawberry cobbler
strawberry basil sangria
strawberry peach salsa
strawberry greek yogurt pancakes
strawberry ice cream
strawberry cheesecake smoothie
easy strawberry sweet rolls
no bake strawberry ice box cake
strawberry pineapple smoothie
layered tropical smoothie
paleo strawberry shortcake
mini cinnamon strawberry muffins
strawberry rhubarb dump cake
strawberry kiwi lemonade margarita
strawberry white whine slushie
strawberry tartlets
prickly pear and strawberry smoothie
strawberry pretzel jello salad
strawberry chocolate protein overnight oats
strawberry kiwi chia smoothie bowl
fruit leather aka fruit roll ups
strawberry peach crostata
strawberry shortcake
baked strawberry donuts
strawberry brownie trifle
strawberry pineapple granola smoothie
strawberry rose smoothie
homemade jelly doughnuts
strawberry coconut bars
pound cake
strawberry bread
strawberry bite sized pancakes
strawberry shortcake bars
strawberry bruschetta side salad
strawberry red wine cocktail
skinny chocolate stuffed strawberries
poppy pink strawberry trolls cookies
strawberry cookie butter heart waffles
breakfast parfaits
strawberry lemonade cupcakes
homemade strawberry jelly
strawberry shortcake milkshake
strawberry and lemon granitas
strawberry shortcake biscuits
strawberry sangria
fresh strawberry pie
Belgian strawberry mousse
strawberry and chia seed jam
Gluten free vegan strawberry trifle
gluten free raw no bake strawberry tarts
strawberry sauce
strawberry, arugula, and quinoa salad
easy frozen mixed berry vanilla custard pie
grilled balsamic strawberry salad
healthy strawberry oatmeal bars
3 ingredient strawberry mousse
strawberry chia jam
cheesecake filled strawberries
churro bites with strawberry sauce
strawberry and orange white sangria
strawberry shortcake in a jar
healthy strawberry salad with chilies and lemon
low carb no sugar strawberry limeade
no bake triple berry cheesecake
spinach strawberry salad
no bake strawberry cream pie
strawberry banana muffins
strawberry vanilla smoothie
strawberry and nilla wafer cheesecake
easy gluten free strawberry lemon bakewell tart
chocolate covered strawberry pie
strawberry banana bread
strawberry flan jello cake
mini rhubarb strawberry tarts
gluten free dairy free strawberry scones
slow cooker strawberry bread pudding
strawberry banana ice cream
southern strawberry sweet iced tea
patriotic strawberries
sweet corn pudding with macerated strawberries
strawberry lemonade
mini strawberry tarts
homemade popsicles
low carb sugar free gluten free strawberry trifle
dessert pizza
strawberry fluff dessert
captain america cupcakes
easy strawberry banana yogurt fruit dip
strawberry creamsicle cocktail and mocktail
strawberry cake
strawberry cookies
strawberry syrup
strawberry lemon muffins
strawberry banana chocolate croissant
strawberry fig jam
chocolate strawberry rhubarb dump cake
strawberry slushy
strawberry crunch bar ice cream cake




*Based on strawberries in FreshWorks containers vs. store packaging at day 21. *Based on strawberries in FreshWorks™ containers vs. store packaging. Results may vary depending upon produce and use.
** Source: USDA 2014