I only recommend products I use myself and all opinions expressed here are our own. This post may contain affiliate links that at no additional cost to you, I may earn a small commission.
This post brought to you by LEGO. All opinions are 100% mine.
My boys love building and playing with LEGO sets. I knew that they like LEGO so much that they would have fun making our own little LEGO Minifigure Family holiday cards. You can create your own custom LEGO minifig' family holiday cards too! Each member of your Minifig' family can be customized to match skin tone, facial expressions, outfits and more. You can even set the scene! Once you've got your family Minifig-ed, you can share the holiday card with your friends and family via your social channels like Facebook or twitter. You can also download and save your card to your computer. I made a LEGO minifig' family holiday card. I chose my hair style and color, skin tone, and what my clothes would look like. For the boys, my oldest is a beekeeper so the little bee outfit was very fitting for him. My youngest likes to dress "fancy" in dress shirts and ties so I chose the suspenders and tie look for him.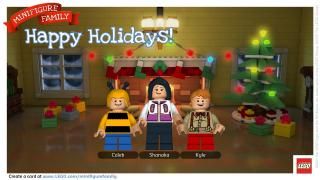 Aren't we festive looking? You can add up to 13 family members to your card, including dogs and cats. There are many different facial expressions, hair styles and clothes to choose from for each family member. You also have 12 holiday background scenes to choose from. I went with the Christmas living room looking background. When I let the boys make cards I can only imagine what they will come up with. I'll probably have a mohawk or something haha. Even if you don't celebrate Christmas there are 11 other backgrounds you can choose inlcuding Hanukkah and Kwanzaa. Your card doesn't have to say Happy Holidays, you get to edit the text once you are done designing your card. The LEGO minifigure family holiday cards are super easy to customize and create.
Have fun making your LEGO holiday cards and Happy Holidays from the Mama Bee Does minifig' family to yours.