I only recommend products I use myself and all opinions expressed here are our own. This post may contain affiliate links that at no additional cost to you, I may earn a small commission.
This giveaway is sponsored by Oreo.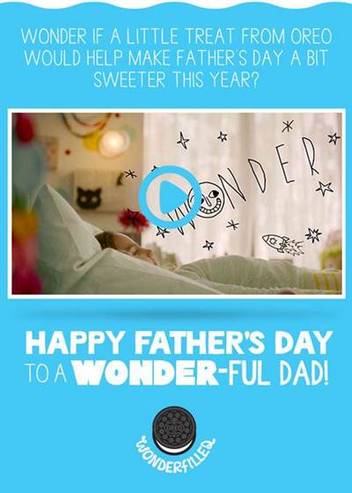 This will be my first Father's Day without my step dad since we became a family 18 years ago. He was 'Dad' to me for pretty much most of my life. This weekend is going to be hard for me. I'm tearing up just trying to type this post. I know he wouldn't want me to be sad. I'll continue to remember the days, months and years we were allowed to have together. One of our special times of just the two of us was the days that my Mom had to work the evening shift at her job and we had the night together just the two of us. We would have supper and then we would either rip open the OREO package or go get milkshakes. He always ate his OREO cookies bite after bite. Me? I eat the cream filling and then the cookies. Sometimes I soak my cookies in my milk and then eat them while drinking the milk. Odd to some but it's how I roll.
There are many "Dads" to be celebrated this weekend (Father's Day is this Sunday, June 16) and every other day of the year just like Mom. He may be your Dad, step dad, father in law, brother with a newborn, friend of the family that treats your children as his own. OREO is celebrating the dads out there who go 364 days of the year without fanfare.
GIVEAWAY!
We have a special OREO Father's Day package— some OREO cookies, a '#1 Dad' glass and an Amex (American Express) gift card (for milk to go with his OREO cookies), so the special dad in your life will be able twist, lick and dunk his OREO cookies how ever he chooses. Use the form below to enter this giveaway. Good luck!
Disclaimer: I received a prize pack for sharing this giveaway.