I only recommend products I use myself and all opinions expressed here are our own. This post may contain affiliate links that at no additional cost to you, I may earn a small commission.
Just a swingin'. Baby swings were a huge help when my youngest son was a baby. He got the soothing of the movement and mama got a bit of a break from rocking him so often (he was a colic baby). A lot has changed in the baby gear department since he was a baby (8 years ago) and when we found out that our one month old baby girl was on the way earlier this year we were a bit overwhelmed looking at all the baby swings, bouncy seats and other gear with all the updated bells and whistles. We tried a couple swings with our baby girl in the past month and she was not fond of a couple of swings we tried. We hit the swing/bouncy jackpot though when we put little Kaylee in the Graco Oasis swing (with soothe surround technology). You can purchase the swing from Graco for $149.99. Worth the price tag? Check out what Geek Daddy and I think of the Oasis...
Graco has been a brand I have trusted since my oldest was a baby and in his 12 years we have owned many Graco products- from highchairs and pack and play set ups to car seats and strollers we have owned them all and they all were Graco and now we add the Graco Oasis swing to our baby gear must have list.
The Graco Oasis swing has 5 different soothing settings designed to keep baby calm, and a two-position recline to keep baby comfortable. Soothing is achieved with the soothe surround technology through a combination of vibrations and sounds to imitate real-life settings: playtime, lullaby, and Kaylee's favorite the heartbeat. Like many swings the recommended weight range for infants is 5.5 – 30 lbs. I watched as Geek Daddy pulled the swing parts from the box and put it together. Once together he was admiring his handy Daddy skills. He liked that the Oasis was not hard to assemble, that it was higher off the ground than other swings we have so he doesn't have to bend down as far or squat to get to Kaylee, and he also commented that he thought having the swing not only run on batteries but also having the option to plug it up (save some money on not always needing batteries) was a nice feature.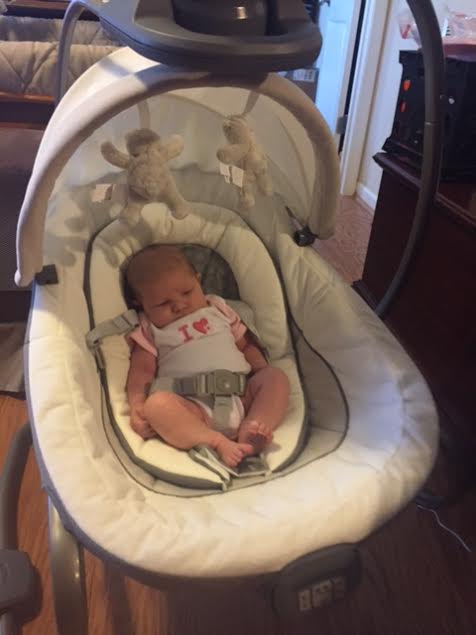 The swing offers 6 speeds to the seat on the stand and it can be rotated on the stand to give baby multiple swing direction options. Then with the push of a button you can easily take the Oasis from swing to bouncy seat.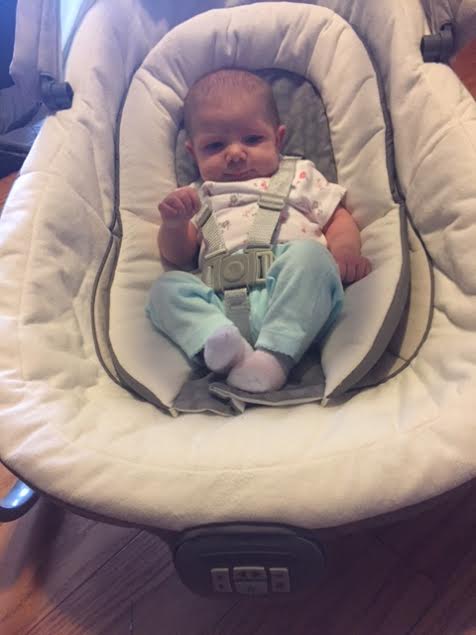 The bouncy seat part of the swing has the music and vibration option buttons on the front of it so baby can have even more soothing options and mama and daddy can have a little break when they need it. The Graco Oasis swing really has helped me out while trying to get the house ready for Christmas. I also like to baby wear but with the swing I have even more options for baby girl while I am doing things around the house. Graco has definitely helped maintain the merry and minimize the meltdowns in our house this holiday season.
Product(s) supplied by Graco but all thoughts and opinions of brand and product are those of A Blender Mom writers.