I only recommend products I use myself and all opinions expressed here are our own. This post may contain affiliate links that at no additional cost to you, I may earn a small commission.
May is Military Appreciation Month. Compensation for this post was provided by Chevrolet via MSB New Media. All opinions expressed in this piece are my own. I'm sure if you have a loved one in the armed forces every month is appreciation month. I have several family members and friends in the military and KC is an Air Force wife. My step brother is a M1 Armor Crewman with the U.S. Army National Guard. I also have Navy and Marine friends too. KC, her husband and their two boys have been stationed in Germany for a couple years now. They get to come home at the end of July! We are all excited. I have been friends with her husband since high school. I remember dropping him off when he joined the Air Force. Man that feels like so long ago. Because of all of my family members and wonderful friends I know that freedom really doesn't come free. They sacrifice so much for others. It takes a special kind of person to be willing to give so much sometimes even their own lives to protect the freedom of others.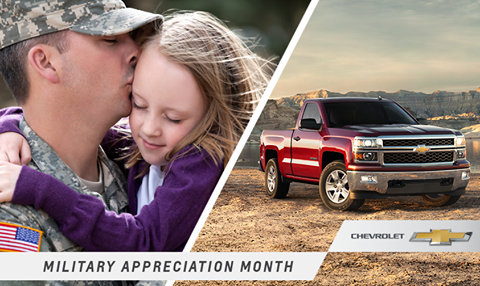 ChevySalutes Military Appreciation Month
Chevrolet has made the commitment to serve those who have served with the ChevySalutes program during the month of May. During the month of May Chevy is offering military discounts to all military personnel including Veterans, retirees, active duty and reserves as well as the military spouses. Chevrolet also supports our military in other ways.

Chevy and its dealers are proud to give back to those who give so much of their selves for their country. Chevrolet supports the Achilles Freedom Team of Wounded Veterans, works with Cellphones for Soldiers, has helped employ over 60,000 veterans with Hiring Our Heroes, and is the proud official vehicle of the Army-Navy game presented by USAA.
#ChevySalutes Instagram contest!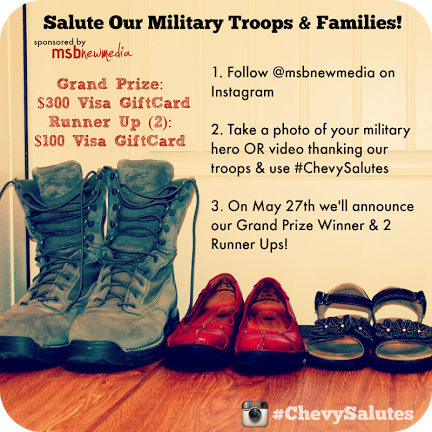 Are you on Instagram? Do you have a loved one in the military or just want to show some support to your troops? If you share a photo on Instagram of your hero or take a 15 second video showing our military some love you could win $300 or $100. Follow the rules on the #ChevySalutes Instagram photo to be eligible to win. Winners will be announced on May 27, 2014. One grand prize winner will win $300 and two runner ups will each get $100. I'll be checking out the entries along the way. Good luck! You can follow #ChevySalutes on twitter as well as Instagram. You can also join us on May 28th for the #ChevySalutes twitter party. More on that fun coming soon.
disclaimer:Compensation for this post was provided by Chevrolet via MSB New Media. Opinions are my own.