I only recommend products I use myself and all opinions expressed here are our own. This post may contain affiliate links that at no additional cost to you, I may earn a small commission.
My man tends to sweat a lot as do my sons. The two boys can simply walk to the mailbox and back and they will come back inside smelling like wet dog. Some days I hate doing their laundry (pew-wee!). Thanks to Hanes and the Hanes with FreshIQ they can worry a little less about sweat and I can worry a little less about holding my breath to do laundry.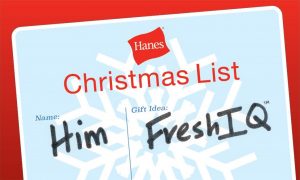 The Hanes with FreshIQ is a line of T-shirts, socks, and underwear made with advanced odor protection technology. The guys love the softness, comfort, and support of Hanes and we all love the odor control that helps reduce odors from arm pits and smelly feet. What's so great about Hanes with Fresh IQ? FreshIQ attacks odor causing bacteria in the clothing that causes them to smell like a sweaty locker room or stinky old pair of shoes. It attracts and kills the odor causing bacteria which reduces the unpleasant odors and funk.
Proud Geek Daddy received some of the new Hanes FreshIQ men's shirts and socks. I noticed right away that the t-shirts are super soft when we opened the package. Would they hold up to a day of Geek Daddy? They have so far. He has gone through the entire pack of shirts and socks. The shirts he is very pleased with and the socks are great too. Because his feet don't have arches the arch compression support on the socks felt a little awkward to him at first.
The X-temp active cool ankle socks are pretty nice. I can say that because I snagged a pair to try out myself so I could give my own opinion of them other than not having to old my nose when I toss them in the washer on laundry day. I have arched feet so I found the arch compression of the socks very comfortable. The X-Temp technology is designed to adapt to your temperature and activity to keep you cool and dry for all day comfort, wicking away moisture to keep feet nice and dry.
You can find the new Hanes with FreshIQ products at hanes.com.
GIVEAWAY!
One Blender Mom fan will win their choice of a gift bag of the new Hanes with FreshIQ products or a $50 American Express gift card! Use the form below to get entries in the giveaway. Giveaway will end December 21 and is open to US residents only, sorry.
Product(s) supplied by Hanes but all thoughts and opinions of brand and product are those of the A Blender Mom writers.