I only recommend products I use myself and all opinions expressed here are our own. This post may contain affiliate links that at no additional cost to you, I may earn a small commission.
This post brought to you by Walmart. All opinions are 100% mine.
Walmart has a full assortment of Duck Tape® for back to school, with availability in the Paint Department and the Craft Department. Just in case you didn't know all the amazing things you can do with Duck Tape®, listen up! You can use Duck Tape® to create, embellish and decorate just about anything. You can make things for teachers as welcome gifts. You can make a custom name plate for your children's desk or classroom cubby. Older students can cover their notebooks in paper bags and embellish/decorate/customize with their choice from the large variety of Duck Tape®. Or maybe a customized Duck Tape® mirror for the middle schoolers locker? You'll want to buy Duck Tape at Walmart and let their creativity run wild. You can follow @DuckBrand for even more creative inspiration. I like that I can buy the Duck Tape® in rolls or sheets.
My boys made wallets completely out of lime green and camo colored Duck Tape® a couple years ago and the wallets have survived. I don't know why I didn't think of this sooner in the summer so we could create some back to school supplies for them but we will be doing something soon with some Duck Tape®. After just a quick search on Pinterest I found a lot of pins and boards for back to school, classroom crafts that all use Duck Tape®. Over on Pinterest I did a search for Duck Tape and I came across some great projects I want to do. Oh and last year I put together a costume (I was Daisy Duck) and I used some hot pink Duck Tape® to make Daisy's hair bow.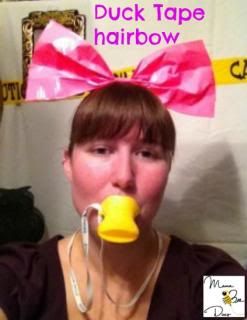 I wanted the really big bow like Daisy so I made it really wide with a couple rows of tape and attached it to a headband. If you have girls they can create some (smaller) rocking headbands and hair bows to match their outfits with the different colors, prints and designs that Duck Tape® offers.