I only recommend products I use myself and all opinions expressed here are our own. This post may contain affiliate links that at no additional cost to you, I may earn a small commission.
I had the opportunity to have an interview last week with Disney channel stars Rowan Blanchard and Jake Short. You may recognize Rowan as Riley Mathews from the Disney show Girl Meets World and Jake as Oliver from (Mighty Med) and most recently Lab Rats: Elite Force. My youngest two kids knew exactly who I was talking about when I told them about the interviews I was having. Blanchard and Short are working with Dannon Danimals yogurt to promote the Dannon Danimals NFL Fuel Up to Play 60 find the golden bongo contest.
With back to school in full swing now moms and dads are packing lunches and snacks once again for the kiddos. Kids who Fuel Up to Play 60 and find one of the five "Golden Bongo" will earn an epic experience for their entire school- a field day event with NFL players for the winner's school! Dannon Danimals, a leading yogurt brand for children, and Fuel Up to Play 60, the nation's largest in-school wellness program, have joined forces for a second year to inspire kids to make healthy nutritional choices and get active for at least 60 minutes a day.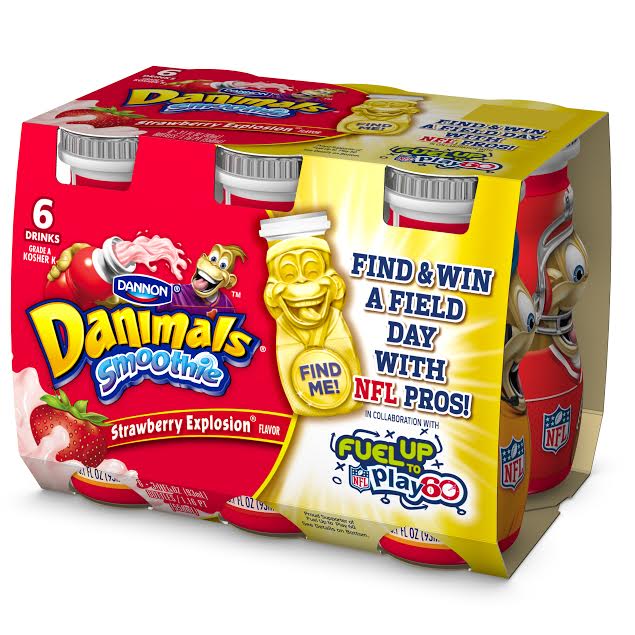 While chatting with Rowan and Jake we talked about ways that I could make packing lunch for school cool for my kids (which of course includes packing some Dannon Danimals bottles and pouches of yogurt). I also learned what favorite NFL teams Jake and Rowan cheer for and what their favorite Danimals flavors are- both were in agreement that strawberry is the best but when it comes to NFL teams Jake is a Colts fan but did have my player favorite on his fantasy team. I'm a Carolina Panthers fan and Cam Newton was on Jake's fantasy team. No one is saying yet who the NFL players will be for the Fuel Up to Play 60 field day event. They said they want to save the announcement for the sweepstakes winners who find the 5 golden bongos.
From Jake and Rowan:
"Kids these days are busier than ever before so it's hard to maintain an active lifestyle while balancing academics, sports and other everyday activities," said Short. "Not to mention trying to be cool when getting ready to head back to school. That's why we're offering moms tips on how to help their kids become the talk of the classroom."

"Why do moms always take advice from other adults instead of us? After all, we're the ones that have to walk the halls, eat in the cafeteria, and make friends with our classmates," said Blanchard. "I'm excited to share my tips to help moms up their coolness this year."
Packages of the Dannon Danimals Smoothies and Squeezables low fay yogurt have been shipped out to stores across the nation and families have until through October to find one of five of the golden bongos and the field day events will happen in the spring of 2017. For more info about the contest and the field day events you can go to danimals.com.