I only recommend products I use myself and all opinions expressed here are our own. This post may contain affiliate links that at no additional cost to you, I may earn a small commission.
Cinnamon sugar Keto donuts? If you had asked me about them before January I would have laughed and said no thank you. I started on the Keto journey the end of January. In 2 months I have lost 22 lbs. and gone down 2 pant sizes and 1 bra size. Thankfully Keto has been easier for me to stick to this time around. Jersey Boy and I both tried it a couple years ago but I quit after 1 week; I wasn't ready. Being on Keto I thought it would be too difficult to give up my Dr. Pepper, bread, pizza, and donuts. I have researched and learned that there are many alternatives to my favorite "junk" foods. Almond flour and coconut flour have become my Keto bff's.

Keto Donuts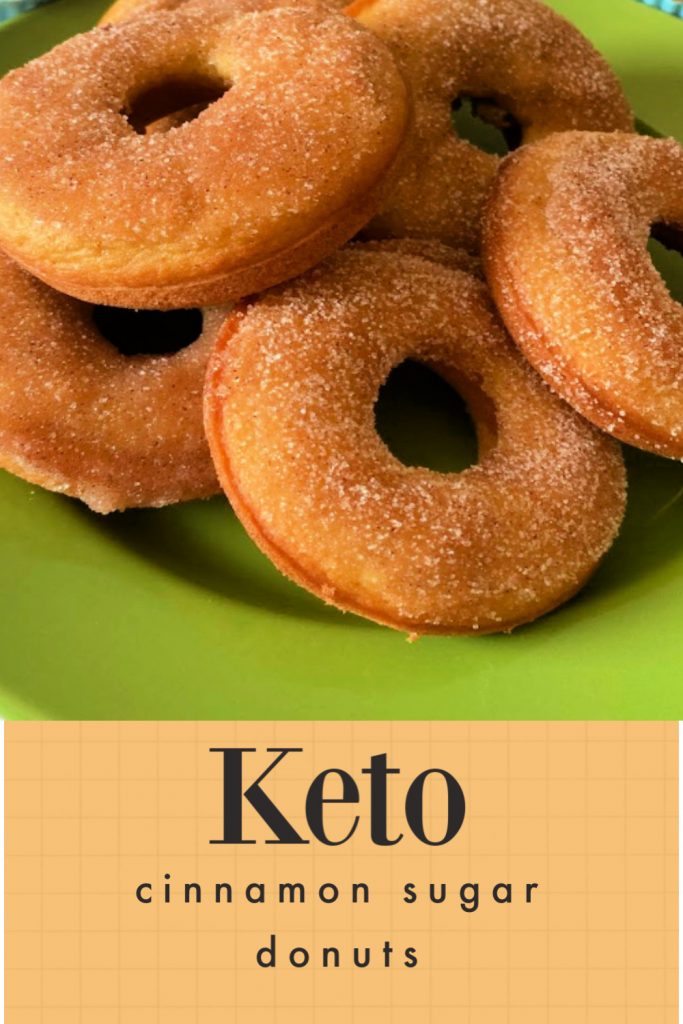 Learning to make treats and sweets to meet the Keto requirements has been a fun journey. Some desserts turn out great, like these donuts, and some are a bit of a fail. We attempted some keto brownies once that were super dry and crumbly. You will love these cinnamon sugar keto donuts though, I promise! I hate using a certain m word to describe food but these keto donuts are melt in your mouth moist. Even all of my "keto hating" kids ate some of these donuts the last time I whipped up a batch. Enough chit chat, on with the recipe, right?

Keto cinnamon sugar donuts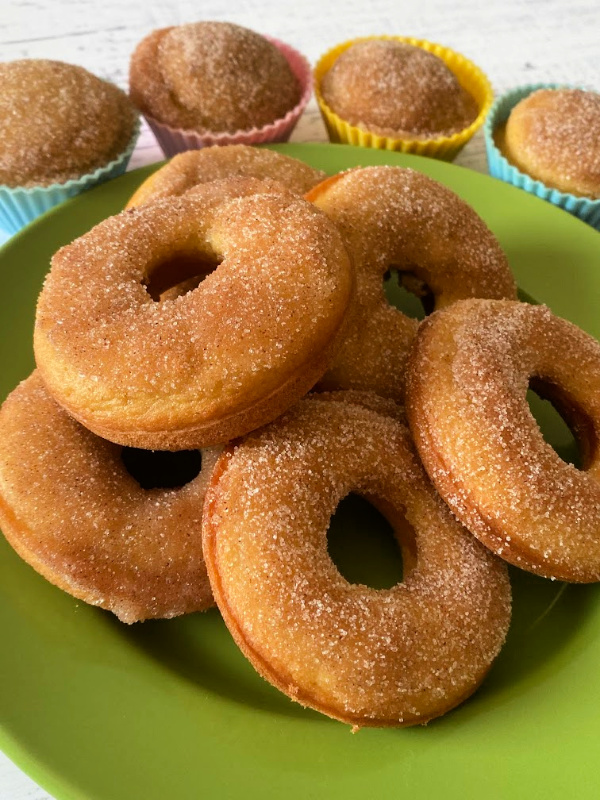 Ingredients for cinnamon sugar keto donuts...
Donut batter:
1 cup blanched almond flour
¼ cup coconut flour
¼ cup erythritol
2 teaspoons baking powder
2 teaspoons vanilla extract
¼ cup (evoo) extra virgin olive oil
¼ cup water
3 large eggs

Donut topping:
½ stick butter; melted
¼ cup erythritol
2 teaspoons ground cinnamon
¼ teaspoon allspice
⅛ teaspoon nutmeg

How to make Keto donuts

Directions:

Preheat the oven to 350 degrees. Use a non stick cooking or baking spray on a donuts baking pan. I have learned the hard way that almond flour based recipes are sticky even on the non-stick pans.
In a large mixing bowl, mix together the flours, erythritol, and baking powder. Use a whisk or fork to make sure you break up any clumps in the dry ingredients.
In a smaller, separate bowl, mix together the olive oil, water, eggs, and vanilla extract for the donut batter.
Whisk the small bowl ingredients into the large bowl of the dry ingredients and mix well.
You'll want to let the bowl of keto donuts batter rest for a few minutes. The coconut flour tends to absorb liquids more than regular flour. You may need to add a little extra water to keep the batter at a consistency similar to muffin batter.
This batter makes 12 regular size donuts. Since I only have one donut pan that makes 6 donuts we made 6 regular size donuts and 4 muffins.


Bake the donuts for 20-30 minutes or until the donut tops are golden brown and the sides of the donuts are baking away from the sides of the pan. Remove the baked keto donuts and allow them to completely cool.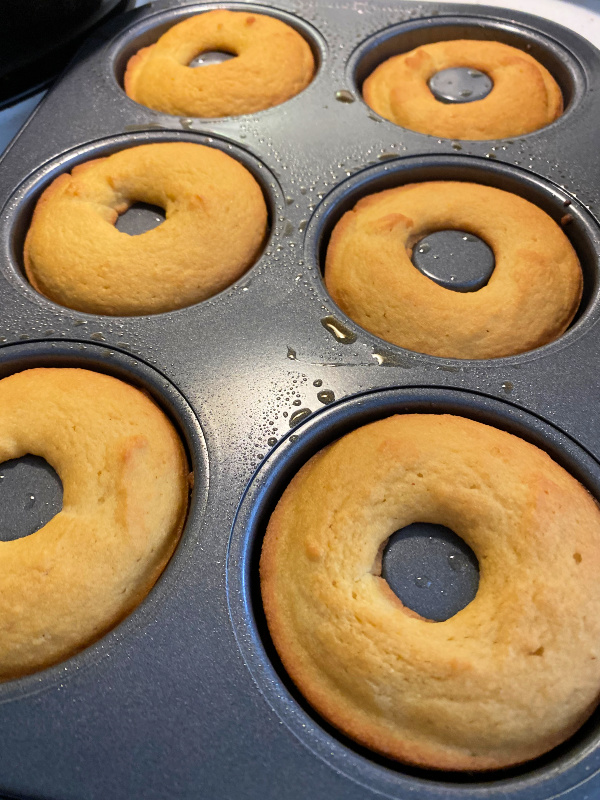 While the donuts are cooling, melt the half stick of butter in the microwave in a microwave safe bowl large enough that you can fit the donuts into to dip.
In another small bowl that can fit the donuts in it, mix together the donut topping dry ingredients- the erythritol, cinnamon, allspice and nutmeg.
Take the cooled donuts one at a time and dip them in the melted butter and then dip the in the cinnamon sugar mix to coat.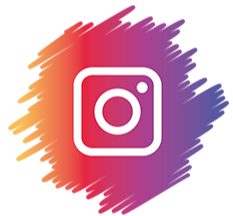 If you make this recipe and decide to share it on Instagram please tag me @its_shanaka or use the hashtag #ItsShanaka so I can see your creations.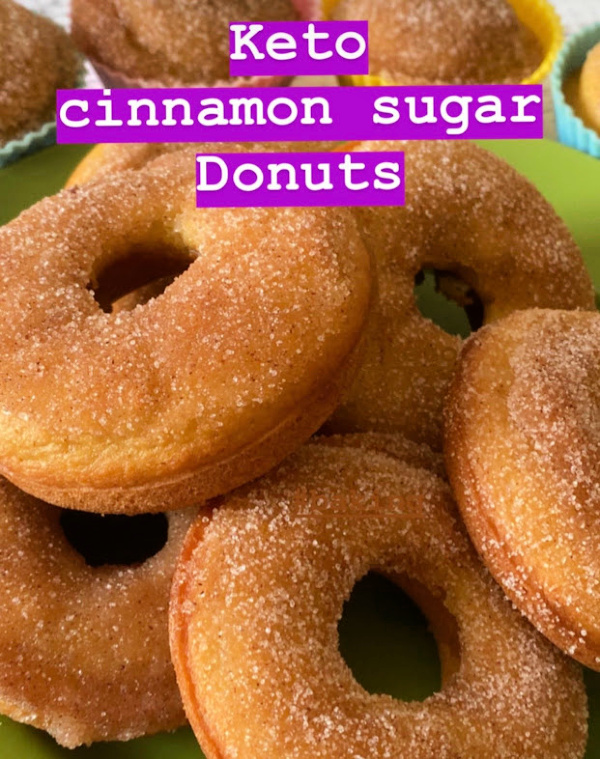 I hope you all follow along with me on Facebook, Instagram, Twitter, and Pinterest. I work full time and have online college classes so there are some days when I'm not active but I still love my social media friends and would love to connect with y'all.