I only recommend products I use myself and all opinions expressed here are our own. This post may contain affiliate links that at no additional cost to you, I may earn a small commission.
Monsters with chainsaws chasing you through the street. The smell of a town burning around you as ash lands on your shoulder. The sound of a pirate lurking in the shadows dragging his sword on the pavement after you. Nightmares? No, I'm describing things I eagerly encountered a couple days ago attending the opening of the 15th annual Busch Gardens Williamsburg howl-o-scream.
The first day we were there we had an evening "media event" and we got to talk with the creator of howl o scream and hear how howl o scream got started and became the TERRORtories today that we were about to set foot in. We were also heckled by a couple of pirates while we were at the event. In the first evening that my cousin and I were at Busch Gardens we had about 4 hours to take in as much of howl-o-scream as we could. He had been to howl-o-screams in the past so he knew what to expect for the most part. I think that closing times of 10 or 11pm is a bit early for an event of this size but we did manage to get in all of the haunted trails and houses but that was all we had time for because of the wait in all the lines. Even the Quick Queue lines were really long, that's how packed Howl-O-Scream was opening night.
It was still a bit of daylight left when we were released out in to the park. The team of Busch Gardens employees made sure to tell all of us that the Howl-O-Scream events were not meant to be very kid friendly but there were many, many young children there opening night. I did witness a few screamers (terrified little girls screaming bloody murder because an actor scared them) who were proving that it's not all that young child friendly once the sun goes down. I wouldn't have taken my five or nine year olds, they scare easy enough at home.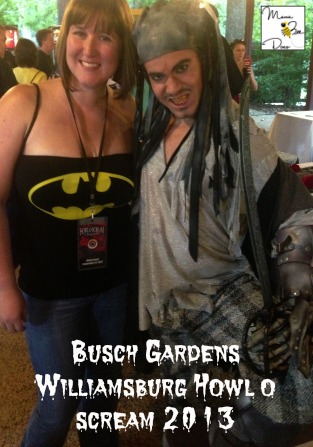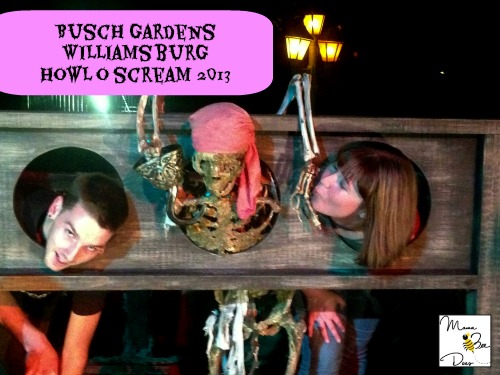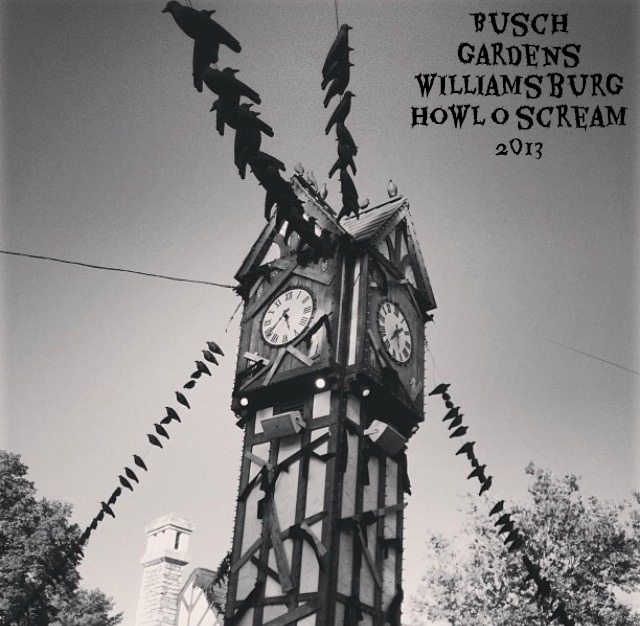 Being my first visit to howl o scream I didn't know what to expect with the haunted houses and trails. I had a lot of laughs and yes I also had my share of screams. I witnessed grown women running by me in pure fear screaming and crying. I also watched a woman my age crawl on the ground trying to avoid rubber snakes only to have someone tell her that they were on the ground and see her literally make a running leap on the the back of the guy in front of me. I enjoyed walking Ripper Row with all the characters roaming the streets. Demon Street was brought to life as Paris burning to the ground. There was ash (confetti) falling and burning wood smell in the air but no real fire. The dj was pretty hot as he got the crowd pumped with good music.
Vampire Point (in Germany) and the Vampire Point hotel with the Blood Banquet dinner is really something to sink your teeth in to. For $20 a person the all you can eat buffet is an experience for sure. Not giving away any of the fun here. The food is good, try the slaughtered lamb stew and enjoy the interactiveness of your surroundings. I wasn't really impressed with the Cut Throat Cove. The walk through was a really long line (as were the others) but as we were waiting I was people watching (and listening) to the crowd as they were leaving Cut Throat Cove and many of them were yelling over in to our line that we shouldn't waste our time in line to go through. Of course we waited and walked through anyways and I'm sad to say it was as the others were saying BUT the lack of pirates I guessed was because we finally got through the line at you guessed it closing time. This was another thing that I wasn't sure was a grand idea. Closing the park down at 10pm. We didn't have time to see and do all we wanted so I used my ticket and went the following day to finish out my time. I did get to all the houses and trails the first night though. The only thing I did the second day was rode coasters and caught a show and ate dinner.
I look forward to going to Busch Gardens again for howl o scream and see what they do to push the scare factor even farther. Hopefully 2014 will be a sweet (but terrifying) 16 for howl-o-scream. You can catch the terrortories of howl-o-scream every weekend now 'til the weekend of October 25th, the weekend before Halloween.
disclosure: I attended a media event for the opening of the Busch Gardens Williamsburg howl-o-scream 2013.