I only recommend products I use myself and all opinions expressed here are our own. This post may contain affiliate links that at no additional cost to you, I may earn a small commission.
A year ago Geek Daddy and I decided to go ahead and get married while we were spending a week at Walt Disney World. We eloped and later had a family sand ceremony with all four of our children. We told the kids and our parents beforehand but others thought we were just on a couples getaway vacation. During our first visit last year we chose to stay at the Wyndham Garden Lake Buena Vista. We enjoyed our "Disneymoon" stay so much that when we made the trip to Florida this year we chose to stay at the Wyndham Garden Lake Buena Vista once again.
Because the Wyndham Garden Lake Buena Vista is a Disney Springs Resort you not only can walk over to Disney Springs right next door to the resort but you also get free shuttle rides to the Disney parks. To add even more pixie dusted magic to your Wyndham Garden stay the resort also now offers Disney Park extra magic hours. During check in we were asked if we had Disney park passes and we indeed had passes so we were given extra hour tickets (allowed us to go to the park an hour earlier than opening on the day we had passes).
Wyndham Garden Lake Buena Vista Disney Springs Resort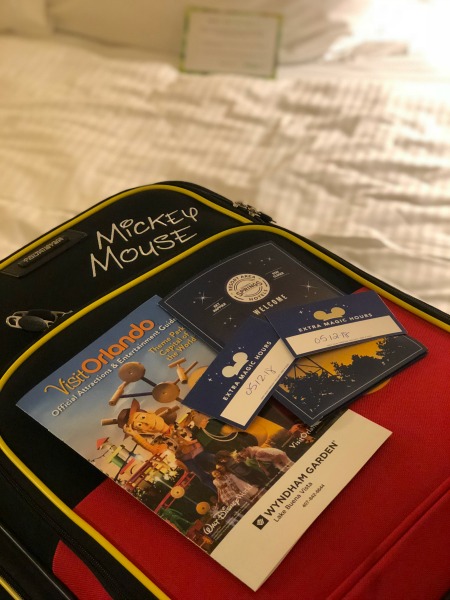 Geek Daddy and I chose to order room service a couple nights during our stay. The first night we ordered we were surprised by a quick knock at our room door. I told Geek Daddy that there was no way our food was ready and being delivered already. He opened the door and we were surprised with even more Disney magic! We were gifted a tray of chocolate covered strawberries and a bottle of wine to celebrate our 1 "ear" anniversary.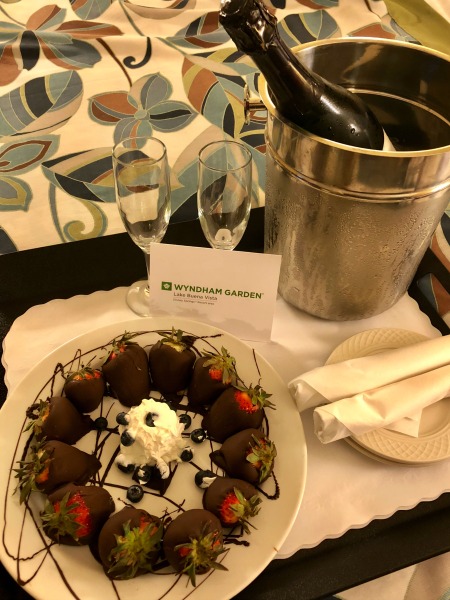 We made a stop in to the Disney store that is located in the lobby of the Wyndham. I wanted to browse and of course check and see if they had any anniversary celebration buttons. We ended up getting the wedding ring happily ever after buttons and the Cinderella Happily Ever After buttons that we were told are no longer being given out. The ladies working the Disney store congratulated us on our "1 ear anniversary", saw our Star Wars shirts and chatted with us a bit, and made sure we knew about the Star Wars pins only available at the Disney's Pin Traders in Disney Springs. All of the cast members we met all week were all very friendly and helpful.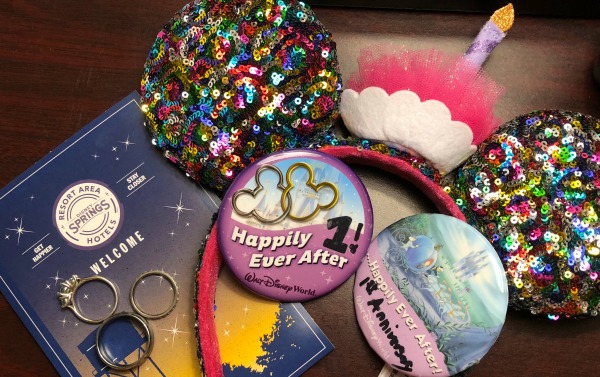 Wyndham Garden Lake Buena Vista Disney character breakfast
If you decided to stay at the Wyndham Garden make sure to have breakfast at the Lakeview Restaurant where you can dine with Goofy and Pluto! The Disney character breakfast is every Tuesday, Thursday, and Saturday from 7:30am to 10:30am. The character breakfast days are buffet style only. The adult price is $26.95 and children 4-11 are $12.95. We enjoyed the character breakfast during our first visit and headed back during this stay for the Mickey waffles, omelettes, and yummy buffet. I loved that the cast member who was our server tried to help me with my sweet tea fix by offering to try and make me an Arnold Palmer. I couldn't find sweet tea hardly anywhere at the parks so he offered to make the Arnold Palmer for me as a semi-substitute. I gave him an A for effort to make me happy and the Arnold Palmer was indeed good. What is an Arnold Palmer? It's a non-alcoholic mix of iced tea and lemonade, named after American golfer Arnold Palmer.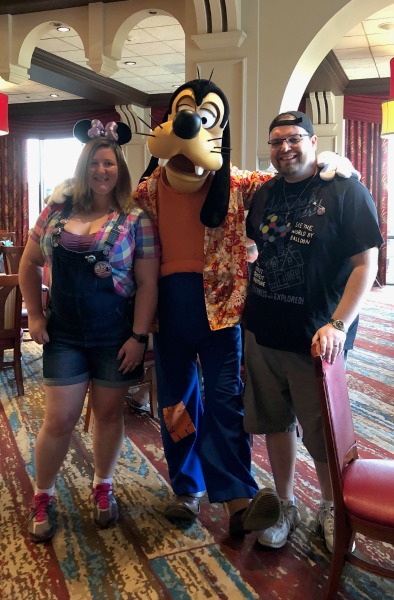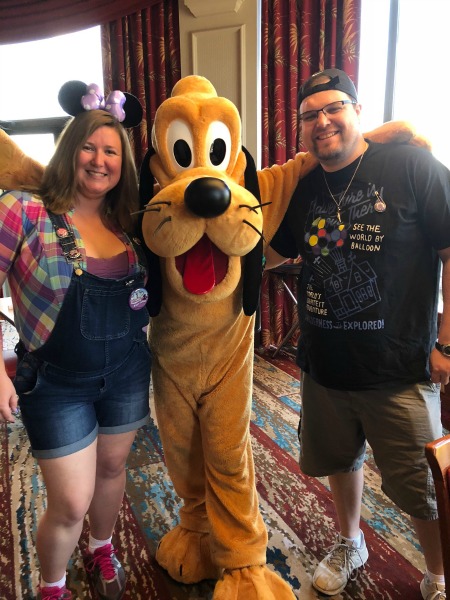 More benefits of choosing the Wyndham Garden Lake Buena Vista for your stay?
poolside Oasis bar & grill
Eclipse Lounge (we had drinks here one night)
Sundial 24/7 cafe (we visited this during both stays)
Room service
2 outdoor pools and hot tub
24 hour fitness center
Basketball, volleyball, and tennis courts
children's pool/playground
children's activities with the Director of Fun
Pin trading in the lobby
Disney gift shop
doctor on call
Disney tickets available on site for purchase and much more.
If you are bringing the entire family to Disney, if you are eloping or just married, having a girls/guys weekend getaway, or visiting the area solo for a business trip the Wyndham Garden Lake Buena Vista has something for all of us. You can read more about our Disneymoon stay at the Wyndham Garden Lake Buena Vista too.
I'll be sharing more from our kid free week in Orlando, FL soon.