I only recommend products I use myself and all opinions expressed here are our own. This post may contain affiliate links that at no additional cost to you, I may earn a small commission.
It's been a bit quiet around here lately. I feel like I have spent the last few weeks on the go. Our kids finished up school and all three of the oldest are on summer break. Kaylee is army crawling and pulling up on things now. It doesn't feel like it's been long enough for her to be 7 months old in four days. Jersey Boy aka Proud Geek Daddy and I spent a week in Orlando, Florida a couple weeks ago. Our family sand ceremony is a month away but with the kids going back to school the beginning of August, it would be difficult to get away with the different schedules of work and the four kids. So we decided to vacation before the sand ceremony. We spent a week in Disney World and Universal Studios.
We took the oldest three to Disney last May for Disney Social Media Moms for Mother's Day. I was pregnant with Kaylee and couldn't do the rides that I normally would. Jersey Boy and I made a big decision right before hitting the road to Disney. I hit up a friend of mine that lives not far from Disney and asked if she was free for a couple hours. She said yes and so on May 19, 2017 Jersey Boy and I also said yes. We went to the Orlando court house, him in his suit and me in my wedding dress and carrying a bouquet of purple gerbera daisies, and we got married!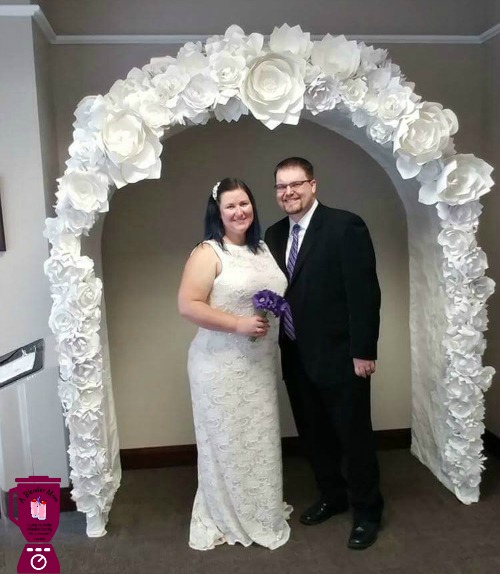 I'll be sharing more about our trip to Orlando soon- where we stayed for the week, places we went, places we ate at, it was a week of fun and pure happiness.
Disney bride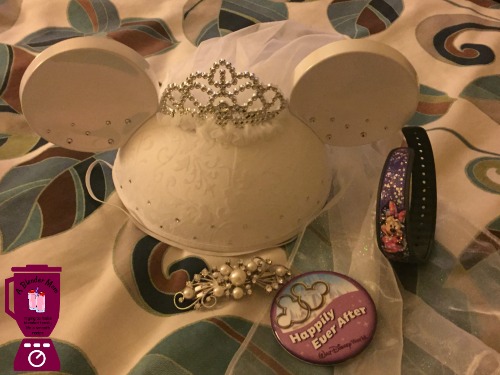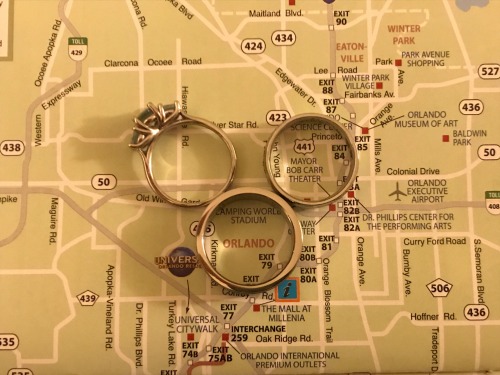 As I mentioned, we are still having our family sand ceremony next month. Our sand ceremony set arrived this week. There will be photos of that coming up shortly. The kids each chose their own sand color, Dan and I chose ours, and we have white sand for our friends and family to add. I have a sheet put together to be read to the six of us for the sand ceremony. Just reading over it after I wrote it out I had tears in my eyes.
For a long time I wasn't happy at all. I dealt with some things, made some changes, and finally I was happy with myself and where I was. Then I met Jersey Boy and I felt an all knew kind of happiness and after tossing ideas back and forth I think the way we chose to celebrate our happily ever after was perfect for the two of us and still getting the kids involved with the family sand ceremony is icing on the cake. I loved getting my happily ever after at the happiest place on earth but can't wait to have our ceremony with our children, family, and friends.