I only recommend products I use myself and all opinions expressed here are our own. This post may contain affiliate links that at no additional cost to you, I may earn a small commission.
This recipe is for adults age 21+ as it contains alcohol. This summer sangria cake recipe is sponsored by Dixie Crystals, Adam's Extract, and Wilton. This is a great cake to have at your next get together or bbq. It's a made from scratch sponge cake with each layer infused with sangria sauce and topped with homemade fruity whipped cream. The fun thing about this sangria cake recipe is you can use whatever fruits you want. Today I used peaches, strawberries, cherries, raspberries, and blackberries. All of the many flavors that I enjoy in my sangria.
Summer Sangria Cake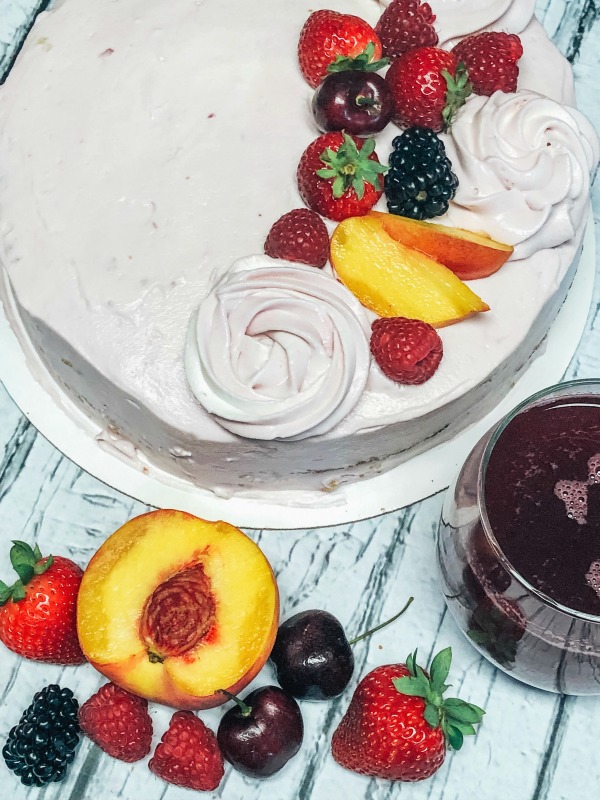 Sangria Cake Recipe
Ingredients:
Sponge Cake-
6 eggs
1 cup Dixie Crystals granulated sugar
1 teaspoon Adam's Extract vanilla extract
1 cup all-purpose flour
1 teaspoon baking powder
Whipped Cream-
1 cup of fruit of your choosing
2 cups heavy cream
⅓ cup Dixie Crystals granulated sugar
1 teaspoon Adam's Extract vanilla extract
8 oz. cream cheese; softened
1 cup of white chocolate chips; melted
1 & ½ cups Dixie Crystals confectioner's sugar
Cake Filling-
6 cups sliced and diced berries/fruits
1 cup sangria wine
Directions:
1. Preheat the oven to 350 degrees F. Line (2) 8 inch round cake pans with parchment paper.
2. For the sponge cake- in a large bowl (I use my KitchenAid stand mixer), combine the eggs, sugar, and vanilla extract and mix on high for about 8 minutes or until the eggs are almost white in color.
3. Combine the dry ingredients through a sifter and add it in small amounts to the egg batter.
4. Gently fold in the flour making sure to reach the bottom of the bowl not leaving clumps of flour in the bottom to get dumped out on the top of your cake batter.
5. Divide the sponge cake batter in to the two prepared cake pans and bake for 20 minutes or until the tops are golden brown. Allow the cakes to cool in the pans. Once the cakes are cooled completely you can use a serrated knife to slice each cake in half creating 4 total cake layers.
6. Make the berry/fruit sauce next to give it time to chill while you work on the whipped cream. Combine the 1 cup of berries/fruits that you choose with the sugar. Using a spoon you'll want to crush the sliced/diced berries/fruits and stir bringing the pot to a simmer for 5 minutes. Strain the fruit mixture over a bowl to separate the fruit pieces from the liquid. Place the bowl of liquid in the fridge to chill.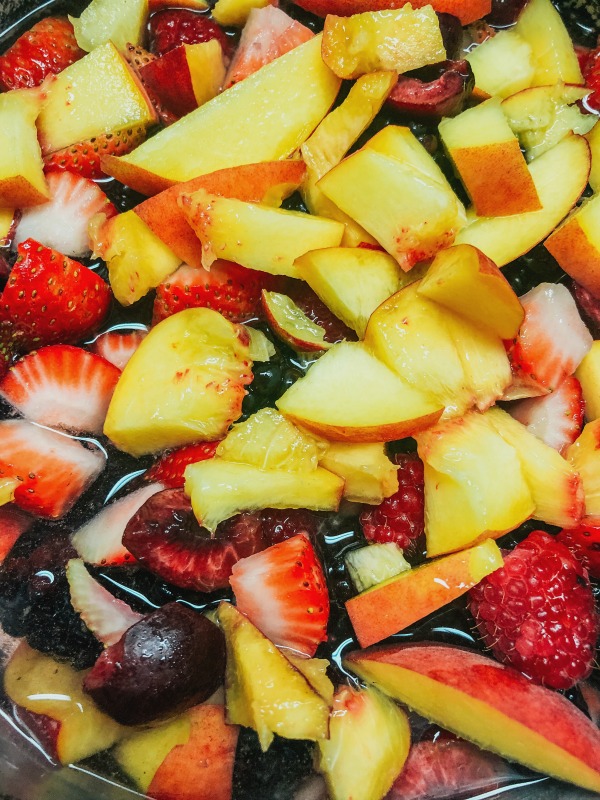 7. Making the whipped cream- add the cold heavy cream and Dixie Crystal's confectioner's sugar to a large mixing bowl. Whisk on medium for 2-3 minutes and then whisk on high 3-4 minutes or until stiff peaks start to form.
8. In a separate large mixing bowl, beat the softened cream cheese and the vanilla extract until smooth. Add in the melted white chocolate chips and mix until well combined.Add the chilled berry/fruit sauce last and whisk again until well combined.
9. Add the cheese and berry/fruit mix to the whipped cream and gently mix for 20 seconds. Use immediately or keep refrigerated until you are ready to frost the sponge cake.
10. Soak the tops of each sponge cake layer with the sangria wine. Top the layer with fruit and some of the whipped cream. Repeat all layers.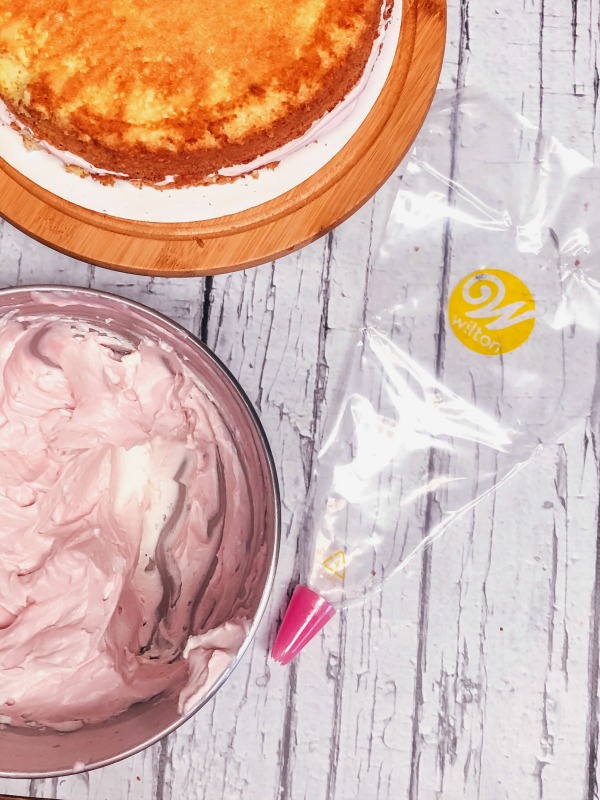 11. Frost the side and top of the cake with the remaining whipped cream. I used a Wilton all in one disposable decorating bag with tip to add some extra whipped cream decoration to the top of the cake along with a handful of my fruit/berry variety. Let the cake chill in the fridge at least an hour or even as long as over night to allow the flavors to really soak in to the sponge cake. Enjoy!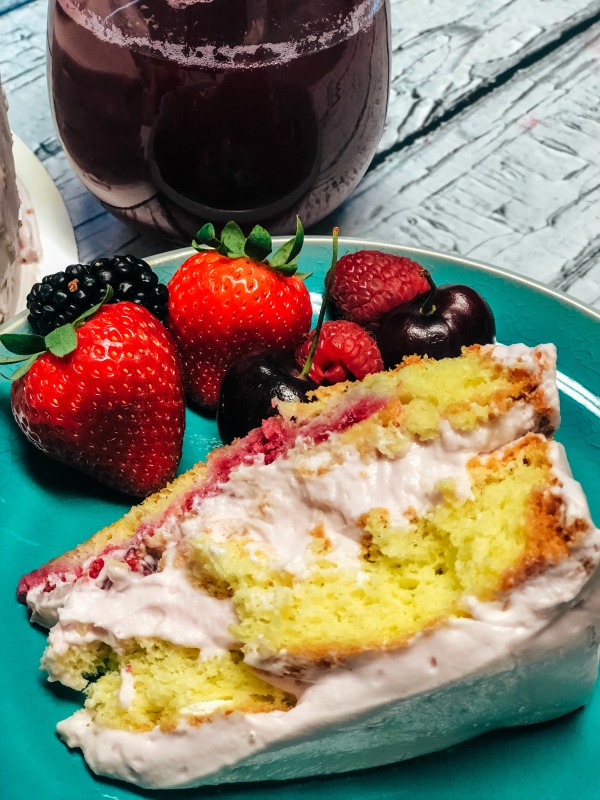 Welcome to the 3rd Annual #SummerDessertWeek event hosted by Angie from Big Bear's Wife. This week-long summer time event is filled with some down right amazing sweet recipes from fantastic bloggers and we've got some great giveaways from our generous sponsors for y'all too!! We can't wait to share all of these summer-themed desserts with you and celebrate sweet, sweet summertime all week long!
There are 45 incredible bloggers participating in this year's #SummerDessertWeek event! Thanks to those bloggers, we have over 168 summer time sweet treat recipes being shared this week! Grab a few recipes to try out and don't forget to enter the giveaway below!
Scroll down to take a look!
PRIZE #1
Dixie Crystals is giving away one (1)Keurig® K-Select® Coffee Maker
PRIZE #2
Prize #2 — Adam's Extract is giving away – 1 Gift Pack – including Adams Poundcake Kit, Adams Best, Adams Lemon Extract, Adams Natural Food Color, and Adams Cinnamon Sugar
PRIZE #3
Prize #3 —Wilton is giving away a Wilton Gift Pack – including – Bake and Bring Geometric Print Non-Stick 13 x 9 -inch Oblong Pan, Bake and Bring Geometric Print Non-Stick 8-inch Square Cake Pan, Bake and Bring Geometric Print Non-Stick 8-inch Round Cake Pan, Peach Cobbler Candy Melts Candy, Blueberry Lemonade Candy Melts Candy, Orange Crème Candy Melts Candy, Key Lime Pie Decorating Icing Pouch with Tips, Orange Crème Decorating Icing Pouch with Tips, Pop Art Triangle and Solid Cupcake Liners, Geometric Print and Solid Green Cupcake Liners, Balloon Dog Icing Decorations, Assorted Brights and Pastels Sprinkles, Blue Sprinkles Tackle Box, Coral Sprinkles Tackle Box, DIY-Lish Mermaid Kit, DIY-Lish Candy Lollipop Kit and Disposable Decorating Bags with 1M Tips
PRIZE #4
Prize #4 — Sweets & Treats Boutique is giving away 1 (one) baking supply box including an assortment of sprinkles and cupcake liners as well as one of Love From The Oven's recent cookbooks!
PRIZE #5
Prize #5 — Anolon is giving one (1) winner an Anolon Advanced Graphite 9" Round Springform Pan & an Anolon Advanced Graphite 9" Square Springform Pan
Giveaway open to US Residents 18 years or older. All entries will be verified. No PO Boxes Please. Prizes will be sent directly from sponsors to winners, bloggers are not responsible for prizes. This giveaway runs from July 7th - July 14th at 12AMEST. Winners will be selected soon afterward and contacted by e-mail. Winners will have 48 hours to respond or a new winner will be chosen. There are a total of 5 (five) prizes and therefore we will have a total of 5 (five) winners. No purchase necessary. Void where prohibited by law.
Disclaimer: These posts and recipes are part of the week-long event, #SummerDessertWeek but all opinions are 100% mine! We would like to Thank our amazing sponsors: Dixie Crystals, Adam's Extract, Wilton, Sweets and Treats Shop and Anolon ! These wonderful sponsors provided the prize packs for our giveaways and also sent samples and products to the #SummerDessertWeek bloggers to use in their recipes.
Check out the amazing #SummerDessertWeek recipes from our bloggers today!
Summer Drinks:
Ice Cream & Frozen Desserts:
Summertime Pies:
Sweet Summertime Cakes and Cupcakes:
No Bake Treats:
Baked Desserts:
Candies: