I only recommend products I use myself and all opinions expressed here are our own. This post may contain affiliate links that at no additional cost to you, I may earn a small commission.
This post brought to you by No nonsense. All opinions are 100% mine.
I'm not a fan of thin, nude colored nylons. They rip easily thanks to my fingernails, continuously roll down my mid section and even when I want to wear skirts and dresses in the fall and winter the nylons just don't cut it for helping me stay warm. No nonsense tights and leggings help keep me stylish, stay in place when they are pulled on and are warmer than my other leg wear. I was glad to see that the No nonsense leg wear is not all that pricey either, you can find No nonsense at food and drug stores as well as mass retail stores nationwide.
I enjoy wearing tunic tops and long sweater dresses. Bare legs are not an option in the weather we have right now. My tops look ok with jeans but jeans get a little boring wearing the same thing all the time. I switched things up and paired my grey sweater tunic with a pair of No nonsense leggings.
These leggings are really comfortable but yet still stylish enough for me to wear out of the house and not feel like a frump.
For my No nonsense tights I will pair them with this lace look dress I am waiting on to arrive in the mail.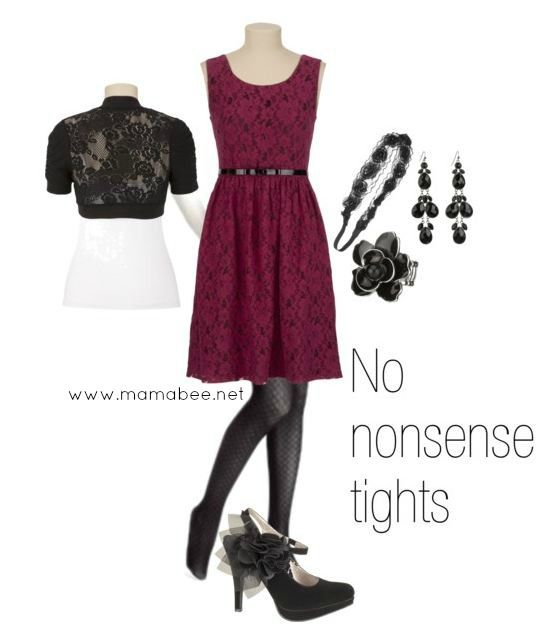 Having the different options in colors, styles and patterns, the No nonsense leggings and tights are an affordable way to bring color and variety to my wardrobe. Never be afraid to mix things up a bit.
No nonsense has recently named fashion expert Jill Martin their brand ambassador. Being an emmy award winner, co-author of the New York Times best seller "I Have Nothing to Wear!" and correspondent for "Access Hollywood". Martin knows how to make the most of her outfits without spending a lot of money. You can check her out in the video below where she shows off the No nonsense opaque tights. Aren't those pops of color awesome? You can also follow No nonsense on Facebook to keep up with the latest and greatest from them.