I only recommend products I use myself and all opinions expressed here are our own. This post may contain affiliate links that at no additional cost to you, I may earn a small commission.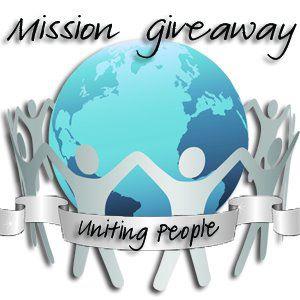 We have another lovely necklace giveaway for y'all this week thanks to pinkEpromise.
About Our Sponsor

pinkEpromise was started when two friends, Blair and Mimi, set out on with mission to beat Blair's breast cancer! Blair was diagnosed with Breast Cancer at the age of 33 and as a mom with two small boys. She was terrified and endured surgery, chemotherapy and radiation. During all of that, they learned SO much about the human spirit and had immense and appreciated support throughout their journey.
The site was developed as a way to raise awareness and money for a special breast cancer foundation. The foundation directly benefits patient healing with spiritual, mental, physical and emotional guidance while they receive their medical care AND get you the BEST DEAL on the most amazing products. Many of them are handmade! pinkEpromise will send 5% of all sales profits to The Healing Consciousness Foundation. You save money AND help The Healing Consciousness Foundation to save lives! It's a no brainer!
You can also find pinkEpromise on Pinterest and Facebook. Be sure to stop by and see what they have to offer. The deals are fantastic and the seeds you sow are forever providing harvest.
The Prizes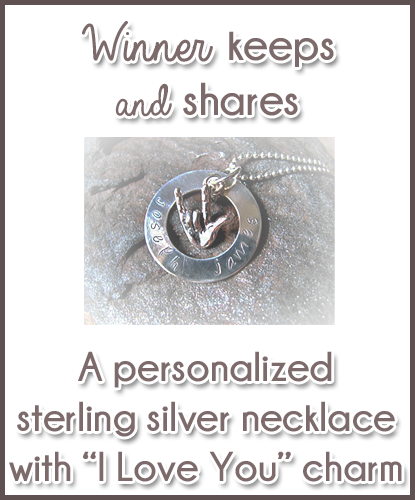 Personalized "I Love You" Sterling Silver Sign Language Necklace
This carefully handcrafted necklace includes a sterling silver washer with your chosen personalization. You can choose name(s), date or a short phrase. It includes a sterling silver "I love you" sign language charm and a sterling silver chain in the length of your choice. 16" 18" or 20"
Winner Keeps: One "I Love You" necklace
Winner Shares: One "I Love You" Necklace
How to Enter
The Giveaway will open up on 3/26 12:01 am EST and Close on 3/29 at 11:59 pm EST.
Complete the mandatory entries on the Rafflecopter below.
Check out and Enter our Other Giveaways
Side note...It's not mandatory to enter all the giveaways at each blog. Those are just great bonus giveaways for you to enter.
Mission Giveaway started with Madame Deals and her $100 story where with $100 several people received the help they needed. We are on a mission to help people help each other! We have gathered a group of bloggers that want to make a difference. Together we are Mission Giveaway!
To ask about becoming a sponsor, please contact Amee or Dawn at madamedealsmedia@yahoo.com for details. Take a look at our Media Kit to see what Mission Giveaway has to offer.
Are you a blogger that would like to participate in Mission Giveaway? Find out how you can join us.
Find our official Terms and Conditions on the Madame Deals Media page.