I only recommend products I use myself and all opinions expressed here are our own. This post may contain affiliate links that at no additional cost to you, I may earn a small commission.
This is a sponsored post for SheSpeaks/Rubbermaid®.
It's apple picking season. How do you enjoy your apples? I like to bake with them or enjoy them as a snack. My favorite way to snack on apples at the moment is to slice them up and dip them in peanut butter cheesecake dip. It's not super difficult to make and it stores and travels well in the snack container part of my Rubbermaid BRILLIANCE salad and snack containers set.
This peanut butter cheesecake dip is a great way to enjoy apples, other fruits, wafer cookies, or graham crackers. Just put the dip in one section of the inner snack tray and fill the half container with your apple slices, other fruit pieces, cookies, or whatever you choose to dip with. The Rubbermaid BRILLIANCE salad and snack containers are great for packing lunch and snack to go. Jersey Boy uses the salad container for his work lunch and I usually use the snack container for myself. Right now I have sliced apples and my peanut butter cheesecake dip in the Rubbermaid BRILLIANCE snack container.
peanut butter cheesecake dip
Rubbermaid's pristine 100% leak-proof food storage container, BRILLIANCE, now comes perfectly designed for ready-to-go meals and snacks. With customizable insert trays and dividers, the BRILLIANCE Snack & Salad Set is your all-in-one solution for taking lunch on the go! 100% Leak-Proof Guaranteed* (Not applicable to internal compartments created by inserts). The airtight latches keep container tightly secured with no leaks or messes. Adjustable insert trays and dividers create separated compartments within the container and allow controlled placement based on the foods being packed or stored. The ultra-durable Tritan material keeps the container both stain-free and odor-free. BPA free and safe for the dishwasher, microwave and freezer.
how to make peanut butter cheesecake dip
Ingredients:
8 oz. cream cheese; softened
½ cup (1 stick) butter; softened
¼ cup light brown sugar
½ cup creamy peanut butter
1 tsp. vanilla extract
½ cup of Reese's Pieces candy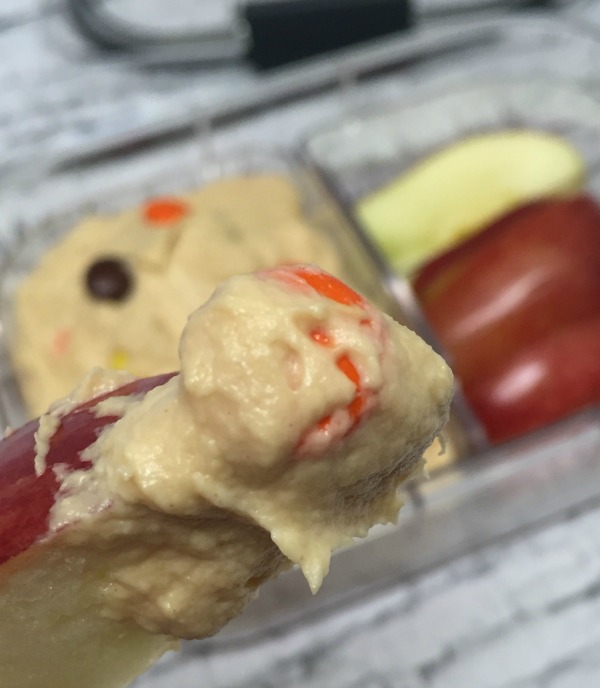 Directions:
In a large mixing bowl (with a hand or stand mixer) mix together the cream cheese and butter until smooth.
Add the brown sugar, peanut butter, and vanilla extract and mix again.
Use a spatula to fold in the Reese's pieces candies.
Serve right away or let it chill in the fridge and serve it cold.
GIVEAWAY!
One reader will win a Rubbermaid BRILLIANCE salad and snack containers set. Use the form below to enter.