I only recommend products I use myself and all opinions expressed here are our own. This post may contain affiliate links that at no additional cost to you, I may earn a small commission.
There's custom jewelry and then there is completely custom jewelry that you can get from an Origami Owl independent designer like my friend Lori. Origami Owl was started by a 14 year old girl who was told by her parents that if she wanted a new car that she'd have to work for it. So she took her $350 in babysitting money and started Origami Owl. Today there are over 60,000 independent designers for Origami Owl (like my girl Lori) who chose to sell Origami Owl jewelry at home parties aka jewelry bars.
Origami Owl living locket necklace jewelry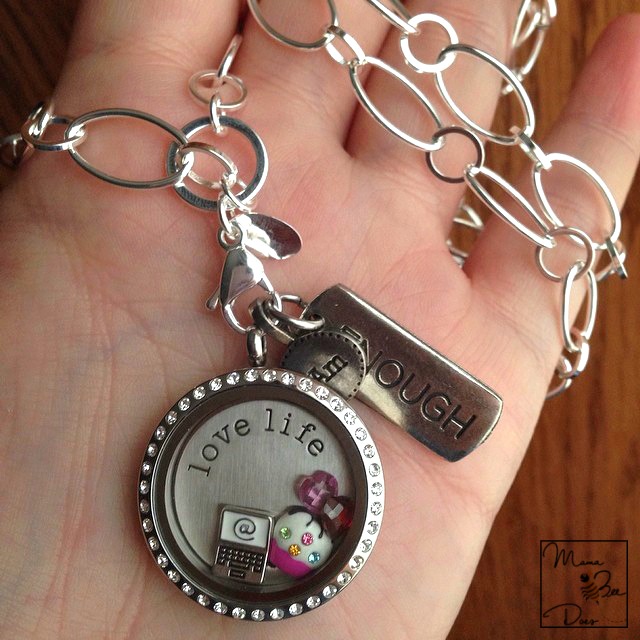 With the Origami Owl living locket necklace you get to choose everything for it. From the chain, locket and charms to the plates, tags and dangles it is all customized by you. I started out by choosing the chain for my necklace. I knew I preferred longer chains and I prefer silver (or platinum) over yellow gold so I chose the 32" silver large flat oval link custom chain ($20). For the locket I wanted a large one to hold a lot of charms. I chose the large silver living locket with crystals ($28). Silver with a bit of bling and I figured it would look good with the chain and would go with just about any top or outfit I wanted to wear it with. Depending on the size of the charms you choose, the large locket can hold 7-10 charms. The living lockets are see through and have a pretty strong magnetic closure on them. I have to pry at mine with my fingernail to get it open but I'd rather have to do that than worry about my locket popping open on me while I'm out and about and lose my charms or plate. The plate is the next option I looked at. Once I saw the silver love life plate ($9) I knew I had to have it in my locket. I have learned in my all most 30 years that I have to love life no matter what it throws at me.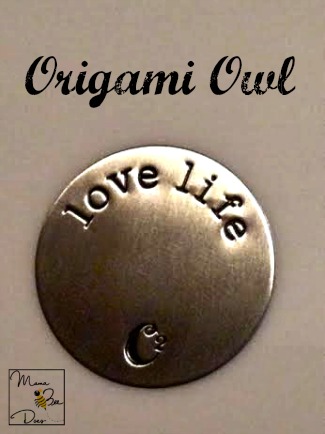 Then the hardest part in decision making was picking out a couple charms to start my living locket story. Can you tell my story by my charms?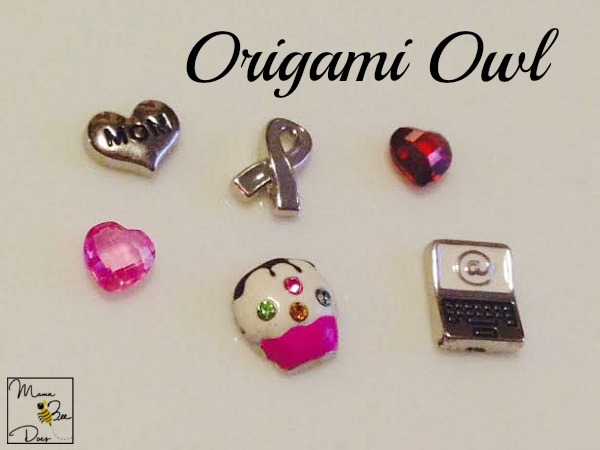 My current story I'm telling with my Origami Owl locket is I am a Mom (Mom heart charm) to two little hearts (heart birthstone charms) who lost her step dad to brain cancer (grey brain cancer awareness ribbon). I love my job as a blogger (the laptop charm) and I love baking and eating cupcakes (retired cupcake charm but there is a new cupcake charm you can get now).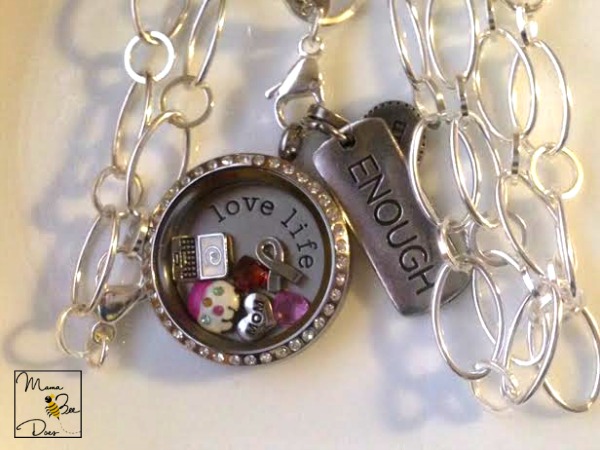 With the release of the new spring collection you have a lot of new charms to choose from. You have colorful accent stones, animals, birthstones (like the heart shaped ones I chose), causes like my brain cancer awareness ribbon, celebrations, faith, family, food and beverages, hobbies and occupations, initials, love, music, numbers, outdoors, sports, travel and vintage. I want to get the queen bee, kitchen mixer and the travel suitcase charms next. With the variety of charms you can make your locket tell your life story and because you can change the charms out you can tell a different story whenever you want. You truly can make your Origami Owl jewelry as unique as you are.
You can also choose if you want tags or dangles to go with your living locket. I chose to get tagged with I am ($10) Enough ($12) because after many years of not loving myself and feeling that I was not worth the love of another person I know that I am enough. I am enough for myself and I am enough for someone else to love.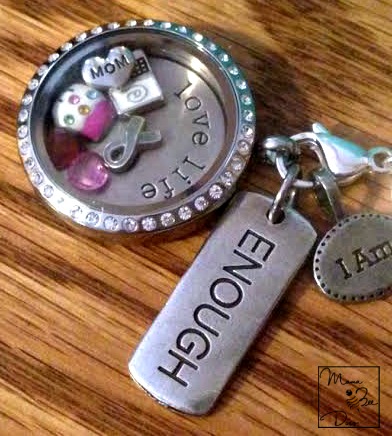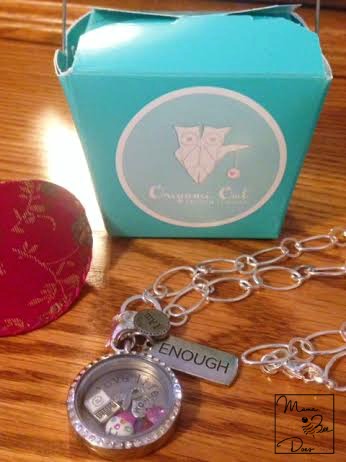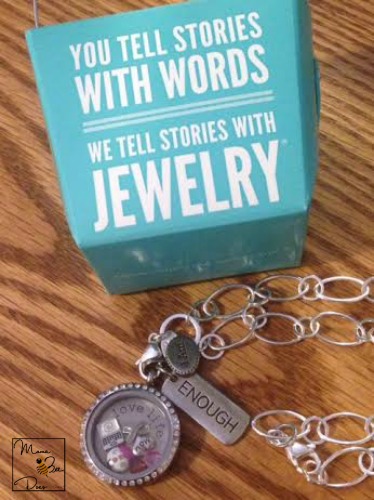 I love my living locket necklace. I like that it's custom to my life. Do you have any Origami Owl jewelry pieces? What does your Origami Owl say about you? What's your story?