I only recommend products I use myself and all opinions expressed here are our own. This post may contain affiliate links that at no additional cost to you, I may earn a small commission.
If there is a Disney fan in your home who likes sweets, these Mickey cherry turnovers could make a great treat for breakfast, dessert, or a special Disney magic needing moment like a rainy Monday.
Mickey cherry turnovers recipe
These cherry turnovers are easy to make and the kids can help too. I love this jumbo Mickey Mouse cookie cutter. You can make cookies, these turn overs, and so much more. You can make the cherry filling or just buy the canned pie filling. The can pie filling is just as good but it only takes a few ingredients and a little bit of your time to make this cherry filling from scratch.
puff pastry tips
If you are new to using puff pastry here are a few tips that I have found to be useful for making turnovers.
Refrigerate the pastry sheets over night or take them from the freezer out on the counter at room temperature for 30-45 minutes.
The puff pastry sheets should be completely thawed before you start using them.
The cookie cutter will not cut the puff pastry like it does cookie dough. You'll want to try and give the cutter a little jiggle to get a solid cut. If you are making regular shaped turnovers you can cut the pastry sheets with a pizza cutter.
Make sure you seal all the way around the turnover so the filling isn't lost out all over the baking pan in the oven.
How to make Mickey cherry turnovers

Ingredients:
1 box of puff pastry sheets
Egg wash- 1 egg mixed with 1 Tablespoon of milk
Sugar Crystals
Cherry filling: If you choose the cherry pie filling you can use that in place of the ingredients below
1 (12 oz) bag of frozen sweet cherries
⅓ cup granulated sugar
1 teaspoon lemon juice
½ teaspoon vanilla extract
½ teaspoon almond extract
4 & ½ teaspoons water
4 & ½ teaspoons cornstarch
Pinch of salt
Directions: If you use can pie filling you can skip steps 3-6.
1. First, Defrost the puff pastry sheets as directed on the box. You can get two complete turnovers per sheet (4 heads per sheet).
2. Second, preheat the oven to 375 degrees f.
3. Next, combine the cherries, granulated sugar, vanilla and almond extracts, and lemon juice in a saucepan.
4. In a separate bowl mix together the cornstarch and water and then pour that into the cherry mix pan.
5. Cook the cherry mix over medium heat and using a spoon to press the cherries against the pan to break them open and the mixture has thickened.
6. Let the cherry filling cool for 30 minutes before use.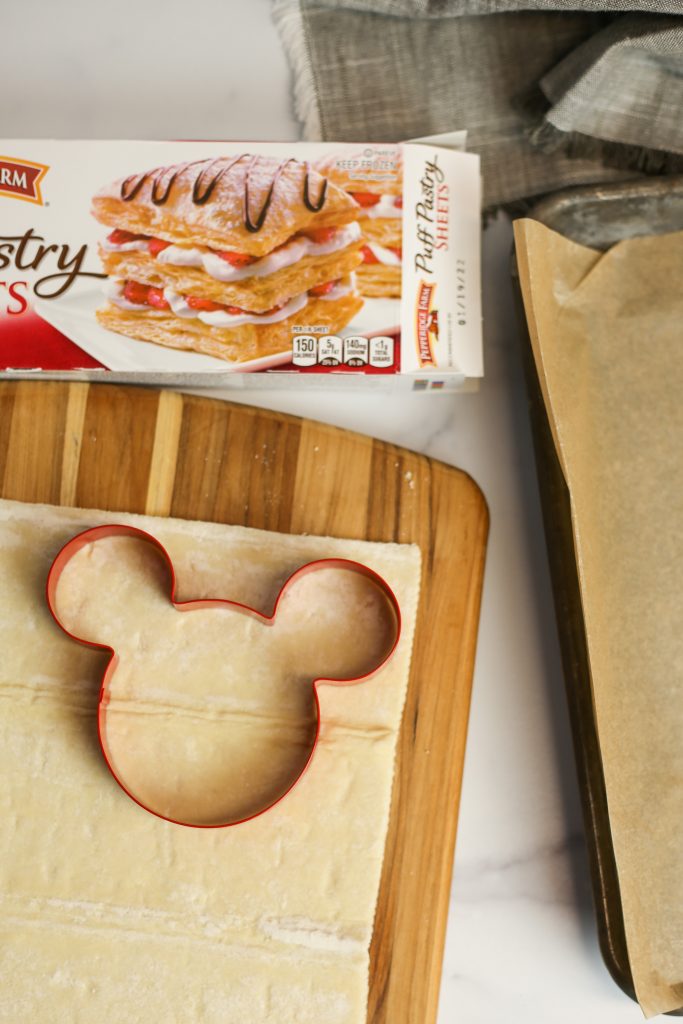 7. Unfold the defrosted puff pastry sheets.
8. Cut out the 4 Mickey heads from the puff pastry sheet. You may need to stretch out the end of the sheet to get the 4th head complete.
9. Lay out the Mickey cutouts on parchment paper on a baking sheet or on a silicon baking mat.
10. Fill those 4 cutouts with the cherry filling. Don't overfill or you will lose the filling while baking.
11. Cut 4 more Mickey cutouts from a second puff pastry sheet.
12. Use those 4 cutouts as tops to the cutouts you put the filling on.
13. Pinch the edges of the Mickey cutouts together with a fork.
14. Brush the egg wash over each turnover and sprinkle sugar on top.
15. Bake on 375 degrees f for 25 minutes.