I only recommend products I use myself and all opinions expressed here are our own. This post may contain affiliate links that at no additional cost to you, I may earn a small commission.
This post and Oogie Boogie Cupcakes recipe was created for #HalloweenTreatsWeek! I was sent samples by some of the sponsor companies but as always opinions are 100% mine. I have 2 movies that I watch every fall since I was a little kid. One is Hocus Pocus and the other is The Nightmare Before Christmas. If you have seen The Nightmare Before Christmas then you will know who Oogie Boogie is. For those who don't know who Oogie Boogie is... I'm sorry you have not experienced the greatness that is The Nightmare Before Christmas. This movie is a fall (Halloween and Christmas time must watch for me). I even had a Nightmare Before Christmas themed baby shower when I was pregnant with Kaylee. Oogie Boogie is a Disney villain who lives in a dark funhouse/ dungeon beneath Lock, Shock, and Barrels tree house. He is made up of a burlap bag filled with thousands of bugs, 2 spiders, and a snake. His mission in The Nightmare Before Christmas is to devour "Sandy Claws" and to get rid of the Pumpkin King so he can rule Halloween Town.
Meringue Oogie Boogie Cupcakes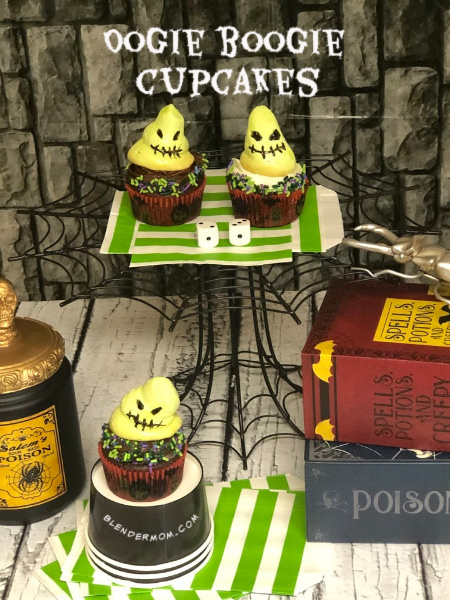 Today's Halloween Treats Week treat is Meringue Oogie Boogie Cupcakes. The cupcake is mint chocolate with a mint Oreo baked inside and topped with chocolate or vanilla buttercream along with a mint flavored Oogie Boogie meringue and sprinkles. Sometimes I make my cakes and cupcakes from scratch and sometimes I use a boxed mix. For the Oogie Boogie cupcakes I simply used a boxed devils food cake mix. You can make them as stated on the box but for these cupcakes I fill a small layer in each papered cup and then layer in the sandwich cookie and then top with more cake mix batter. The meringues are fun to make. I have only attempted meringues two other times in my life and both times did not go well. Luckily the Oogie Boogie meringues were a success and like Oogie Boogie says..."Ooh I'm feeling weak... with hunger!"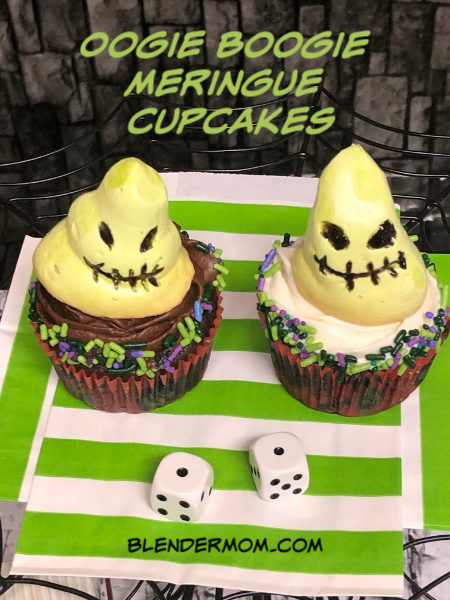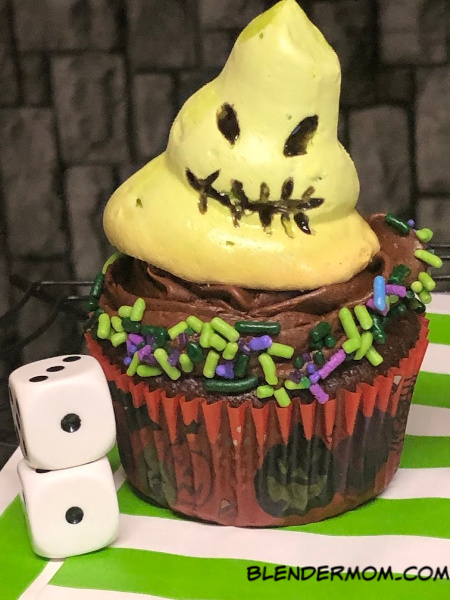 Ingredients:
Oogie Boogie Meringues:
1 cup of granulated sugar (I use Dixie Crystals)
4 egg whites
½ teaspoon mint extract
¼ teaspoon cream of tartar
Neon green gel food coloring
Black gel icing
Cupcakes:
cake mix
water
oil
eggs
24 mint flavored sandwich cookies
Frosting (you can make your own or use the store bought cans)
Directions:
Preheat the oven to 200 degrees (F). Place a pan of water on the stovetop and bring to a boil. Reduce heat to simmer and top the pot of water with a glass bowl. This is considered the double boiler method. Your bowl needs to be a bit larger than the top of your pot so that it doesn't fall in the pot but rather sits on top of it.
Whisking constantly in the glass bowl, combine the egg whites and sugar. It should look bubbly and frothy.
Once the sugar is completely dissolved, pour the egg/sugar mix into a larger mixing bowl. I use my KitchenAid stand mixer with whisk attachment for this job. Add the mint extract and a couple drops of the green gel coloring and turn the mixer on low to medium speed.
Add more green gel coloring if the color begins to fade as it whips. Increase the speed on the mixer and let it whip until you get stiff peaks that form when you pull the whisk out of the bowl.
Line a baking pan with parchment paper. Fill a pastry or icing bag (I prefer Wilton bags for these jobs) with the meringue mix. You'll want a plan tip or no tip on your bag so that Oogie Boogie is blobbed out of the bag as you squeeze. Slowly lift the bag upward as you squeeze out the Oogie blobs and that usually gives them the look of the top of Oogie's head.
Place the meringues in the oven for 2 & ½ to 3 hours. The meringues should be dried out and not gooey in the center or they will droop and deflate on you and Oogie Boogie will look all kinds of sad. Once the meringues are done, let them sit in the oven that is now turned off until they completely cool. You can tell they are done when they pop right off the parchment paper. No worries if they are cracked at the bottoms, you can work that in your favor as part of Oogie's mouth later on 😉
Use the black gel icing (smaller tip the better) to give each meringue the Oogie Boogie eyes and stitched mouth. You can also take it a step further if you can find some Wilton bug candy sprinkles or you could even use gummy worms hanging from his mouth. He is made of bugs after all.
Make your cupcakes as directed on the box and let them cool.
Add your buttercream/ icing to a Wilton piping bag and swirl the cupcakes with chocolate or vanilla bases for your Oogie Boogie's to sit on. Optional: you can also roll the side of the icing in sprinkles. We used Sweets & Treats Sweet Sprinkles Mix- Green Smash for our Oogie Boogie Cupcakes.
Top each cupcake with an Oogie Boogie meringue and let the sweet treats roll.
Happy Halloween! It's October which means it's time for Spooky Season and this year's #HalloweenTreatsWeek event! #HalloweenTreatsWeek is hosted by Angie from Big Bear's Wife & its a creepy and haunting week-long event is filled with some amazingly wicked Halloween treats, recipes and some frightfully fun giveaways.
"When witches go riding, and black cats are seen, the moon laughs and whispers 'tis near Halloween."
For the 2nd annual #HalloweenTreatsWeek event we have 41 fantastically talented bloggers that are sharing their favorite Halloween recipes throughout the week! There are going to be over 160 Halloween themed recipes shared during this year's #HalloweenTreatsWeek and we can't wait for you to see them all! Follow the hashtag #HalloweenTreatsWeek on social media and look at the bottom of each post to see all of the Halloween recipes that we're sharing!
Plus, don't forget that we have 6 (six) great giveaways for you this week thanks to our amazing sponsors!
Scroll down to take a look!
Prize #1
Prize #1 — Dixie Crystals is giving away a "Dinner and Dessert Set" - ONE 6-Quart Cook & Carry Programmable Slow Cooker, a Pyrex mixing bowl set plus some fun Dixie Crystals items like a Dixie Crystal Apron and Cookbook!
Prize #2
Prize #2 — Adam's Extract is giving away – 1 Gift Pack - including 4oz Adams Best, 1.5 oz Peppermint, 1.5oz Almond, 1 bottle vanilla cinnamon sugar, 1 bottle pumpkin pie spice
Prize #3
Prize #3 —Wilton is giving away a Texturra 7-Piece Bakeware Set
Prize #4
Prize #4 — Sweets and Treats Shop is giving away a large baking box of goodies! Sweets and Treats will send one lucky winner a large assortment of sprinkles and lines and other samples of their products!
Prize #5
Prize #5 — Treat Street USA is giving away a set of Holiday Treat Decorations (1 Gummy Assortment, 1 Marshmallow Snowman, 1 Toy Solider and 1 Gingerbread Men)
Prize #6
Prize # 6- Litehouseis giving away the following: 1 Litehouse® Honeycrisp Apple Cider, 1 Litehouse® Old Fashioned Caramel, 1 Litehouse® Pumpkin Spice Caramel, 1 Litehouse® Butterscotch Caramel & 1 Litehouse® Chocolate Dip, Snack Packs
Giveaway open to US Residents 18 years or older. All entries will be verified. No PO Boxes Please. Prizes will be sent directly from sponsors to winners, bloggers are not responsible for prizes. This giveaway runs from October 7th - October 13th at 11:59PM EST. Winners will be selected soon afterward and contacted by e-mail. Winners will have 48 hours to respond or a new winner will be chosen. There are a total of 6 (six) prizes and therefore we will have a total of 6 (six) winners. No purchase necessary. Void where prohibited by law.
Disclaimer: These posts and recipes are part of the week-long event, #HalloweenTreatsWeek but all opinions are 100% mine! We would like to Thank our amazing sponsors: Dixie Crystals, Adam's Extract, Wilton, Sweets and Treats Shop, Treat Street USA and Litehouse! These wonderful sponsors provided the prize packs for our giveaways and also sent samples and products to the #HalloweenTreatsWeek bloggers to use in their recipes.
Check out the amazing #HalloweenTreatsWeek recipes from our bloggers today!