I only recommend products I use myself and all opinions expressed here are our own. This post may contain affiliate links that at no additional cost to you, I may earn a small commission.
It's Monday and I remembered that I wanted to share my menu for the week with y'all for Menu Plan Monday. I menu plan every week but I don't always remember to share my plan here on the blog. Now that I have a planner for my blog work and stuff I can make sure I am better organized and not forgetting posts that I wanted to write up. So what's cooking in Mama's kitchen this week? I'll be doing some freezer cooking this week too. We have a small freezer space but that doesn't mean you can't still do some cooking and planning ahead and have meals ready on hand in the freezer. The majority of my dinner meals tend to be southern cooking and crock pot meals but I add in other types of dishes too sometimes.
Menu Plan Monday
Breakfast:
sausage, egg and cheese biscuits
pancakes
homemade pop tarts
cereal
Lunch:
sandwiches
soup
ravioli
out to eat on appointment days
leftovers
Supper: (do you say dinner or supper?)
Baked chicken with potato salad and green beans
Beef stew
Oven fried pork chops with mashed potatoes and baked beans
Easy crock pot BBQ ribs with baked potatoes and salad
Ranch house crock pot pork chops with mashed potatoes and fried apples
Ham with sweet potato pie casserole and corn
Pizza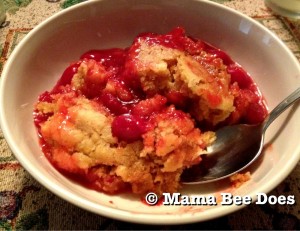 Dessert:
chocolate chip cookies
No bake chocolate eclair cake
Easy crock pot fruit cobbler with vanilla ice cream
Apple enchiladas
What are you serving up at your house this week? For even more menu planning ideas and recipes check out the list of other bloggers that share their menu plan Monday posts linked up over on Org Junkie. I find many new recipes to try each week and Org Junkie has been one of the top 10 blogs that refer traffic here to Mama Bee Does.