I only recommend products I use myself and all opinions expressed here are our own. This post may contain affiliate links that at no additional cost to you, I may earn a small commission.
This post is part of the blogger program by Naturally Fresh® and The Motherhood, who compensated me for my time and the development of this recipe. Opinions, experiences and photos shared here are my own, and I hope you enjoy them.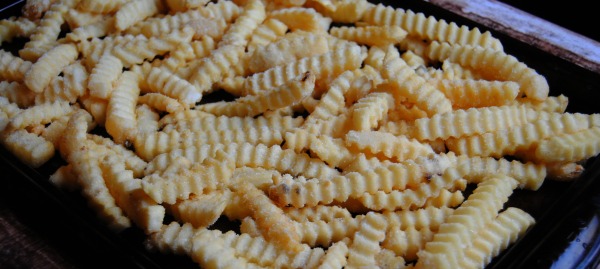 How do you like your fries? Salt? Ketchup? How about hot fries with bacon and shredded cheese melted on and drizzled with ranch dressing? I enjoy crinkle cut fries and potato wedges. Some times I fix them with just salt with ketchup on the side for dipping. Then some dinners call for loaded cheese fries. For the Super Bowl this weekend I'll be serving my guests chicken tenders, quesadillas, onion rings, chips, cheeseburger sliders, and loaded cheese fries.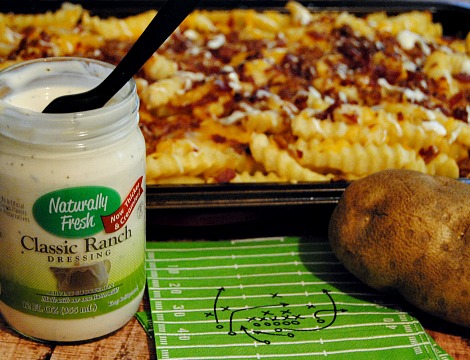 You can use either the frozen french fries or you can slice potatoes in to wedges (or chips) if you want to save a few calories you can use sweet potatoes in place of the regular potatoes. You'll need to bake your fries and then during the last 10-15 minutes add the bacon, cheese and any other toppings to the fries to give it time to bake all together so the cheese holds it all together. Once the fries have baked and are all covered in bacon and melted cheese you can use a spoon to drizzle the ranch dressing all across the fries. You can also fill a small side cup with ranch dressing to dip your fries in. I went to Kroger for some Naturally Fresh ranch dressing for my cheese fries. Naturally Fresh® is a line of high-quality, homemade-tasting salad dressings and dips with no artificial flavors, colors or preservatives. Naturally Fresh products can be found at Kroger and Publix in the refrigerated section. Use the free Naturally Fresh® mobile app to locate Naturally Fresh® products at your nearest store. I like that the Naturally Fresh dressing has a list of ingredients I can pronounce (and know what they all are) soybean oil, buttermilk, water, egg yolk, yeah those are ingredients I can happily feed my party guests (and family). Kroger also had the Bleu cheese dressing but they were sold out of the Lite Ranch that I was looking for so I went with the regular ranch.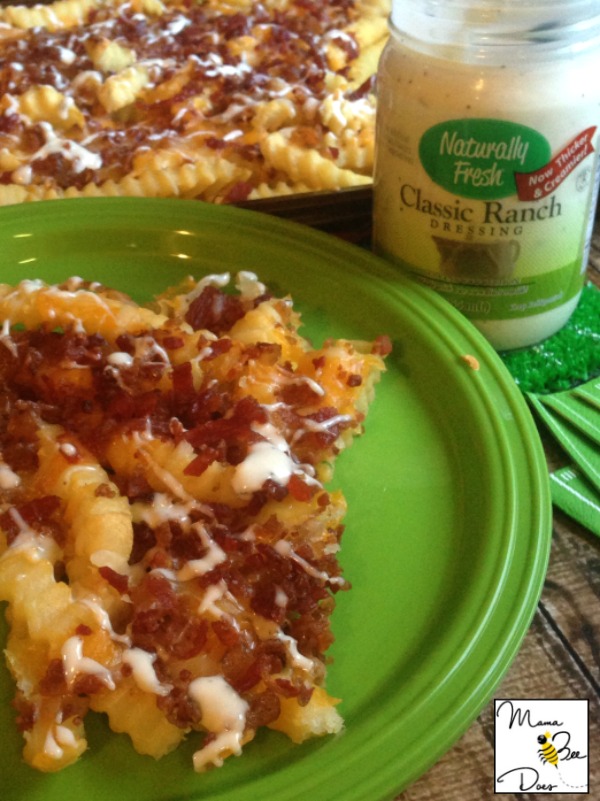 easy loaded cheese fries recipe
Ingredients:
1 bag of frozen, store bought fries of choice
2 cups of shredded cheese
4 strips cooked, crumbled bacon (or prepackaged, real bacon bits)
1 jar of Naturally Fresh ranch dressing
2 Tbs. chopped green onion (optional)
Directions:
Bake your fries according to the packaging (usually 20-29 minutes). When your oven timer gets down to the last 10-15 minutes remove the pan of fries from the oven and top them with the bacon bits and shredded cheese. Return the tray of fries to the oven and continue baking them for the remaining minutes. Once the fries are completely done remove from the oven and let them cool a minute and then sprinkle the chopped onion (if you want them) and finally drizzle the ranch dressing over all of it. Serve while still warm.
GIVEAWAY
We have five (5) coupons for free 12 oz. bottle of Naturally Fresh® dressing thanks to Naturally Fresh. Use the giveaway entry form below to get entries in this giveaway.