I only recommend products I use myself and all opinions expressed here are our own. This post may contain affiliate links that at no additional cost to you, I may earn a small commission.
My key lime sheet cake and I are partying with Big Bear's Wife and many other recipe/food bloggers this week for the 4th annual Summer Dessert Week. Monday I shared a no bake cake bites recipe since my birthday was a few days ago. Today I'm feeling all the summer vibes with this key lime sheet cake recipe. It's light, fluffy, and the sweet tang of the lime juice gives this cake a nice pop in flavor.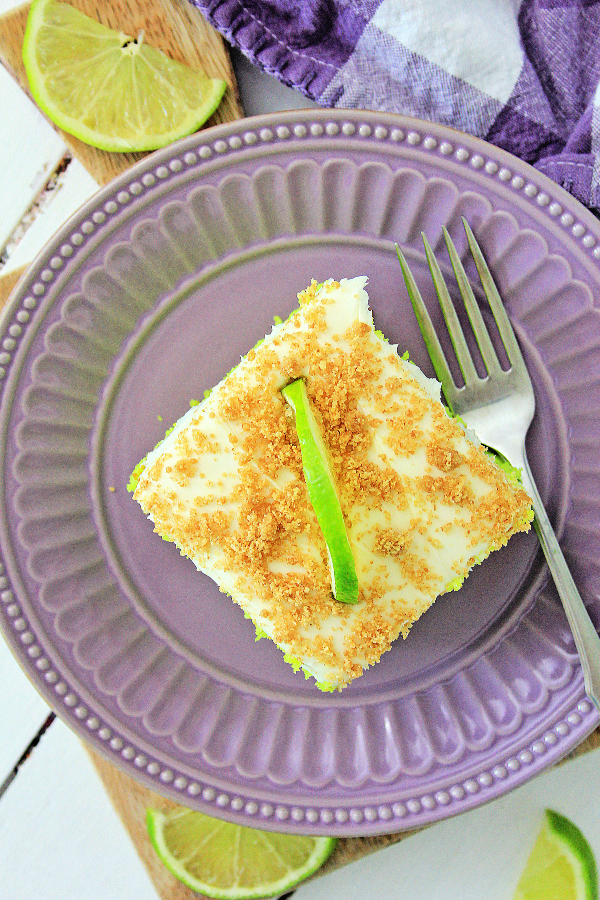 Key Lime Sheet Cake ingredients:
2 & ½ cups flour
1 (3 oz.) package of lime flavored jello powder
½ teaspoon salt
1 teaspoon baking powder
1 teaspoon baking soda
1 & ½ cups granulated sugar (I prefer Dixie Crystals)
1 & ½ cups vegetable oil
¾ cup key lime juice
1 tablespoon lemon juice
½ teaspoon Adam's Best vanilla extract
5 large eggs; beaten
1 teaspoon lime green food coloring gel
For the icing
1 stick of unsalted butter; softened
1 (8 oz) block of cream cheese
1 lb. of powdered sugar
3-4 drops of lemon juice
Optional cake toppings
crushed graham crackers aka graham cracker crumbs
lime slices
How to make Key Lime Sheet Cake
 Preheat the oven to 350 degrees F. Grease and flour a 9 x 13 baking dish and set aside.
in a large mixing bowl or stand mixer, mix together the lime jello, sugar, flour, salt, baking powder, and baking soda until well blended.
Add the oil, key lime juice, vanilla extract, eggs, and lime green gel food coloring and mix again.
Scrape down the sides of the mixing bowl and blend once more and then pour your key lime cake batter into the prepared baking dish.
Bake the cake in the 350 degree preheated oven for 25-30 minutes, or until a toothpick inserted in the center of the cake comes out clean.
Once the cake has finished baking and has cooled, then make the icing.
For the icing, cream together the butter and cream cheese until smooth and creamy.
Add the powdered sugar a little at a time and mixing between additions until all of the 1 lb. package has been added.
Add a few drops of lemon juice at the very end of mixing.
Cover the top of your completely cooled cake with the icing. If you choose to top the cake with the graham cracker crumbs and lime slices you will do that now. If you choose just the icing the cake is still great.
Serve and enjoy. This recipe makes 12-15 (2 x 3 inch) slices.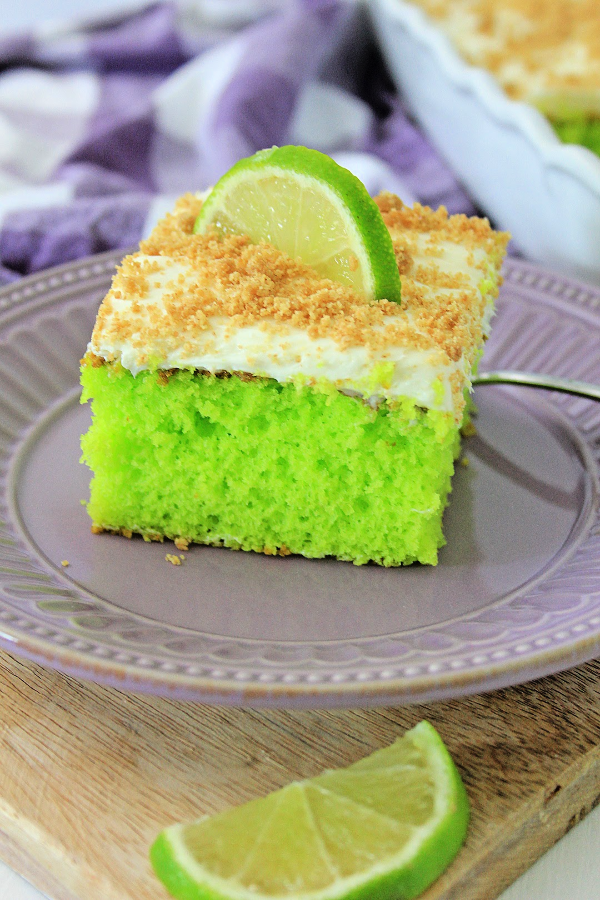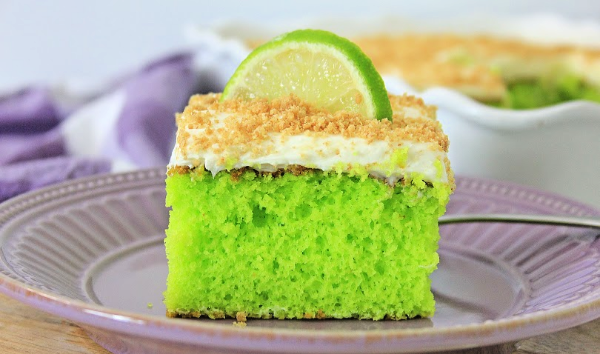 Welcome to the 4th Annual #SummerDessertWeek event hosted by Angie from Big Bear's Wife. We're celebrating all things summer with a week-long event that is absolutely filled with some of the best summer dessert recipes! Follow the hashtag #SummerDessertWeek on social media to find recipes and make sure to check out the bottom of this post for even more summer desserts!

Check out the amazing #SummerDessertWeek recipes from our bloggers today!
Ice Cream & Chilled Desserts:
Summertime Pies:
Sweet Summertime Cakes and Cupcakes:
No Bake Treats:
Baked Desserts:
Summer Treats: