I only recommend products I use myself and all opinions expressed here are our own. This post may contain affiliate links that at no additional cost to you, I may earn a small commission.
This shop is part of a social shopper marketing insight campaign withPollinate Media Group™ and Post Pebbles but all my opinions are my own. #pmedia #PebblesBTS  http://cmp.ly/3/8vNxcO
I enjoy finding recipes for food that have a not so common ingredient. In this case I was given the ingredient of Post Fruity Pebbles cereal. Sure you can have a bowl of cereal but what else can you do with it? My first thought was the Fruity Pebbles treats (similar to rice krispy treats) but that's been done a lot. I wanted to stick with a dessert so I thought about the sweet treats that my boys and I enjoy. Then my recipe ideas were cookies, ice cream pie, cupcakes or a cake. We probably couldn't have gone wrong with any of those but I decided to make Fruity Pebbles pudding cookies and took it a bit sweeter and made Fruity Pebbles sandwich cookies with Fruity Pebbles buttercream icing.
Fruity Pebbles Cookies recipe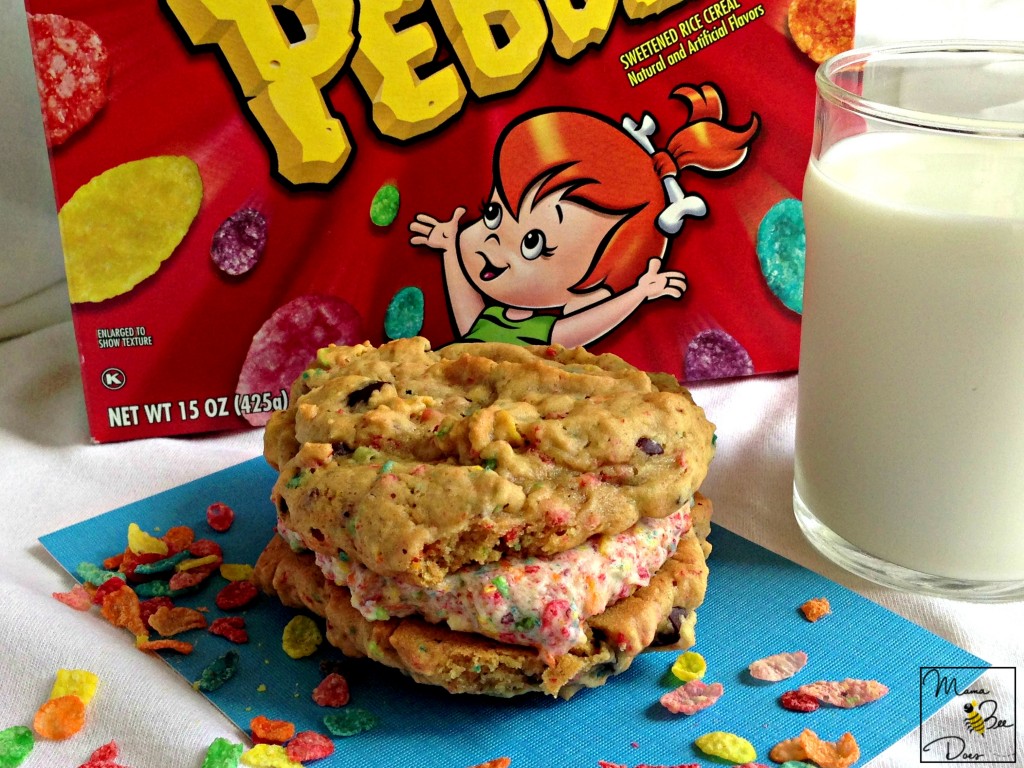 After making the Fruity Pebbles cookies we tried them and thought the cookies were fantastic on their own. This one recipe would be a crowd pleaser by its self. You could also use the Post Cocoa Pebbles with the chocolate chips to make a more chocolatey flavor in place of the fruity and chocolate flavor of these cookies. If you want the extreme sweet treat then you'll want to make the Fruity Pebbles pudding cookies and then whip up a batch of the Fruity Pebbles buttercream icing to make the sandwiches like I did. Yum!
Fruity Pebbles pudding cookies
Author:
Prep time:
Cook time:
Total time:
Ingredients
1 & ½ sticks butter
1 cup granulated sugar
1 (3.4 oz) box of vanilla instant pudding mix
2 large eggs
1 Teaspoon vanilla extract
2 & ¼ cups all purpose flour
1 Teaspoon baking soda
2 cups Post Fruity Pebbles cereal
1 cup chocolate chips
Instructions
Line a cookie sheet with parchment paper.
Preheat the oven to 350 degrees.
Whisk together the flour and baking soda; set aside.
Using a mixer, cream together the butter and sugar.
Add the pudding mix to the butter sugar mix and blend until smooth.
Add the eggs and vanilla extract and mix well.
Slowly add the flour a little at a time and mix in to a dough.
Add the chocolate chips and the Fruity Pebbles.
Scoop or spoon out balls of cookie dough (about 1 inch in size) on to the lined cookie sheet(s).
Bake the cookies for 10-12 minutes. Let cool on a rack.
You can either enjoy the cookies as they are or go on to the next recipe to make the icing for the Fruity Pebbles cookie sandwiches.
Now if you are after the mega sweetness of the Fruity Pebbles cookie sandwich with the icing then you'll need this simple icing recipe to smother between two of the Fruity Pebbles cookies you make from the recipe above.
Fruity Pebbles cookies sandwiches with fruity pebbles icing
Fruity Pebbles buttercream icing
Author:
Ingredients
½ cup butter; room temperature
½ cup vegetable shortening
2 cups powdered (confectioners) sugar
2 Tablespoons milk
1 cup finely crushed Fruity Pebbles cereal (= 2 & ½ cups uncrushed cereal)
Instructions
With a mixer, blend together the butter and vegetable shortening until smooth.
With the mixer on low speed, add the powdered sugar and when the sugar is all mixed in add the milk and turn the mixer up to medium speed and mix until smooth and fluffy.
With the mixer back on low speed, add the crushed Fruity Pebbles and mix until blended well.
On the cooled Fruity Pebbles cookies spoon the icing on the bottom one of cookie and top the icing with a second cookie to form a cookie sandwich.