I only recommend products I use myself and all opinions expressed here are our own. This post may contain affiliate links that at no additional cost to you, I may earn a small commission.
What's your take on wearing white? I asked my Facebook fans a couple weeks ago... white pants rule- no white before Memorial day? or f etiquette and wear them when you want? Many of those who responded said they'd wear white whenever then there were a few who said no white before Memorial day or after Labor day. For myself I usually go for the white in my closet around Easter then wear it throughout the summer. This year I went a little before Easter. I have the Daisy print Penelope dress with pockets from Karina Dresses. Sure April showers bring May flowers but I needed some daisies in my life in March so I paired my daisy Penelope dress with a black jacket from Maurices and black flats from Payless. The Penelope is a crisscross v-front dress (with pockets) that works for many sizes and body types including us busty, plus size ladies.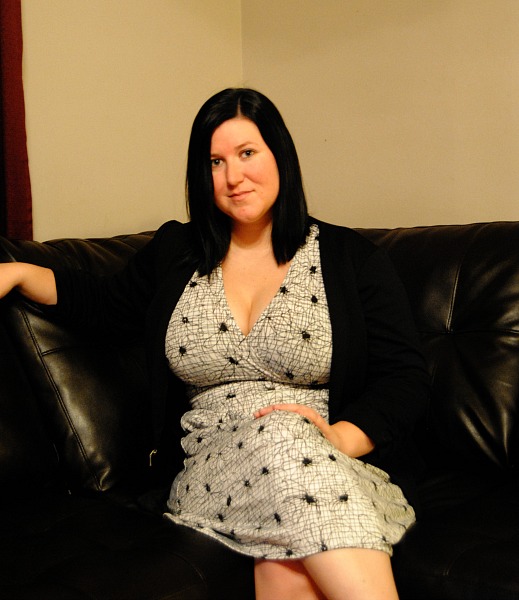 It was a rainy, grey day and I needed a boost in spirits so it was a Penelope Daisy kind of day. Wearing any of my dresses from Karina Dresses makes me smile and feel confident about myself. Once the 70+ degree weather decides to stick around for more than a day I will be happy to sport my daisies without a jacket. Interested in Karina Dresses? You can see some of Karina Dresses dress collection I have that work for large busts/ plus size figures. When I was just a work from home mom Karina Dresses were a big part of my mom style. When I went back to work outside of the house and I needed a job interview outfit there was a Karina dress for that too.
About Karina Dresses: All of the items from Karina Dresses are made in the USA (Brooklyn, NY). They believe that the Karina Dresses are a dress for every body, as in every body shape and my fellow large breasted women are no exception. Do you have problems dress shopping? What are your thoughts on the Karina Dresses? Do you have a favorite?
disclaimer: I am a Karina Dresses frockstar blogger and receive dresses monthly but I only share products and brands with my readers that I truly believe in and Karina Dresses are fabulous.