I only recommend products I use myself and all opinions expressed here are our own. This post may contain affiliate links that at no additional cost to you, I may earn a small commission.
One of the first recipes my Grandma Duncan shared with me was her Easy Peach Cobbler recipe that she would often fix during our visits. Getting recipes handed down to me from my grandparents always made me feel special. It wasn't just getting the recipes themselves but also having the memories tied to the family favorite recipes. Now I can share both with my children. Hopefully they will continue the cycle with their children. By swapping out the canned peaches for another canned fruit you can make this cobbler any other fruit flavor that you enjoy.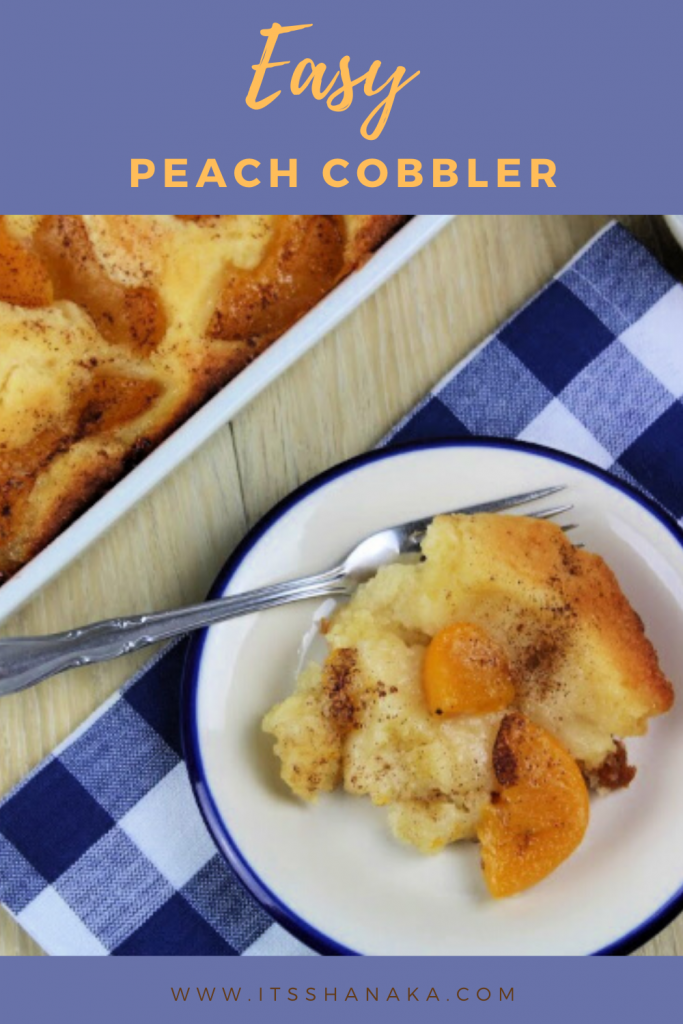 Easy Peach Cobbler Recipe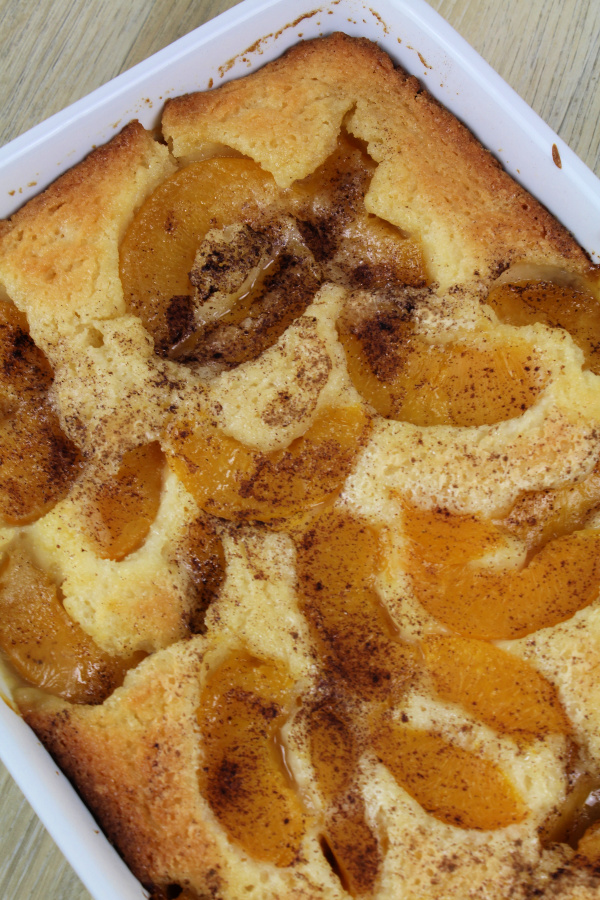 easy peach cobbler ingredients
- 1 stick (½ cup) salted butter; melted
- 2 cups self rising flour
- 2 cups granulated sugar
- 2 cups milk
- 1 (29 oz.) can of sliced peaches (pour the juice/syrup into a bowl to use for the batter)
- a few dashes of cinnamon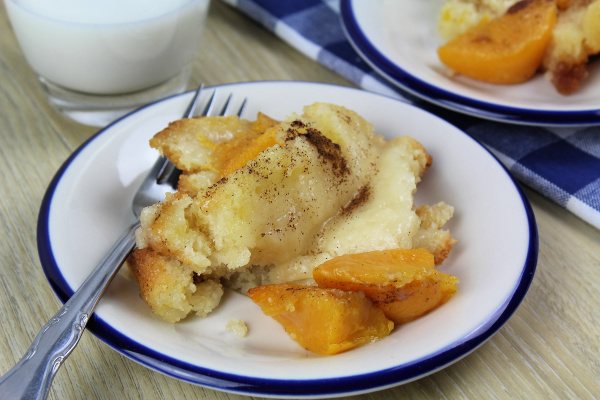 How to make easy peach cobbler
1. Preheat the oven to 350 degrees F and spray a 9x13 baking dish with non-stick spray.
2. Pour the melted butter into the prepared baking dish.
3. In a large mixing bowl, add the self rising flour and the granulated sugar and mix/whisk them together.
4. To the flour mix, add the milk and the saved peach juice/syrup from the can of peaches and stir until blended. Do not add the peaches yet, just the juice/syrup.
5. Pour the milk/peach juice batter on top of the melted butter. DO NOT STIR!
6. Spoon or dump the peaches on top of the batter and sprinkle with the cinnamon. DO NOT STIR!
7. Place the dish in the oven and bake for about 45 minutes to 1 hour or until a toothpick inserted into the middle comes out clean.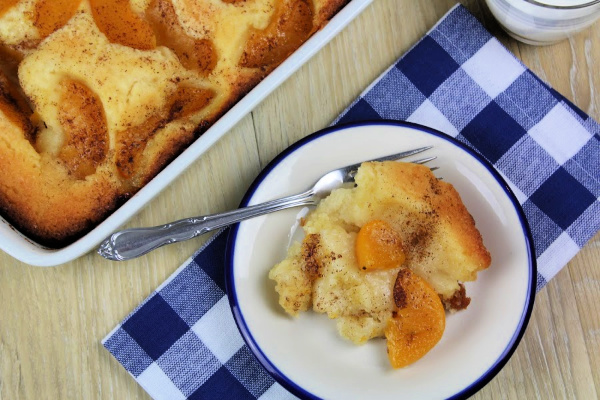 Easy cobbler recipe tips
Cobbler recipes such as this one works with any canned fruit with the juice/syrup but I do not recommend that you use a canned pie filling as that will leave you with a super duper sweet cobbler and a gummy texture.
Since this recipe uses canned fruit you can easily make it any time of the year and not just when fresh peaches are in season.
This easy peach cobbler recipe goes great with whipped topping, vanilla ice cream, peach ice cream, or even butter pecan ice cream.
Your easy peach cobbler will stay fresh in the fridge for up to 4 days or 8 months in the freezer. Cover the dish with foil or scoop the leftovers into a sealed container and keep in the fridge. To freeze, first cover the top of the dish with Saran Wrap and then on top of the wrap, cover it with a layer of aluminum foil.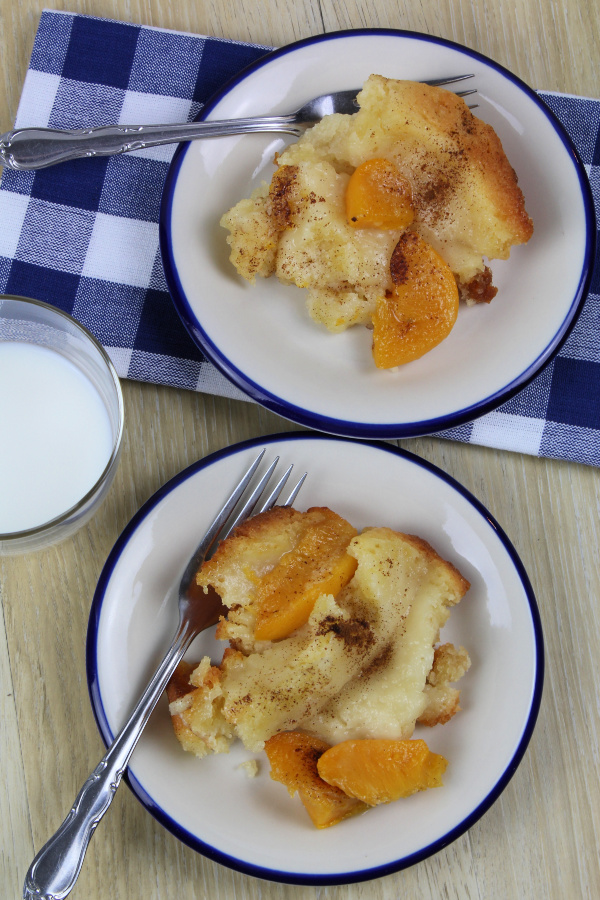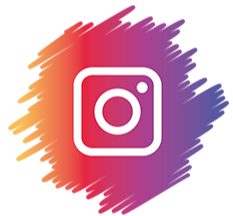 If you make this recipe and decide to share it on Instagram please tag me @its_shanaka or use the hashtag #ItsShanaka so I can see your creations. Follow along with me on Facebook, Instagram, Twitter, and Pinterest. Working full time and having online college classes leaves me away from the blog some days but I still adore all of my social media friends and would love to stay connected with y'all.